The Limited Edition 180 Gram Vinyl Version Includes Mono 12" Single "Sympathy For the Devil" & Flexi Disc of 1968 Jagger Interview wrapped in RSVP Cover Art. The Rolling Stones Beggars Banquet (50th Anniversary Edition), was recorded between March and July of 1968 at Olympic Sound Studios in London, mixed at Sunset Sound in Los Angeles, Beggars Banquet was the first Stones album produced by Jimmy Miller, and marks the start of what is considered their most prolific album era. Beggars Banquet has a special place in the history of the band, as it is the final album completed with the original lineup of Mick Jagger, Keith Richards, Brian Jones, Bill Wyman, and Charlie Watts.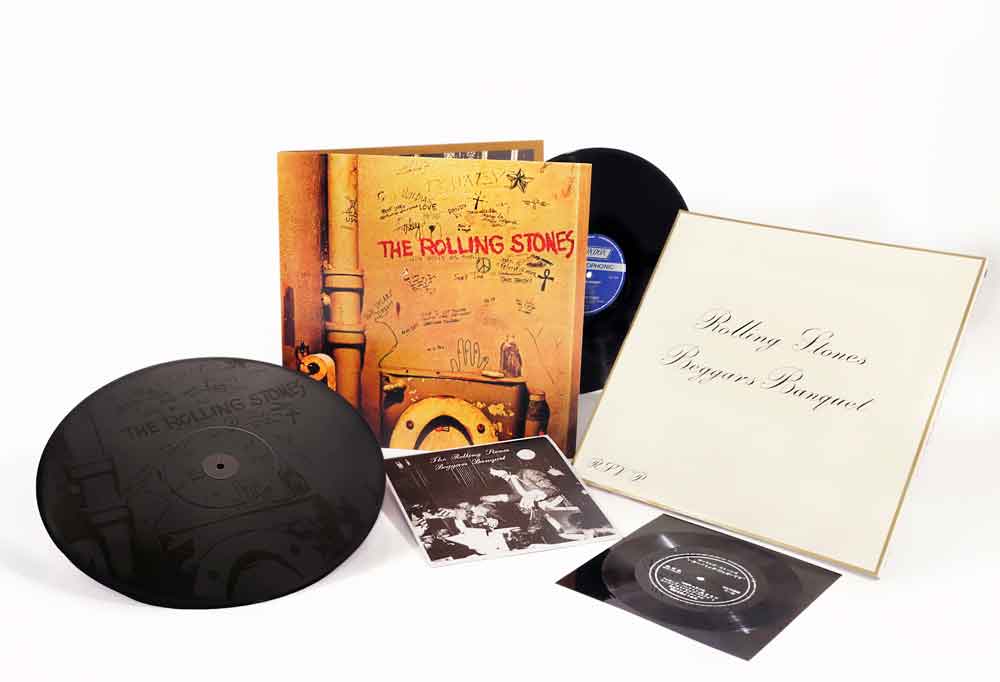 With the 1969 release of Beggars Banquet in Japan, the album included a 7″ flexi disc capturing a telephone interview between Mick Jagger and a representative of the King Records in Tokyo, the distributor of London Records in Japan. The rare artifact's title translated to "'Hello, This Is Mick Jagger!' LONDON to TOKYO April 17, 1968" has been restored and reissued on flexi disc with identical sleeve art. A limited run will be included in the 50th Anniversary Limited Edition Vinyl package, worldwide, making it available for the first time outside Japan. A cunning moment in the exchange captured over the telephone, halfway around the world, while the band was busy recording the yet-unnamed album Beggars Banquet in Olympic Sound Studios, Jagger was asked "What do you think is the future direction of your music?" And with no hesitation, he responded "Sideways."
The limited edition vinyl package will come in gatefold jacket, with a bonus 12" of their iconic single "Sympathy for the Devil" in Mono cut at 45rpm, backed with an etching of the original 'toilet' cover. Also included is a replica of the rare Japanese bonus flexi disc containing a phone interview with Mick Jagger from 1968, and a download code for the album plus interview. The landmark album has been newly mastered by Grammy Award® winning engineer Bob Ludwig, lacquers cut at Abbey Road and pressed at RTI in California on 180g.
CD & Digital Tracklist 
1)     Sympathy for the Devil
2)     No Expectations
3)    Dear Doctor
4)    Parachute Woman
5)     Jigsaw Puzzle
6)    Street Fighting Man
7)     Prodigal Son
8)     Stray Cat Blues
9)    Factory Girl
10)  Salt of the Earth 
Vinyl Tracklist
DISC 1
Side A
1)     Sympathy for the Devil
2)     No Expectations
3)    Dear Doctor
4)    Parachute Woman
5)     Jigsaw Puzzle
Side B
1)     Street Fighting Man
2)     Prodigal Son
3)    Stray Cat Blues
4)    Factory Girl
5)     Salt of the Earth 
DISC 2
1)     Sympathy for the Devil (mono) 
FLEXI DISC
1) 'Hello, This Is Mick Jagger!' LONDON to TOKYO April 17, 1968