The Complete Keen Years: 1957–1960, collects Sam Cooke's body of work as he began releasing secular albums, stepping away from the Soul Stirrers where he found great success as a gospel singer. Cooke had been releasing and dominating the gospel sales market over the six years previous to "You Send Me" and "Summertime" being released. Within this newly remastered collection are his unique versions of standards alongside performances that showcase his songwriting skills. Sam Cooke defined himself as a voice ahead of his time elevating the sound of soul at the turn of the decade.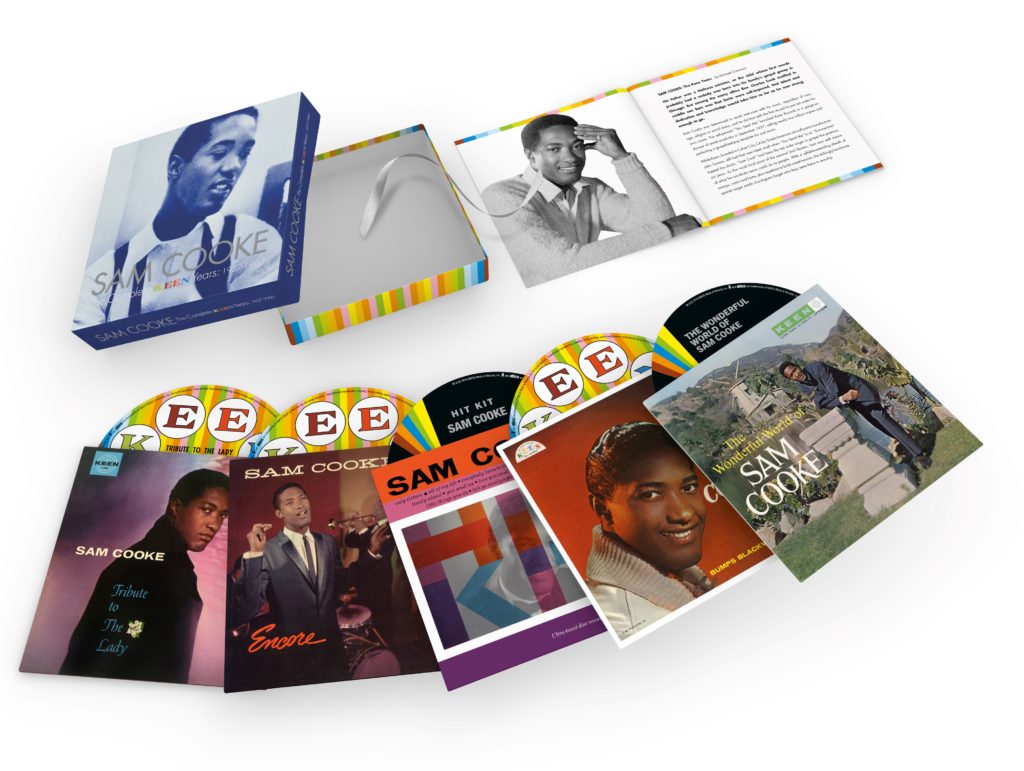 The now timeless "You Send Me," Sam Cooke's 1957 Keen Records debut, was a landmark recording on multiple levels. Composed by the artist, it was his very first #1 record and groundbreaking in no uncertain terms: a pop record by a gospel great that created the template for what would come to be known as "soul." Cooke's easy manner, bell-clear intonation and truly spectacular vocal ability set him apart from all others in both pop and R&B. This holds true today, on the eve of his 90th birthday, just as it did at the dawn of his secular career.
Sam Cooke was very much at home in the recording studio and the many tracks he cut over the course of nearly three years for John and Alex Siamas's Keen label reflect his massive talent at a turning point. The Complete Keen Years, sourced directly from recently recovered original master tape reels, offers an unparalleled listening experience thanks to years of painstaking research that has yielded tracks from the original tape reels from which Cooke's Keen albums and singles were mastered in the late 1950s and early 1960s. For The Siamas brothers, the record label was second to their primary business providing aircraft parts to the aerospace industry. Sometime after the label shuttered, the original masters went missing. It was fortuitous that a search of an airplane hangar yielded the tapes and now, for the first time in more than five decades, they are again the source for this precious Sam Cooke material.
The Complete Keen Years: 1957–1960 offers the Sam Cooke aficionado an opportunity to experience all of Cooke's Keen album and single tracks for a comprehensive overview of his time at the label. The 5-CD set includes the content of his five originally released Keen LPs plus multiple bonus tracks, a total of 65 tracks in all. Also included in this box are rare photographs and ephemera from the Keen archives alongside voluminous liner notes by writer Michael Corcoran.
The first volume of the set offers the thirteen tracks that comprise Cooke's 1958 LP debut for Keen, simply titled Sam Cooke also known as Songs By Sam Cooke, presented in mono, as originally recorded and released. Beyond the glorious "You Send Me," the album includes "Summertime (Part 2)," "Ain't Misbehavin'," "That Lucky Old Sun" and "Danny Boy."
The second album in the set includes the entirely of the 1958 release Encore that includes such Cooke-interpreted standards as "Ac-Cent-Tchu-Ate the Positive," "When I Fall In Love," "I Cover the Waterfront, "and "The Gypsy." As with Sam Cooke, orchestral backing is by Bumps Blackwell. The cover depicts the singer swinging with jazz musicians behind him, which is the perfect illustration of the sound of the album.
Sam Cooke's 1959 salute to Billie Holiday, Tribute to The Lady, is the Complete Keen Years third disc, also offered in mono as originally recorded and released. This session covers a select group of songs from Billie Holiday's catalog including "God Bless The Child," "I've Gotta Right To Sing The Blues, "Good Morning, Heartache" and "Crazy She Calls Me." Sam Cooke found his voice not by imitating popular singers but weaving his own interpretation of songs made notable by others. Alongside this collection of songs, is a thoughtful essay by Michael Corcoran written specifically for the Box Set. Corcoran refers to Tribute to The Lady as an essential look at how Sam Cooke found his voice:
"Like Lady Day, Sam had a pretty voice too honest to be cute, sending the words on paper through a spiritual journey before coming out of a mouth fluent in both sorrow and triumph. But he didn't sing songs her way."
As with every recording, Sam Cooke put every note in a place all his own.
The aptly named Hit Kit, when originally released by Keen in 1959 was a compilation of the singer's most popular songs and they comprise the first 12 tracks on the Complete Keen Years fourth disc including the original mono versions of "Only Sixteen," "Everybody Loves to Cha Cha Cha," "Win Your Love For Me" and "You Were Made For Me." Those are augmented here by 9 bonus tracks including six rare stereo Keen singles.
The Wonderful World of Sam Cooke is the box set's fifth disc. It was Cooke's last album release for Keen and takes its title from "(What A) Wonderful World," written by Cooke with Lou Adler and Herb Alpert; the latter music industry legends were on staff at Keen at that time. Highlights include "That's Heaven To Me," "You Were Made For Me" and "Almost In Your Arms (Love Song From "Houseboat")."The six bonus tracks include both a "gospelized" and the originally released versions of "Steal Away" and "Deep River" plus non-LP tracks "One Hour Ahead of the Posse" and "So Glamorous."
THE COMPLETE KEEN YEARS: 1957 – 1960
Disc 1 – Sam Cooke - originally released on Keen in 1958
1) You Send Me
2) The Lonesome Road
3) Tammy
4) Ol' Man River
5) Moonlight In Vermont
6) Canadian Sunset
7) Summertime, Pt. 2
8) Around the World
9) Ain't Misbehavin'
10) The Bells of St. Mary's
11) So Long
12) Danny Boy
12) That Lucky Old Sun
Disc 2 – Encore - originally released on Keen in 1958
1) Oh, Look at Me Now
2) Someday
3) Along the Navajo Trail
4) Running Wild
5) Ac-cent-tchu-ate the Positive
6) Mary, Mary Lou
7) When I Fall in Love
8) I Cover the Waterfront
9) My Foolish Heart
10) Today I Sing the Blues
11) The Gypsy
12) It's the Talk of the Town
Disc 3 – Tribute to The Lady - originally released on Keen in 1959
1) God Bless the Child
2) She's Funny That Way
3) I've Gotta Right to Sing the Blues
4) Good Morning Heartache
5) Tain't Nobody's Bizness (If I Do)
6) Comes Love
7) Lover Girl (Man)
8) Let's Call the Whole Thing Off
9) Lover Come Back to Me
10) Solitude
11) They Can't Take That Away from Me
12) Crazy She Calls Me
Disc 4 – Hit Kit - originally released on Keen in 1959; 9 bonus tracks
1) Only Sixteen
2) All of My Life
3) Everybody Loves to Cha Cha Cha
4) Blue Moon
5) Win Your Love For Me
6) Lonely Island
7) You Send Me
8) Love You Most of All
9) (I Love You) For Sentimental Reasons
10) Little Things You Do
11) Let's Go Steady Again
12) You Were Made For Me
13) Lonely Island (Single Version) [Bonus Track]
14) Win Your Love For Me (Stereo) [Bonus Track]
15) Almost In Your Arms (Theme from Houseboat) (Stereo) [Bonus Track]
16) Everybody Loves to Cha Cha Cha (Stereo) [Bonus Track]
17) Little Things You Do (Stereo) [Bonus Track]
18) Only Sixteen (Stereo) [Bonus Track]
19) Let's Go Steady Again (Stereo) [Bonus Track]
20) With You (Stereo) [Bonus Track]
21) Ee-I-Ee-I-Oh a/k/a Ee-Yi-Ee-Yi-Oh (Stereo) [Bonus Track]
Disc 5 – The Wonderful World Of Sam Cooke - originally released on Keen in 1960; 6 bonus tracks
1) (What A) Wonderful World
2) Desire Me
3) Summertime, Pt. 1
4) Almost in Your Arms (from "Houseboat")
5) That's Heaven to Me
6) No One (Can Ever Take Your Place)
7) With You
8) Blue Moon
9) Stealing Kisses
10) You Were Made for Me
11) There I've Said It Again
12) I Thank God
13) Steal Away (Album Version) [Bonus Track]
14) Deep River [Bonus Track]
15) One Hour Ahead of the Posse [Bonus Track]
16) Ee-I-Ee-I-Oh a/k/a Ee-Yi-Ee-Yi-Oh [Bonus Track]
17) So Glamorous [Bonus Track]
18) Steal Away (Single Version) [Bonus Track]