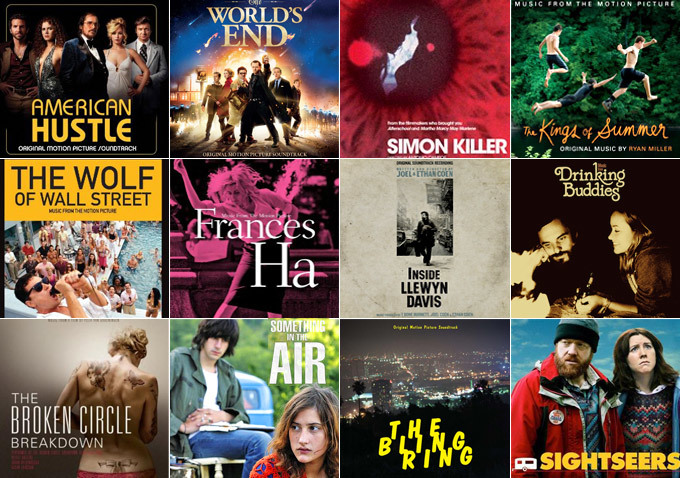 Two ABKCO titles, the soundtracks to The World's End and Frances Ha made The Playlist's list of "Best Soundtrack of 2013!" Here's what they had to say about the two amazing collections:
11. "The World's End"
A large part of what "The World's End" is about the idea of trying to recapture your youth (along with alcoholism and murderous robots from another galaxy), even if it almost kills you. This is perfectly captured in the film's soundtrack, comprised largely of incredibly specific, incredibly Britpop song from the '80s and early '90s (Pulp, Blur, Suede, Teenage Fanclub, The Stone Roses, et al.). Director Edgar Wright has always been pretty on point about the songs that he chooses for his films, but here he tackled the task with a tremendous sense of focus and intelligence. Sometimes the songs are thematically primed, like Primal Scream's "Loaded," which opens the movie in rousing fashion, and other times they work more as a gag than anything else (like Kylie Minogue's "Step Back In Time," a song we had kind of forgotten was so catchy-good). But no matter how Wright is utilizing the tracks, either to convey a story point or underline the movie's knottier existential concerns, they're all connected to such a concrete period of time that you can't help but think about where the characters came from and how their formative years have influenced who they are today. In "The World's End," nostalgia gets turned into a puddle of inky blue goo and as far as mix tapes for the apocalypse go, you could do a lot worse than this soundtrack.
2. "Frances Ha"
Let's be honest, if "Frances Ha" was made by some twentysomething filmschool hotshot, it'd likely be soundtracked by a host of Pitchfork favorites—it's not all that difficult to imagine the same story set to Vampire Weekend and Grizzly Bear. But while co-writer/star Greta Gerwig might be only just into her 30s, Noah Baumbach has a little more distance, and the film ends up with some rather more unexpected musical choices. The film features classic cuts from legends like Paul McCartney ("Blue Sway," a track we'd forgotten how much we liked until it popped up here), Harry Nilsson ("Mrs Butter's Lament") and T.Rex ("Chrome Sitar"), not to mention the exhilarating, Leos Carax-nodding use of David Bowie's "Modern Love." But then there's the unexpected, and hugely effective disco-soul of Hot Chocolate's "Everyone's A Winner," a brace of classical pieces from Mozart, Bach and Jaubert, and a number of lifts from the scores of Truffaut favorite Georges Delerue (nodding to one of the film's major influences). The closest thing to a contemporary cut is a late number by South African electronica artist Felix Laband, but even that feels like it could have come from any point in the last fifty years. As a result, Baumbach makes a film that could have dated instantly, into something that 27-year-olds will be identifying with a century from now.