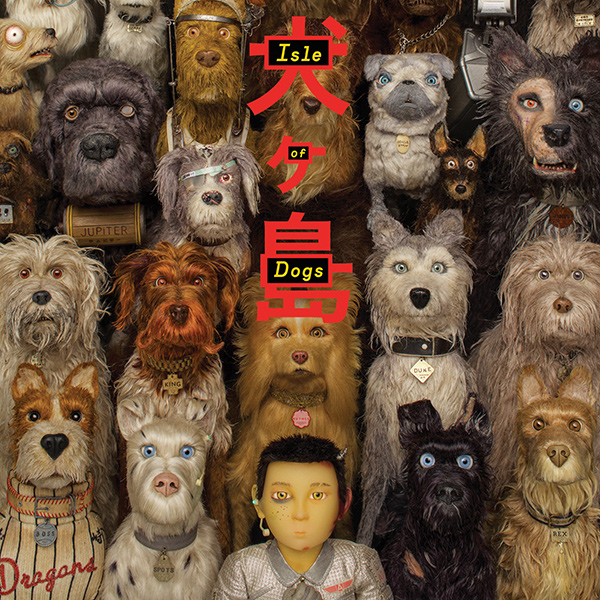 Celebrated composer Alexandre Desplat, has his tenth Best Original Score Academy Award® nomination for Isle of Dogs. The soundtrack for Isle of Dogs was released in 2018 and is available on digital, CD and vinyl formats.
"This was another fantastic collaboration with Wes Anderson," commented Desplat. "Wes is a wonderful artist and composing for his films always challenges me, taking me far from any expectations. I am so grateful and honored that the music branch of the Academy has nominated me for my Isle of Dogs score."
Released in March of last year, Isle of Dogs is the stop-motion animated feature starring Bryan Cranston, Koyu Rankin, Edward Norton, Bob Balaban, Bill Murray, Jeff Goldblum, Kunichi Nomura, Akira Takayama, Greta Gerwig, Frances McDormand, Akira Ito, Scarlett Johansson, Harvey Keitel, F. Murray Abraham, Yoko Ono, Tilda Swinton, Ken Watanabe, Mari Natsuki, Fisher Stevens, Nijiro Murakami, Liev Schreiber and Courtney B. Vance. It tells the story of Atari Kobayashi, 12-year-old ward to corrupt Mayor Kobayashi. When, by Executive Decree, all the canine pets of Megasaki City are exiled to a vast garbage-dump, Atari sets off alone in a miniature Junior-Turbo Prop and flies to Trash Island in search of his bodyguard-dog, Spots. There, with the assistance of a pack of newly-found mongrel friends, he begins an epic journey that will decide the fate and future of the entire Prefecture. In addition to being nominated in the Best Original Score category, Isle of Dogs has received a nomination for Best Animated Feature.
Isle of Dogs is the fourth film written, directed and produced by Wes Anderson that Desplat has scored. It follows Fantastic Mr. Fox, Moonrise Kingdom, and The Grand Budapest Hotel, the latter of which earned Desplat his first Academy Award® in 2015. All of these soundtracks were released by and are currently available from ABKCO.  Additionally, ABKCO released the soundtrack for Anderson's 2007 film The Darjeeling Limited. Desplat's second Oscar win came last year for The Shape of Water.
In addition to Desplat's score, Isle of Dogs Soundtrack features compositions from acclaimed Japanese films Seven Samurai and Drunken Angel, American composer/musician Kaoru Watanabe's taiko drumming, and off-beat tracks by the West Coast Pop Art Experimental Band and The Sauter-Finegan Orchestra. The soundtrack is produced by Wes Anderson and his longtime collaborator Randall Poster.
Track List:
Isle of Dogs Soundtrack
Shinto Shrine – Alexandre Desplat
Taiko Drumming – Kaoru Watanabe
The Municipal Dome – Alexandre Desplat
Six Months Later Dog + Dog-Fight – Alexandre Desplat
The Hero Pack – Alexandre Desplat
First Crash-Landing – Alexandre Desplat
Kanbei & Katsushiro–Kikuchiyo's Mambo (from Seven Samurai) – Toho Symphony Orchestra
Second Crash-Landing + Bath House + Beach Attack – Alexandre Desplat
Nutmeg – Alexandre Desplat
Kosame No Oka (from Drunken Angel) – David Mansfield
I Won't Hurt You – The West Coast Pop Art Experimental Band
Toshiro – Alexandre Desplat
Jupiter and Oracle + Aboriginal Dogs – Alexandre Desplat
Sushi Scene – Alexandre Desplat
Midnight Sleighride (from "The Lieutenant Kije Suite") – The Sauter-Finegan Orchestra
Pagoda Slide – Alexandre Desplat
First Bath of a Stray Dog – Alexandre Desplat
TV Drumming  – Kaoru Watanabe
Konbayashi Canine-Testing Laboratory – Alexandre Desplat
Tokyo Shoe Shine Boy – Teruko Akatsuki
Re-Election Night Parts 1-3 – Alexandre Desplat
End Titles – Alexandre Desplat