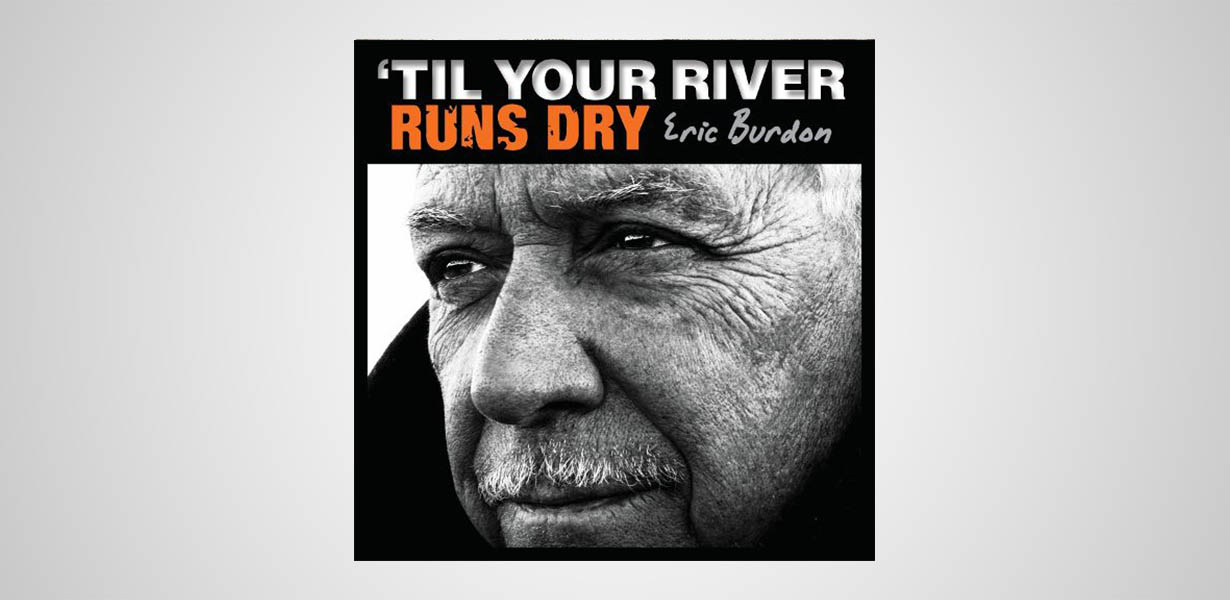 Eric Burdon has completed his most personal album to date, titled 'Til Your River Runs Dry to be released September 18 by ABKCO Records. A member of the Rock and Roll Hall of Fame and hailed by Rolling Stone as one of the "100 Greatest Voices of All Time," Burdon has long forged new ground while maintaining a commanding presence in the music marketplace as front man of The Animals, with WAR at its inception and simply as Eric Burdon. In 2012, Eric's influence is enjoying resurgence with both new artists and superstars.
SNEAK PEEK OF FIRST SINGLE "MEMORIAL DAY" TO BE RELEASED AS A FREE AUDIO STREAM TO FANS MEMORIAL DAY WEEKEND
During his 2012 SXSW keynote address Bruce Springsteen said of The Animals' "We Gotta Get Out of This Place," "That's every song I've ever written. That's all of them. I'm not kidding, either. 'Born to Run,' 'Born in the USA,' everything I've done for the past 40 years, including all the new ones." At that very moment, in another part of Austin, Eric was jamming with emerging artist Brendan Benson for a Daytrotter session which will go live on Daytrotter.com, Friday May 25, 2012. Just a few hours after Springsteen's "confession," he and Burdon joined forces for an electrifying duet on 'We Gotta Get Out of This Place."
As a special and very timely preview of 'Til Your River Runs Dry, one track from the album, aptly titled "Memorial Day," premieres via audio stream this Memorial Day weekend. Click here to listen and feel free to share: http://soundcloud.com/abkco-1/memorial-day
'Til Your River Runs Dry features original tracks written by Eric Burdon including "Bo Diddley Special," "The River Is Rising," "Water," "Wait" and and the aforementioned "Memorial Day." ABKCO will support the album's release with an extensive promotion and marketing campaign in conjunction with a full slate of tour dates by Burdon.
The album was produced by Burdon and Tony Braunagel and recorded in New Orleans in 2010 and 2011 in California at Playback Studios in Santa Barbara and at Ultratone Recording in Studio City where Eric recorded his last two albums, My Secret Life and Soul of a Man. The new album was mixed by Ed Cherney and mastered by Doug Sax and Eric Boulanger at The Mastering Lab in Ojai, California.
Eric recently discussed 'Til Your River Runs Dry and its lengthy gestation period:
"I started feeling that I needed to use this album as a catharsis, to express my own truth. It took longer than any other album, not because of time spent in the studio, but because of the subject matter of the songs I wanted to put out there," Eric explains. The result is a deeply intimate, honest self-portrait as well as unsparing look at religion, politics and the environment. "During the making of this record, we lost Bo Diddley, one of my greatest influences. There were many things I would have said to him, if I'd realized that his time was limited."
"I traveled to New Orleans to record with the Fats Domino's band, something I wrote when Fats was presumed missing in the days after Katrina. The whole Katrina situation touched me deeply. It's the birthplace of all the music that I love. A friend sent me a photo of Fats being rescued and it brought me such joy. I knew I had to put in words – and music – the relief that I felt. The struggle I had writing the material for this record was intense."
"Global warming, the potential disaster of the water crisis.. too much water, too little water. I chose the title, because there are so many times in one's life, when one feels he has nothing more to offer. But no, my river has not run dry. I offer this as a bit of hope that we, as the human race, will find new sources of replenishment and inspiration."
"I never looked for money or fame, but I always knew I had to follow my own journey. As a kid in Newcastle, it was extremely unlikely that I would have an international career as a singer, lasting 50 years. I've been very fortunate. I'm a survivor, who doesn't take his good fortune for granted."
"When I started out with the Animals I never dreamed that I would grow old, much less be singing on stage at the age of 70," said Eric. "There I was, in my twenties, singing "When I was Young," as if I was already an old man. Now, I can look back at a life with many ups and downs, and thankfully, I can reflect on where I am and where I've been. I'm privileged to be able to look back at the many paths and highways that I've traveled. At this point in my life, I'm very comfortable in this place where I am."
DAYTROTTER SESSION POSTING FRIDAY MAY 25 INCLUDES 4 BURDON CLASSICS, RECORDED WITH BRENDAN BENSON AND ERIC'S BAND DURING SXSW 2012