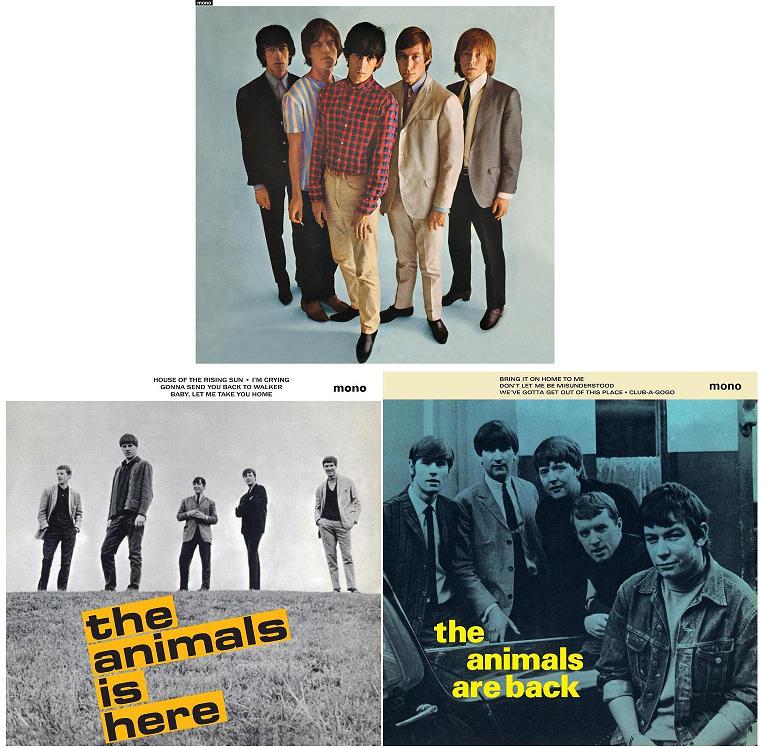 ABKCO Records has announced the release of three collectable and limited edition EPs by The Rolling Stones and The Animals in conjunction with this year's Record Store Day, Saturday, April 20, 2013. ABKCO is proud to support the efforts of over 700 independently owned record stores in the U.S., and hundreds of similar stores around the world. The three EPs, out in celebration of Record Store Day, highlight milestone releases in the careers of the Rolling Stones and the Animals, both of which are celebrating their respective 50th anniversaries, and are destined to be sought after by collectors for whom vinyl is treasured.
ABKCO's Record Store Day offerings include:
THE ROLLING STONES – FIVE BY FIVE (EP)
– This five track EP was initially released, only in the U.K., in August, 1964 and marks the first time FIVE BY FIVE has ever been released in the U.S. in its original 7" vinyl format. The EP contains mono mixes of songs recorded during the band's June, 1964 sessions at the legendary Chess Studio in Chicago. It features the original compositions "Empty Heart" and "2120 South Michigan Avenue" (address of Chess Records) as well as Stones' versions of songs originally recorded by Solomon Burke, Chuck Berry and Jay McShann.
SIDE ONE
1. If You Need Me
2. Empty Heart
3. 2120 South Michigan Avenue
SIDE TWO
1. Confessin' the Blues
2. Around and Around
THE ANIMALS – THE ANIMALS IS HERE (EP)
This mono release was originally pressed and distributed, only in the U.K., as a 7" E.P., towards the end of 1964. THE ANIMALS IS HERE includes the band's first three chart hits in the U.K. and U.S. — "The House of the Rising Sun," "Gonna Send You Back to Walker" and "I'm Crying" in the U.K./ "Baby Let Me Take You Home," and the aforementioned "I'm Crying" and "The House of the Rising Sun" in the U.S. This is the first vinyl release of the EP in the U.S. In lieu of the original 7″ format, ABKCO opted for a 10" inch vinyl for better audio fidelity. Iconic British Invasion producer Mickie Most handled the production of these historic tracks at Kingsway Studios in London and the E.P. charted at an impressive #37 in the U.K. upon release. The single, "The House of the Rising Sun," hit #1 on both the U.K. and the U.S. charts and established the band as one of the era's top contenders.
SIDE ONE
1. The House of the Rising Sun
2. Gonna Send You Back to Walker
SIDE TWO
1. I'm Crying Baby
2. Baby, Let Me Take You Home
THE ANIMALS – THE ANIMALS ARE BACK (EP)
This is another "U.K. only" mono release that features production by Mickie Most. production helm which was first made available in October of 1965. Also recorded at Kingsway Studios in London and released in October, 1965, it was originally pressed and released on 7" vinyl. Record Store Day will mark the first time this EP will have been released in the U.S. on vinyl, this time in 10" format for optimal audio quality. THE ANIMALS ARE BACK (EP) hit #14 on the U.K. charts and features the much sought after "U.K. only" single version of "We Gotta Get Out of This Place," (#2 U.K.); "Bring It On Home to Me," (#7 U.K./#32 U.S.) and "Don't Let Me Be Misunderstood," (#3 U.K./#15 U.S.). Also featured is the early Burdon/Price composition, "Club-A-GoGo."
SIDE ONE
1. Bring it on Home to Me
2. Don't Let Me Be Misunderstood
SIDE TWO
1. We've Gotta Get Out of This Place
2. Club-A-GoGo