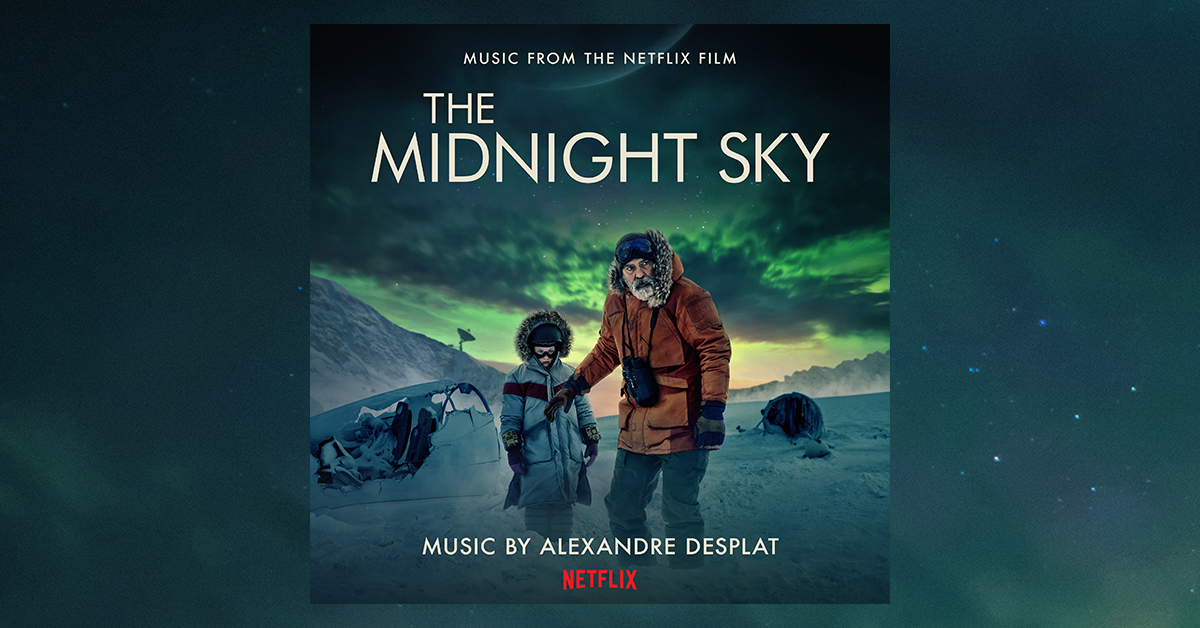 The Midnight Sky (Music from the Netflix Film) from Academy Award winning composer Alexandre Desplat. He worked with The London Symphony Orchestra to create a dramatic score for the George Clooney film, which premiered December 23 on Netflix, for which Desplat earned his twelfth Golden Globe Award nomination in the Best Original Score category.
Pre-order The Midnight Sky (Music from the Netflix Film) CD
"When I sat down with Alexandre, he goes, 'Oh, you want me to write a concert.'" George Clooney says, laughing. "And I was like, 'Yeah, I want you to write a concert!' And he did. He understands emotion as well as any composer I've ever heard."
"George's masterful directing and his true passion for music offered me a wonderful canvas on which to write music." comments Desplat. "The heartbreaking events depicted in the film, a dying earth, the delicate tender scenes between Augustine and Iris, the virtuoso sequences in space and the metaphysical questions raised allowed me to compose a score in which emotions, from the more intimate to the widest scope are emphasized by the amazing string section of the London Symphony orchestra."
Watch George Clooney and Alexandre Desplat discuss their approach to the score here.
The Midnight Sky, starring George Clooney, Felicity Jones, David Oyelowo, Tiffany Boone with Demián Bichir and Kyle Chandler and introducing Caoilinn Springall is an adaptation of Lily Brooks-Dalton's acclaimed novel Good Morning, Midnight. This post-apocalyptic tale follows Augustine (George Clooney), a lonely scientist in the Arctic, as he races to stop Sully (Felicity Jones) and her fellow astronauts from returning home to a mysterious global catastrophe. The film has been nominated for an Academy Award in the Best Visual Effects category.
The Midnight Sky (Music from the Netflix Film) CD track list:
The Midnight Sky

 – 3:31

 

Aether

 Spaceship

 – 3:32

 

Mission

 – 4:22

 

Iris in the Stars

 – 4:30 

 

Evacuation

 – 2:46

 

Families & Friends

 – 2:

29

 

In the Milky Way

 – 2:54

 

A Child

 – 1:55

 

Peas Battle

 – 3:2

0

 

First Alert

 – 3:5

1

 

Crashed Plane

 – 5:2

0

 

The Ice Breaks

 – 3:0

7

 

Visual on Earth

 – 3:03

 

Surviv

o

rs

 – 3:1

2

 

Is There hope?

 – 7:42

 

Changing Route

 

–

 

3:54

 

Asteroids Rain

 – 2:0

7

 

Blood Drops

 – 5:3

0

 

Mourning

 – 3:58

 

There is Nowhere

 – 2:12

 

A Ride Home

 – 1:4

2

 

A New Life Ahead

 – 3:03

 
ABOUT ALEXANDRE DESPLAT
Two-time Academy Award winner and eleven-time nominee, Desplat won his first Oscar for Grand Budapest Hotel in 2015, the year when he was competing against himself for The Imitation Game.  Desplat received his second Oscar in 2018 for The Shape of Water. The prolific composer has collaborated with some of the world's top filmmakers including Guillermo del Toro, Wes Anderson, Kathryn Bigelow, Stephen Frears, Terrence Malick, and Ang Lee. For director George Clooney he scored Suburbicon, The Monuments Men and Argo, the latter directed by Ben Affleck and produced by Grant Heslov and George Clooney. Among the eleven film scores for which Alexandre Desplat has received Academy Award nominations are three that have been released through ABKCO: The Fantastic Mr. Fox, Isle of Dogs and Grand Budapest Hotel.
ABOUT THE MIDNIGHT SKY
George Clooney directs and stars in screenwriter Mark L. Smith's adaptation of Lily Brooks-Dalton's acclaimed 2016 post-apocalyptic novel, Good Morning, Midnight. The ensemble includes Academy Award®-nominated Felicity Jones (The Theory of Everything), Golden-Globe-nominated David Oyelowo (Selma), Emmy-winner Kyle Chandler (Friday Night Lights) and Academy Award ® nominee Demián Bichir (A Better Life). Rounding out the main cast are Tiffany Boone (Little Fires Everywhere), Ethan Peck, Sophie Rundle (Peaky Blinders), Miriam Shor and eight-year-old newcomer Caoilinn Springall.  The film is produced by Clooney and his long time producing partner Grant Heslov, as well as Bard Dorros, Keith Redmon and Cliff Roberts. The Director of Photography is Martin Ruhe, production designer is Jim Bissell, costume designer is Jenny Eagan and visual effects supervisors are Matt Kasmir and Chris Lawrence. Academy Award ® -winning editor Stephen Mirrione (Traffic) cut the film, while two-time Academy Award ® winner Alexandre Desplat (The Shape of Water) composed the original score.