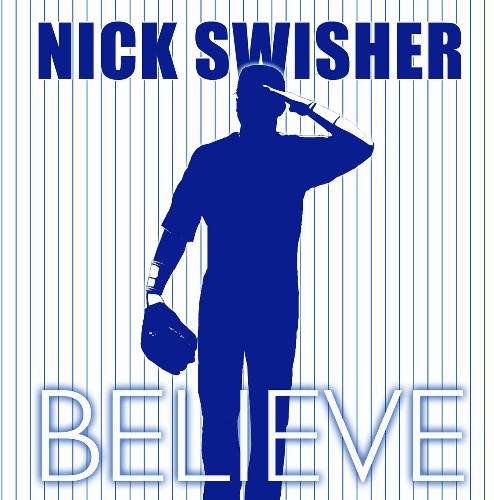 Yankee All-Star Nick Swisher Sets Release Date For Kids Charity Album Through ABKCO Records
New York, N.Y. – World Series Champion and Major League Baseball All-Star Nick Swisher of the New York Yankees has added another impressive credit to his professional resume: recording artist. ABKCO Records will release Believe, his debut album, on October 11 both as a physical CD and through online retailers. The album had been independently released digitally this summer.
The album, aimed at kids, is a fundraiser for Swish's Wishes, Nick's charitable foundation that is dedicated to enriching lives and lifting the spirits of children facing vital health issues. Swisher, currently doing his part to maintain the Yankees' standing at the top of the American League East, commented, "I am so grateful to have worked with such talented musicians on this project." He added, "Just seeing the overwhelming response from our digital release, I can't wait to see how the CD version of the album does. With the legends at ABKCO on my team, I know I'm in great hands." That digital version, released earlier, got into the Top 3 of iTunes Children's Albums "standings."
On Believe, Swisher was joined in the recording studio by an all-star dugout's worth of great musicians including drummer Kenny Aronoff (John Mellencamp, Melissa Etheridge), bassist Leland Sklar (James Taylor, Phil Collins), guitarist Tim Pierce (Goo Goo Dolls, Michael Jackson) and keyboardist Matt Rollings (Tim McGraw, Lyle Lovett). Special music guests appearing on the album include former New York Yankee and Latin GRAMMY® Nominee Bernie Williams and San Francisco Giants Barry Zito. Also joining Nick for the album's sessions was a group of talented youngsters, ranging in age from 8 to 13, who provided backup vocals on each track. The kids were sourced from School of Rock, the nationally lauded music education franchise and were joined by Natalie Prieb, 13, granddaughter of MLB Commissioner Bud Selig.
Believe was produced by Loren Harriet, who also helmed Bernie Williams' two critically acclaimed albums. To a range of great material written by – among others – the Beatles, Sly, Bill Withers, David Bowie, John Fogerty and the Rolling Stones, Swisher brings his legendary sense of fun and energetic personality and voice to some of the most recognized and popular songs of all time. Swisher's selected his own "starting lineup" that includes Bowie's "Heroes," Tom Petty's "I Won't Back Down" and John Denver's "Take Me Home Country Roads, a tribute to Nick's hometown of Parkersburg, WV. Also included is "Hang On Sloopy," a shout-out to Ohio State, Swisher's alma mater.
1. Heroes
2. I Won't Back Down
3. Where The Green Grass Grows
4. Lean On Me
5. With A Little Help From My Friends
6. Everyday People
7. Proud Mary
8. Take Me Home, Country Roads
9. Joy To The World
10. Hang On Sloopy
11. Jumpin' Jack Flash
12. Believe