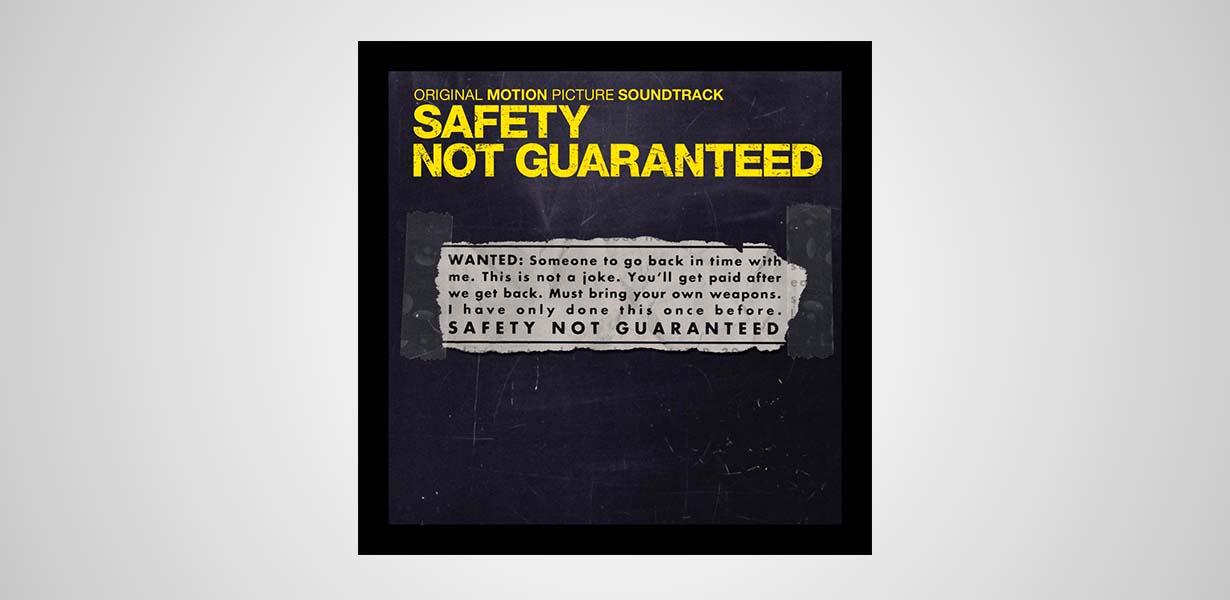 ABKCO Records is releasing Safety Not Guaranteed (Original Motion Picture Soundtrack) as part of its ongoing music administration agreement with Big Beach Films. The soundtrack is set for release with all digital retailers on June 5, in advance of the film's opening in New York, Los Angeles, Portland and Seattle on June 8 with additional markets added in successive weeks. Safety Not Guaranteed is being released by FilmDistrict (The Rum Diary, Drive and the Academy Award® nominated, In The Land of Milk and Honey).
The film, starring Aubrey Plaza, Mark Duplass, Jake Johnson and Karan Soni, is directed by Colin Trevorrow and written by Derek Connolly, who received the 2012 Sundance Film Festival's Waldo Salt Screenwriting Award for his screenplay. The film is produced by Marc Turtletaub and Peter Saraf, the production team behind the Academy Award winning Little Miss Sunshine, along with Stephanie Langhoff, Trevorrow and Connolly.
The film's original score was written and performed by Ryan Miller, the singer, guitarist and founder of Guster, one of alternative rock's mainstays over the course of the past 20 years. "Big Machine," written by Miller, is performed in the film by Mark Duplass' character and the soundtrack album is bookended with a studio recording of the song by Duplass, an accomplished musician in his own right.
Featuring Music From Guster's Ryan Miller
Other soundtrack highlights include Guster's "Architects And Engineers," along with "She's Bound To Get Hurt" by Philadelphia-based indie band Summer Fiction and The Hoppin' Haole Brothers' ukulele-powered "Litter Box Beach." Also featured is "Hard On Your Man," an unreleased track from Hearts On Fire, a band that included Bob "Woody" Trevorrow, the father of Safety Not Guaranteed director Colin Trevorrow.
"I've been a full-time musician for the past 18 years and I can say, without exaggeration, that my involvement with Safety Not Guaranteed has been one of the true highlights of my career," noted Ryan Miller. "It's been an incredible and indelible experience watching something grow from the germ of an idea to a feature film that has gathered supporters, fans and believers every step of the way. I can't wait to see where this leads all of us — the cast, the crew and myself — I have a sneaking suspicion this may be one of those films we're still talking about years down the road."
The film's plot centers on an unusual classified ad that inspires three cynical Seattle magazine employees to look for the story behind it. They discover a mysterious eccentric named Kenneth, a likable but paranoid supermarket clerk, who believes he's solved the riddle of time travel and intends to depart again soon. Together, they embark on a hilarious, smart, and unexpectedly heartfelt journey that reveals how far believing can take you.
Aubrey Plaza plays Darius in Safety Not Guaranteed and is familiar to fans of NBC's Parks and Recreation where she plays resolute underachiever April Ludgate. She has appeared in such films as Scott Pilgrim vs. The World and Judd Apatow's Funny People. Mark Duplass plays Kenneth, the would-be time traveler, he starred in, co-wrote and co-directed The Puffy Chair, winner of the SXSW Audience Award in 2005 and is the lead in The League, now in its fourth season on FX. Jake Johnson is currently seen in The New Girl with Zooey Deschanel on Fox and in the recent 21 Jump Street feature film. Karan Soni plays Arnau and makes his big screen debut in Safety Not Guaranteed. Recently Soni's been seen on the small screen in The Protector (Lifetime), Are You There, Chelsea? (NBC) and Touch (Fox).
Track listing
1) Big Machine (Acoustic Version) – Mark Duplass
2) Opening – Ryan Miller
3) Architects And Engineers – Guster
4) Gaming Laptop – Ryan Miller
5) She´s Bound To Get Hurt – Summer Fiction
6) First Car Chase – Ryan Miller
7) Litterbox Beach – The Hoppin´ Haole Brothers
8) Hairy Arms – Ryan Miller
9) Slow Chase Pts 1 & 2 – Ryan Miller
10) Grocery Walkout – Ryan Miller
11) Popped Collar – Ryan Miller
12) Hard On Your Man – Hearts On Fire
13) In The Garage – Ryan Miller
14) Time Machine – Ryan Miller
15) Big Machine – Mark Duplass