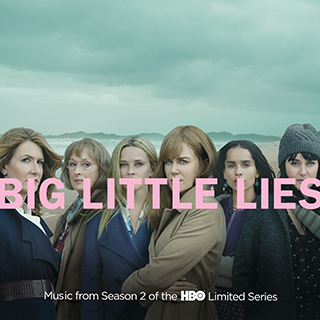 ABKCO Music & Records will digitally release Big Little Lies (Music From Season 2 of the HBO Limited Series) on July 19, just ahead of the July 21 season finale of the multiple Emmy and Golden Globe-winning series. The Atlantic described it "as entertaining as it is thoughtful about human damage and desire." The soundtrack includes music by Willie Nelson, Charles Bradley and The Spinners and is highlighted by previously unreleased exclusive tracks by Leon Bridges and Jim James. The CD is due out October 4th, followed by vinyl on October 18th.
Big Little Lies Season 2 (Music From The Limited HBO Series) CD/vinyl pre-order link: http://smarturl.it/biglittlelies2
Based on Liane Moriarty's bestselling book, and starring Reese Witherspoon, Nicole Kidman, Laura Dern and Shailene Woodley, Big Little Lies is a darkly comedic series that tells the tale of three mothers whose seemingly perfect lives unravel to the point of murder. Originally intended as one-season miniseries it was renewed for a second season with show creator David E. Kelley writing the episodes, Andrea Arnold directing and Academy Award-winning actress Meryl Streep joining the cast.
Since its 2017 premiere, Big Little Lies has received overwhelmingly positive critical response. The New Yorker describes the series as "gorgeous, sensual, and seductive," declaring it "the year's best surprise." Time asserts that the cast "brought life to emotions near-impossible to talk about." The use of music is particularly integral to the storytelling – Variety pointed out "the producers' use of songs and specific artists as a connective tissue from season to season and even episode to episode." Esquire noted that "every music choice sheds a bit of commentary into the story, whether it's in the mind of a character or streaming from their laptops."
Big Little Lies Season 2 (Music From The Limited HBO Series) leans heavily on soul music past and present. Included are the Spinners' Top 5 hit from 1972 "I'll Be Around," "Until You Came Into My Life" by Ann Peebles (1974) and "Great Big Bundle of Love" – a lesser known 1970 single by Los Angeles soul institution Brenton Wood. Recorded in 1979, Donnie and Joe Emerson's "Baby" from their self-released album Dreamin' Wild, existed in total obscurity before the reissue label Light In The Attic gave it new life earlier this decade. Similarly, soul crooner Charles Bradley was discovered late in life; the timeless sound of 2013's "Let Love Stand a Chance" featuring Menahan Street Band would fit well in soul music's golden era.
Another musical motif on Big Little Lies Season 2 (Music From The Limited HBO Series) is the genre-blurring cover song. Jazz singer Cassandra Wilson's rendition of Neil Young's somber "Harvest Moon," indie rockers POP ETC's take on Fleetwood Mac's "Dreams," and country legend Willie Nelson's duet with daughter Paula Nelson of Creedence Clearwater Revival's "Have You Ever Seen the Rain" present fresh and interesting takes on familiar tunes. The two Nelsons aren't the only familial duo present on the album; the guitar of blues/folk musician Elizabeth Cotton is heard on 1967's "Shake Sugaree" and Brenda Evans, her then 12-year-old great granddaughter, on vocals. Evans would go on to co-found hit soul group The Undisputed Truth a few years later.
The tune stack includes "Good Thing Gone" from Elle King's 2018 album Shake the Spirit and Phoebe Killdeer and the Short Straws' "The Fade Out Line" (of which the deep house remix by The Aventer was an international hit in 2014.) There is also a trio of brand new, previously unreleased tracks. These include Christina Vierra and The Ryan Rehm Band's recording of "Piece of My Heart" (first released by Erma Franklin and made famous by Janis Joplin with Big Brother and the Holding Company), Grammy Award winning R&B artist Leon Bridges' original number "That Was Yesterday" and My Morning Jacket's Jim James with "Why Can't We Live Together," a new interpretation the 1972 hit by Timmy Thomas, its composer.
"I have long loved 'Why Can't We Live Together' and had actually covered it several times, so when I was approached to record a version for Big Little Lies, I was very excited," said Jim James. "They needed the song, practically overnight, so I performed, recorded, and mixed the song all in one day and the timing worked out; it was a lot of fun. We need a song with a message of peace and love so much in these troubled and confusing times."
Leon Bridges describes his selection as, "A lil song from archives I wrote with my good friend Dan Wilson after the whirlwind that was the Coming Home album and touring cycle. Thank you for all your love and support."
Still available by ABKCO Music & Records on streaming, CD and vinyl is Big Little Lies: Music From The HBO Limited Series. The soundtrack for the original season, which earned Susan Jacobs an Emmy Award for Outstanding Music Supervision, also features Leon Bridges and Charles Bradley, as well as Alabama Shakes, Irma Thomas, Martha Wainwright and cast member Zoë Kravitz.
Big Little Lies Season 2 (Music From The Limited HBO Series) track list
1. I'll Be Around – The Spinners (Episode 1)
2. Good Thing Gone – Elle King (Episode 2)
3. Harvest Moon – Cassandra Wilson (Episode 1)
4. Until You Came Into My Life – Ann Peebles (Episode 6)
5. The Fade Out Line – Phoebe Killdeer and The Short Straws (Episode 1)
6. Great Big Bundle of Love – Brenton Wood (Episode 2)
7. Let Love Stand A Chance – Charles Bradley (feat. Menahan Street Band) (Episode 2)
8. Baby – Donnie & Joe Emerson (Episode 5)
9. Dreams – POP ETC (Episode 4)
10. That Was Yesterday – Leon Bridges (Episode 7)
11. Why Can't We Live Together – Jim James (Episode 4)
12. Have You Ever Seen The Rain – Willie Nelson feat. Paula Nelson (Episode 7)
13. Piece of My Heart – Christina Vierra and The Ryan Rehm Band (Episode 7)
14. Shake Sugaree – Elizabeth Cotten and Brenda Evans (Episode 6)