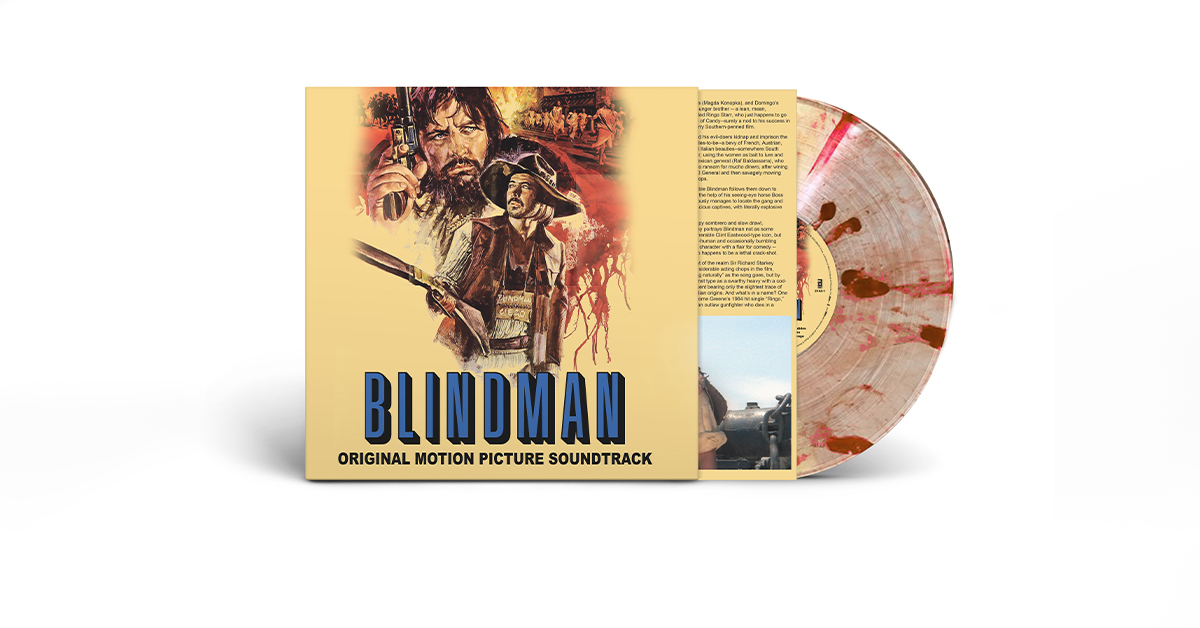 Score Composed By Stelvio Cipriani For Cult 1971 Spaghetti Western Blindman Starring Ringo Starr & Tony Anthony
Blindman (Original Motion Picture Soundtrack) will be released in conjunction with the worldwide event Record Store Day on limited edition blood splatter vinyl, with new liner notes by acclaimed musician/songwriter Gary Lucas and a reproduction of the original film poster. The film, originally released in 1971, features music by Italian composer Stelvio Cipriani. For Blindman, Cipriani alternates between classically orchestrated soundtrack music and mariachi-inflected themes, staying true to the thematic motifs of the film. For several decades, the Blindman soundtrack never saw an official physical release (CD only, by Digitmovies in Italy, in 2005), and was previously only available digitally. This special edition will be the soundtrack's debut on the vinyl format.
Directed by Ferdinando Baldi (David and Goliath, starring Orson Welles), Blindman is a take on the immensely popular Zatoichi films of Japan. A blind gunman (Tony Anthony) escorts a group of fifty women to Texas, where they are to be married to miners. When the mail order brides are kidnapped by a gang working for two banditos (one of whom is played by Ringo Starr) and their villainous sister, the captors find out their opponent, dependent on his horse and his hearing, is a deadlier challenge than they might have expected. Full of humor and sarcasm, Blindman is one of the most stylish and absurdist of the early '70s "Spaghetti Westerns." Shot at Cinecitta Studios in Rome, and on location in southern Spain, Blindman was co-produced by Tony Anthony, Allen Klein and Saul Swimmer, the latter of whom co-produced The Beatles film Let It Be and directed George Harrison's The Concert for Bangladesh. In 2016, ABKCO Films released Blindman on DVD, Blu-ray and digital download versions in HD, restored from the original 35mm negative.
Ron Kretsch of Dangerous Minds noted about Blindman, "It's really quite good. This isn't just celebrity stunt casting, [Ringo] actually gives the role of 'lovesick bandito' some heft . . . he plays the part so well."
Born in 1937, composer Stelvio Cipriani played in cruise ship bands as a teen and became pianist for Italian pop star Rita Pavone before breaking into film scoring in 1966 with The Bounty Killer. He was awarded a Nastro d'Argento film award in the category of Best Score for The Anonymous Venetian (1970), and ultimately worked on over 130 more soundtracks before his passing in 2018. A piece of Cipriani's score for La polizia sta a guardare (The Great Kidnapping) can be heard in Quentin Tarantino's film Death Proof.
"Cipriani's rich tapestry of sound, while having antecedents in Ennio Morricone's scores for Sergio Leone's Man with No Name trilogy, truly inhabits a world of its own, and will be of special interest to fans of great Film Scores and the Exotica genre," says Gary Lucas in the soundtrack's liner notes. Lucas is most known for having been a member of Captain Beefheart's band, forming his own group Gods and Monsters, and working with Jeff Buckley, John Cale, Patti Smith and Leonard Bernstein, among dozens of others. He refers to Cipriani as a "sonic magician" and also extols the virtues of 4 + 4, the choir led by famous Italian vocalist/film composer Nora Orlandi. "She punctuates the strange desert landscape with staccato, guttural cries of 'Heyyyyy!'—dervish-like raspy shouts of a Mexican bruja that are staggered throughout the track so rhythmically and smoothly it sounds like they were accomplished by sampling years before that technology even existed."
Blindman (Original Motion Picture Soundtrack)
Side A
Main Titles
Blindman's Arrival
Blindman's Mariachi
Blindman Vs. Bandidos
Lonely Horseman
Blindman Escapes
Blindman's Mariachi #2
A Man's Revenge
Zatoichi In The West
Side B
Blindman's Mariachi #3
Fifty Women For Blindman
Rescuing The Girls
The Procession
Blindman Strikes Back
Blindman's Mariachi #4
Final Confrontation
Finale & End Titles
All tracks composed by Stelvio Cipriani