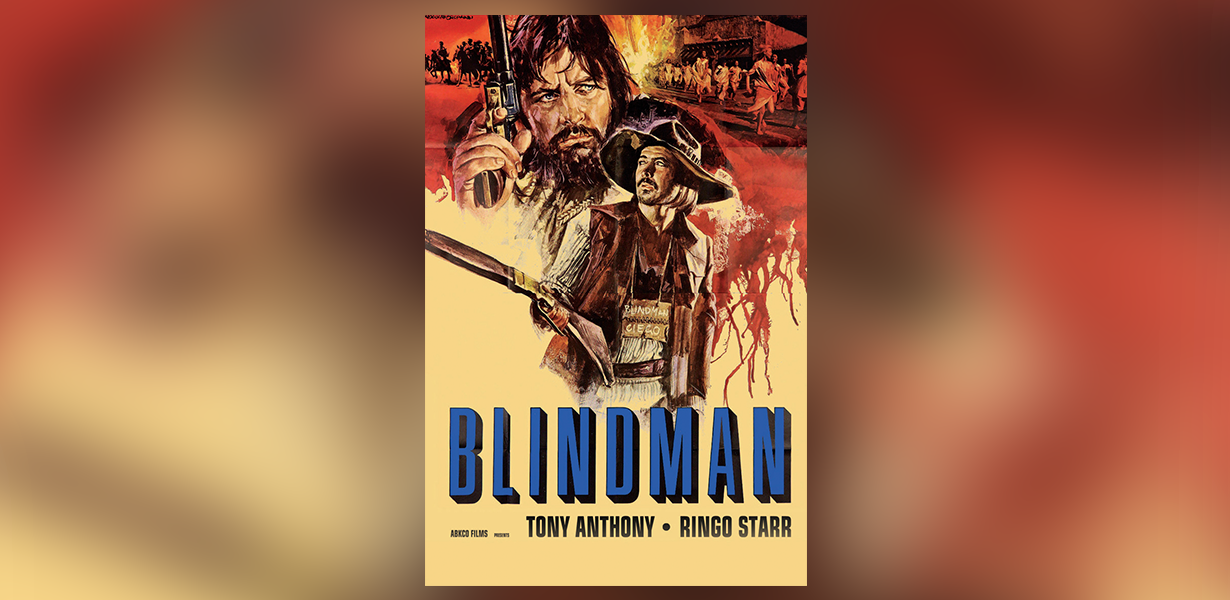 On November 4, ABKCO Films will release a newly restored version of Blindman, the 1971 cult Spaghetti Western starring Tony Anthony and Ringo Starr and directed by Ferdinando Baldi (David and Goliath starring Orson Welles). The DVD and digital download versions are in HD, mastered from the original 35mm negative. The release is preceded by midnight theatrical screenings at IFC Center in New York City on October 7 and 8, and a double feature with Jodorowsky's El Topo at the Castro Theater in San Francisco on October 21.
Ron Kretsch recently wrote about Blindman for Dangerous Minds, noting, "It's really quite good." He went on state, "This isn't just celebrity stunt casting, [Ringo] actually gives the role of 'lovesick bandito' some heft . . . he plays the part so well. (And now I'll be earwormed with Ringo's version of 'Act Naturally' for a few hours.)"
Blindman is Baldi's take on the immensely popular Zatoichi films of Japan. A blind gunman (Tony Anthony) escorts a group of fifty women to Texas, where they are to be married to miners. When the mail order brides are kidnapped by a gang working for two Mexican banditos (one of whom is played by Starr) and their villainous sister, the captors find out their opponent, dependent on his horse and his hearing, is a deadlier challenge than they might have expected. Full of humor, sarcasm and featuring an unforgettable 5.1 audio soundtrack by Stelvio Cipriani, Blindman is one of the most stylish and absurdist of the Spaghetti Westerns from the early '70s.
Shot at Cinecitta Studios in Rome, and on location in southern Spain, Blindman was co-produced by Tony Anthony, Allen Klein and Saul Swimmer, the latter of whom co-produced the Beatles film Let It Be and directed George Harrison's The Concert for Bangladesh. Blindman features many classic Spaghetti Western locations in their heyday – the Western town of Decorados in the Tabernas desert, the massive fort built for the American film El Condor, the railroad station from Once Upon a Time in the West, the cortijo from Duck, You Sucker, and the "mission" location featured in The Bounty Killer and Death Rides a Horse.
In his book 10,000 Ways to Die: A Director's Take on the Spaghetti Western, Alex Cox (Repo Man, Sid and Nancy) describes the production design by Gastone Carsetti in Blindman as being "exceptionally fine," adding, "his triumphs are a ghost ranch, surrounded by a mesa-sized cemetery, and Domingo's town – which . . . he insists on painting black, anticipating High Plains Drifter's city-painting schemes by several years. The images of a jet-black settlement with a white-walled church, surrounded by the Tabernas desert, are sensational."
Ringo Starr, having just ignited his solo career the year before, amidst of the dissolution of the Beatles, was so imbued with his role in Blindman that he recorded a song describing the premise of the film. The b-side to his 1972 single "Back Off Boogaloo," the aptly titled "Blindman" was produced by Klaus Voormann, a member of Plastic Ono Band and cover art designer of the Beatles' Revolver.