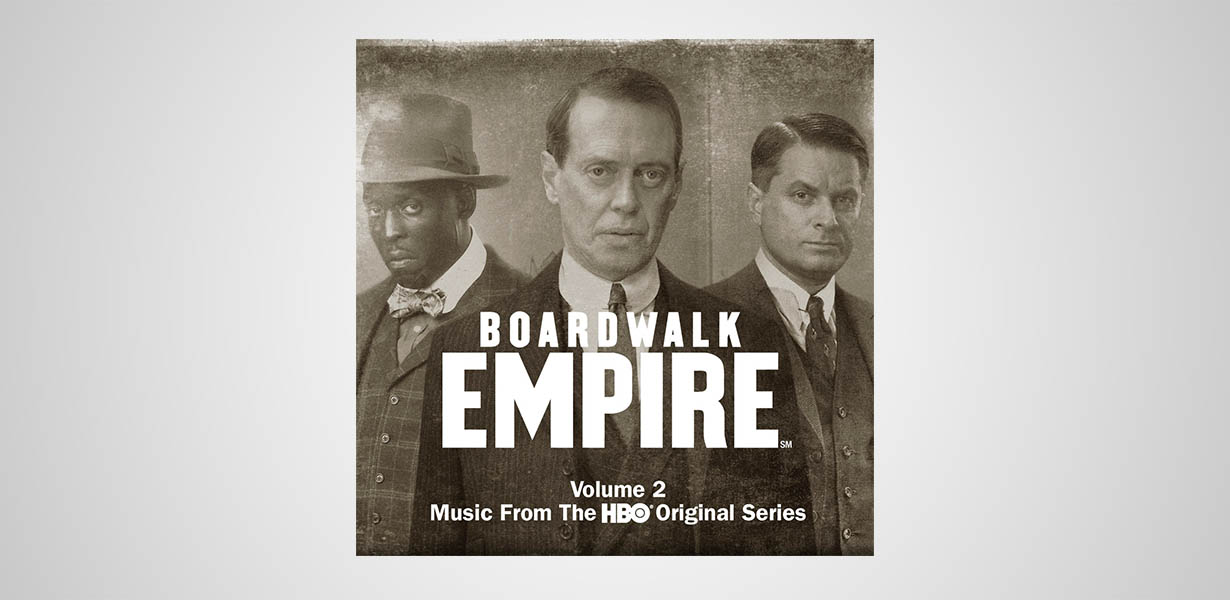 On September 3rd, luminaries from across the music world will pay homage to the sounds of the Prohibition Era with the ABKCO Records release of 'Boardwalk Empire Volume 2: Music From The HBO® Original Series.' The soundtrack features all new recordings from a wide range of vocalists — from Elvis Costello and Patti Smith to St. Vincent and The National's Matt Berninger — singing timeless standards and forgotten gems from the 1920s. Season 4 of the hit HBO series premieres on September 8th.
Following up on their GRAMMY win for Volume 1, producer Stewart Lerman and Boardwalk Empire music supervisor Randall Poster bring together a swinging, sauntering collection of big-band classics, New Orleans rags, sultry ballads and torch songs. Album highlights include Costello crooning "It Had To Be You," Liza Minnelli belting out "You've Got To See Mama Ev'ry Night (Or You Can't See Mama At All)," Berninger lending his rugged baritone to "I'll See You In My Dreams," and Neko Case breathing new life into "Nobody Knows You When You're Down And Out." Featuring inimitable contributions from high-profile recording artists including Rufus Wainwright, Loudon Wainwright III, St. Vincent and David Johansen, Poster has created an album that retains a remarkable cohesion with the series and with the music of the 1920s.
Poster, a frequent music supervisor for renowned directors including Martin Scorsese, Wes Anderson and Sam Mendes, stated, "Boardwalk Empire provides an incredible back drop for music. It's been a steady treat to mark the passing of time in song over the course of four seasons," said series music supervisor Randall Poster. "Terry Winters, Martin Scorsese and the entire Boardwalk Empire team inspire the sound of the episodes as we move from the streets and alleys of Atlantic City to the smoky rooms of Al Capone's Chicago and on down into the tropics of Florida. This compilation celebrates the mastery of all the artists involved."
With instrumentation recorded by Vince Giordano and the Nighthawks — the NYC jazz ensemble and Boardwalk Empire house band — the album also includes performances by cast members Stephen DeRosa (as song-and-dance man Eddie Cantor) and Margot Bingham (as a new character to be introduced this fall) singing tracks that will be debuted throughout the new season.
Boardwalk Empire Vol. 2
David Johansen – Strut Miss Lizzie
Stephen DeRosa – Old King Tut
 Elvis Costello – It Had To Be You
Vince Giordano & the Nighthawks – Everybody Loves My Baby
Liza Minnelli – You've Got To See Mama Ev'ry Night (Or You Can't See Mama At All)
Leon Redbone – Baby Won't You Please Come Home
St. Vincent – Make Believe
 Pokey LaFarge – Lovesick Blues
Neko Case – Nobody Knows You When You're Down And Out
Karen Elson – Who's Sorry Now
 Stephan DeRosa – You'd Be Surprised
Margot Bingham – I'm Going South
Vince Giordano & the Nighthawks – Sugarfoot Stomp
Rufus Wainwright – Jimbo Jambo
Kathy Brier – There'll Be Some Changes Made
Margot Bingham – Somebody Loves Me
Chaim Tannenbaum – All Alone
Loudon Wainwright III – The Prisoner's Song
Patti Smith – I Ain't Got Nobody
Matt Berninger – I'll See You In My Dreams
*All tracks featuring Vince Giordano & the Nighthawks