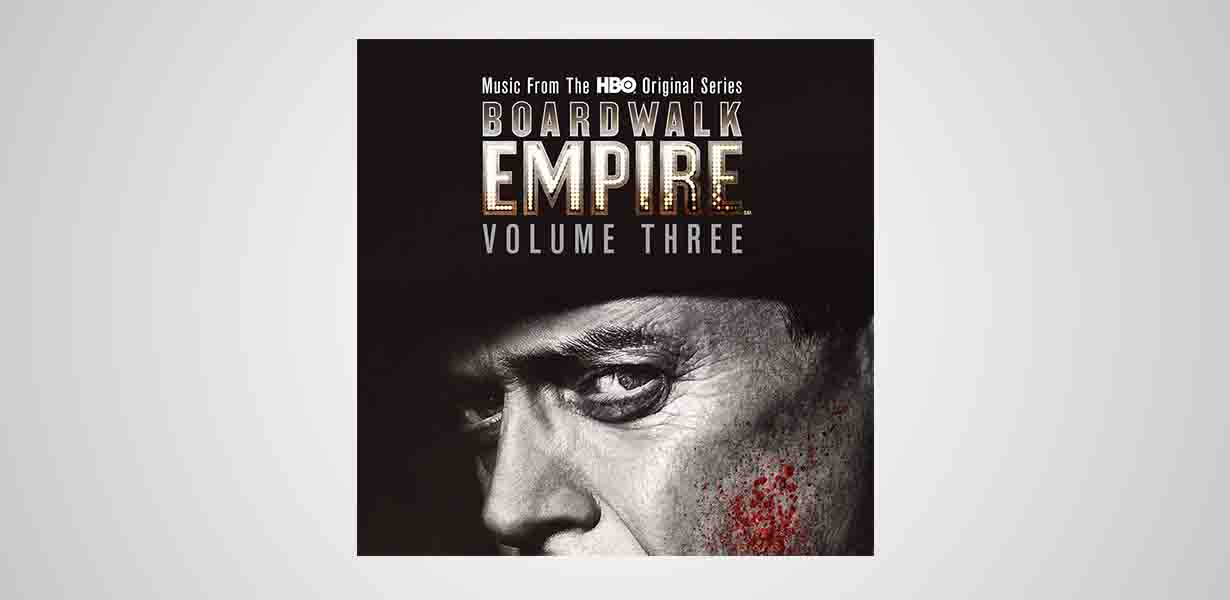 The third and final volume of the soundtrack to Boardwalk Empire® will be released by ABKCO Records on October 27th, just one day after the airing of the final episode of the critically acclaimed HBO® television series.
Boardwalk Empire Volume 3: Music From The HBO® Original Series encompasses the music heard in seasons 4 and 5 (the final season). Remaining consistent with both previous soundtrack volumes, it is the collaborative work of series music producer Stewart Lerman, music supervisor Randall Poster and bandleader Vince Giordano – the musical backbone of the project. The idea of having contemporary musicians record both popular and obscure Prohibition-era songs worked so brilliantly that Volume 1 received the GRAMMY® for Best Compilation Soundtrack for Visual Media.
Many of the artists who participated in Volumes 1 and/or 2 have returned, including Loudon Wainwright III, Regina Spektor, Elvis Costello, and cast members Margot Bingham (Daughter Maitland) and Stephen DeRosa (Eddie Cantor).
Brainchild of producer/writer Terence Winter, the Golden Globe winning series begins in 1920 and concludes in 1931, tracing the course of American popular music over this period as well as the growing impact of radio. Boardwalk Empire Volume 3 is heavily influenced by the emergence of Bing Crosby as a bona fide superstar by the beginning of the 30s. The soundtrack opens with Crosby's first solo hit "I Surrender Dear," performed by Elvis Costello, and also includes Marshall Crenshaw singing "Out of Nowhere," a landmark #1 song for Crosby.
Parts of season 5 find characters in Havana, which provided an opportunity to include Latin/Cuban rhythms in some of the tracks, including "The Peanut Vendor," sung by Pedrito Martinez, and David Oquendo's rendition of "Son Que Quita Las Penas."
Randall Poster, who has also worked with such notable directors as Martin Scorsese, Wes Anderson and Sam Mendes, commented, "Over the years, the Boardwalk Empire music experience has been a very auspicious collaboration that Stewart Lerman and I have had with the brilliant Vince Giordano. Vince navigated us through the project with great instinct and passion and summed up the period reflected in the series in a wonderfully credible way."
Boardwalk Empire Volume 3: Music From The HBO® Original Series
Track Listing:
1. Elvis Costello – I Surrender Dear*
2. Regina Spektor – Love Me Or Leave Me*
3. Pedrito Martinez – The Peanut Vendor*
4. Loudon Wainwright III – Where The Blue Of The Night (Meets The Gold Of The Day)*
5. Margot Bingham – I'm A Little Blackbird*
6. Johnny Gale, Little Isidore and Buzz Garland – Tiger Rag
7. JD McPherson – I Wish I Could Shimmy Like My Sister Kate*
8. Vince Giordano & The Nighthawks – Choo Choo
9. Margot Bingham – Farewell Daddy Blues*
10. Marshall Crenshaw – Out Of Nowhere*
11. Vince Giordano & The Nighthawks – What Is It
12. Vince Giordano & The Nighthawks – Down In Jungle Town
13. David Oquendo – Son Que Quita Las Penas
14. Stephen DeRosa – The Yodeling Chinaman*
15. David Johansen, Johnny Gale and Little Isidore – There Ain't No Sweet Man*
16. Angela McCluskey – Don't Mind The Rain*
17. Johnny Gale and Little Isidore – (I'm A Dreamer) Aren't We All*
18. Margot Bingham – Dream A Little Dream Of Me*
19. Norah Jones – If You Want The Rainbow, You Must Have The Rain*
*Accompaniment by Vince Giordano & The Nighthawks