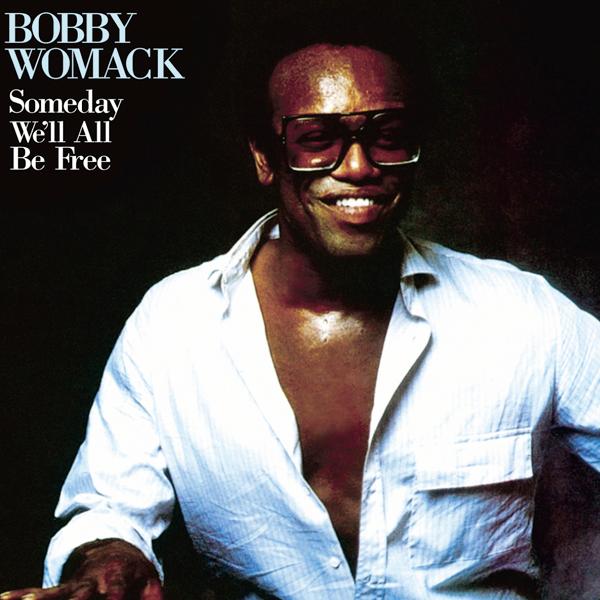 ABKCO Records has announced the June 15th digital release of Bobby Womack's 1985 album, Someday We'll All Be Free. The album, on sale this month at all digital music retailers, has not been legitimately available for more than ten years and is considered a coda of sorts to Womack's epochal The Poet and The Poet II. Sessions for those two albums, originally released on the Beverly Glen label, are actually the source of the repertoire heard on Someday We'll All Be Free. ABKCO acquired the Beverly Glen Bobby Womack masters in 2008 and re-released The Poet I & II that year.
Someday We'll All Be Free takes its title from the Donny Hathaway song that kicks off the album that also includes Womack's version of "Searching For My Love," Bobby Moore & The Rhythm Aces' 1966 hit. Womack's original compositions included are "I'm So Proud," "Gifted One," "Falling In Love Again," and "I Wish I Had Someone To Come Home To," the latter a collaboration between Bobby Womack and his brother Cecil who were members of The Valentinos, the group that spawned "It's All Over Now, " the very first hit for the Rolling Stones. "I Wish I Had Someone To Come Home To" was produced by Bobby Womack, James Gadson and Andrew Loog Oldham, who was the original producer and manger of the Rolling Stones. The other tracks on the album were produced by Bobby Womack and Patrick Motin.
It is intentional that the album and its title track will be available on the Tuesday that precedes "Juneteenth" during Black Music Month. Juneteenth, also referred to as Emancipation Day or Freedom Day, is the longest running nationally celebrated commemoration of the ending of slavery in the United States and is recognized by 36 U.S. states and is celebrated by people of all ethnic backgrounds. Womack commented, "Free your mind and your heart will follow, freedom is precious and a basic human right; I'm so glad to have celebrated it in song back when I made these recordings."
Womack, a legend in soul, pop and rock, has seen his career heat up recently following his 2009 induction into the Rock and Roll Hall of Fame in his native Cleveland, by Ron Wood of the Rolling Stones. This year, his contribution to Gorillaz' Plastic Beach album, "Stylo," was much celebrated and Womack appeared with the UK-based group, closing this year's Coachella Festival and will perform with them again on June 25th at the Glastonbury Festival on the Pyramid Stage in the UK.
ABKCO's relationship with Womack dates back to the mid-1960s and is, in many ways, an extension of ABKCO's involvement with Sam Cooke who was Womack's musical mentor. ABKCO Music has been Womack's music publisher for more than 40 years and administers such classic Womack songs as "It's All Over Now" that was covered by the Rolling Stones and went on to be the group's first #1 hit. Other notable songs penned by Womack and published or co- published by ABKCO include "Across 110th Street," "Woman's Gotta Have It," "Breezin'," "Harry Hippie," "That's The Way I Feel About 'Cha" "If You Think You're Lonely Now" and many others.
SOMEDAY WE'LL ALL BE FREE Track Listing
1. I'm So Proud
2. Someday We'll All Be Free
3. Gifted One
4. Falling In Love Again
5. Searching For My Love
6. In Over My Head
7. I Wish I Had Someone To Come Home To