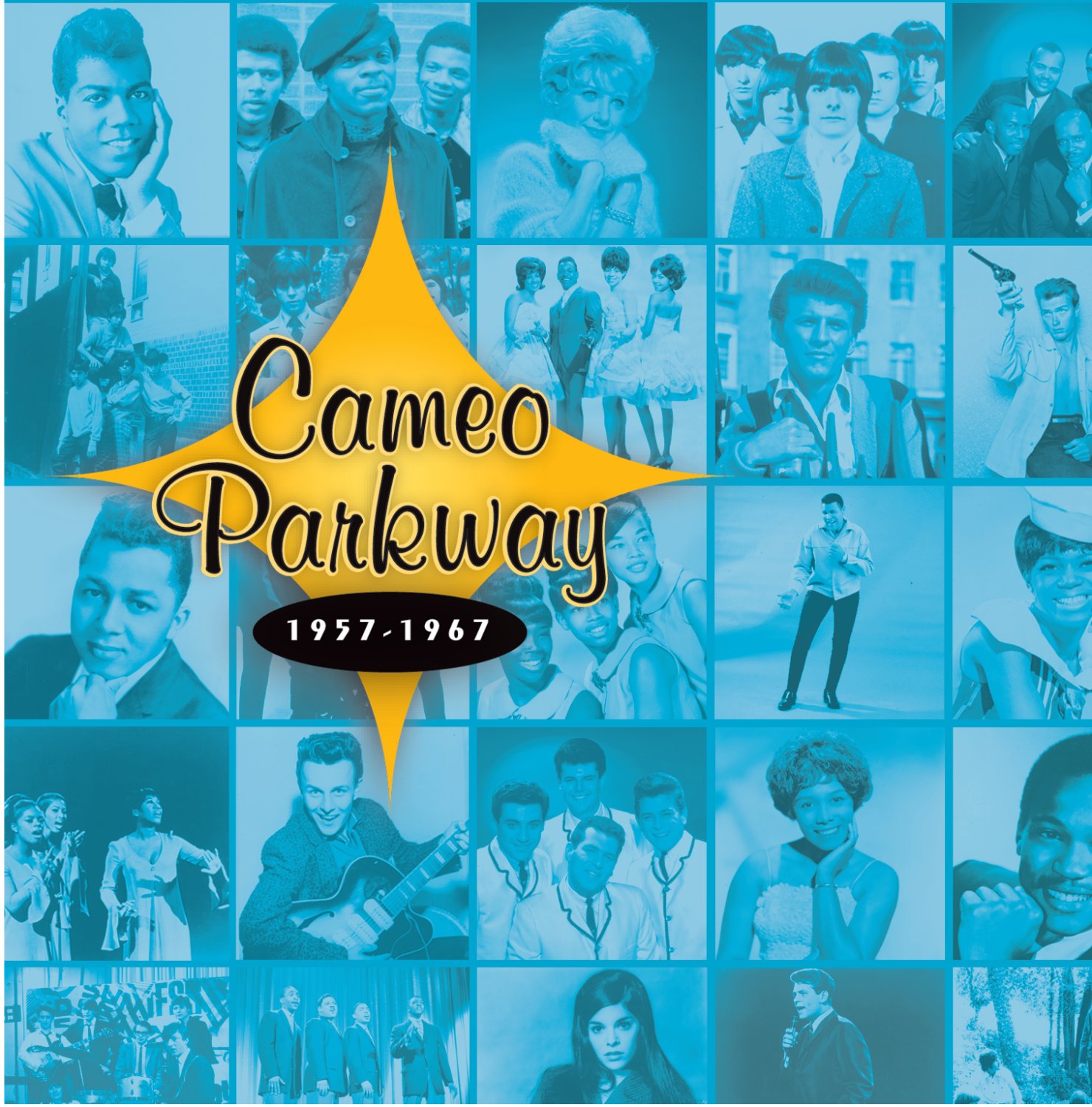 HISTORIC CATALOG SET FOR FIRST EVER CD RELEASE
CAMEO- PARKWAY STORY TO BE TOLD BY ABKCO MAY 17
ABKCO Records will release Cameo Parkway 1957 – 1967, a four CD box set that is the first comprehensive compilation of releases from the fabled Philadelphia label that brought the world such classic artists as Bobby Rydell, The Orlons, The Dovells, Dee Dee Sharp, The Tymes, ? & The Mysterians, Chubby Checker and others. The package will be in stores on May 17th.
The collection of 115 tracks includes all of the chart hits released on the Cameo and Parkway labels and is, clearly, one of the most eagerly anticipated record label anthologies to be issued since the inception of the CD format. As was the case with ABKCO's acclaimed Rolling Stones Remastered Series and Sam Cooke Remastered Collection, painstaking efforts have been made to use first generation tape sources for this project with Sony's Direct Stream Digital (DSD) mastering employed.
With voluminous liner notes by rock historian Jeff Tamarkin, rare photos, recording and chart information, Cameo Parkway 1957 – 1967 is a lavish package that chronicles the label's amazing ten year run that began with "Butterfly," Charlie Gracie's rockabilly flavored 1957 hit.
Cameo-Parkway was America's leading independent label during the era that preceded the British invasion with a breathtaking range of pop, soul, rock, novelty and dance records that have continued to resonate with fans over the past five decades. It has been argued that popular culture was forever changed by the impact of Cameo-Parkway hits. The labels' biggest claim to fame are the string of dance craze hits that followed in the wake of "The Twist." These included "Mashed Potato Time," "The Wah Watusi," "Bristol Stomp," "Do The Bird," "Hully Gully Baby," "Pony Time," "The 81," "Limbo Rock" and, of course, "Let's Twist Again."
Beyond the dance songs, Cameo-Parkway issued garage rock classics including ? & The Mysterians' "96 Tears" as well as early tracks by Bob Seger, The Rationals and Terry Knight & The Pack. The label even embraced the British invasion releasing early tracks by The Kinks and Screaming Lord Sutch. Soul is very much a part of Cameo Parkway 1957 – 1967 with tracks by The Tymes, Patti Labelle, Frankie Beverly, The Five Stairsteps and Bunny Sigler. The swingin' teen pop of Bobby Rydell whose hits for the label included "Wild One, "Kissin' Time" and more adult fare such as "Volare" and "Sway" is part of the Cameo-Parkway legacy.
Cameo-Parkway hits dominated the independent music market for several years during a golden era of pop music. In more recent years, Cameo-Parkway tracks have been among the most requested for release on CD. Now the Cameo Parkway 1957 – 1967 fulfills that hope.
Track Listing:
Disc 1
1. BUTTERFLY- CHARLIE GRACIE
2. FABULOUS- CHARLIE GRACIE
3. RACE FOR TIME- JERRY ARNOLD & THE RHYTHM CAPTAINS
4. SING SING SING- BERNIE LOWE ORCHESTRA
5. YOU'RE THE GREATEST- BILLY SCOTT
6. OVER THE WEEKEND- THE PLAYBOYS
7. NIGHT TIME- PETE ANTELL
8. MEMORY LANE- THE HIPPIES (FORMERLY THE TAMS)
9. SILHOUETTES- THE RAYS
10. DADDY COOL- THE RAYS
11. BACK TO SCHOOL AGAIN- TIMMIE ROGERS
12. THE CLASS- CHUBBY CHECKER
13. BAD MOTORCYCLE- THE STOREY SISTERS
14. SHAKE A HAND- MIKE PEDICIN QUINTET
15. DINNER WITH DRAC PART 1- JOHN ZACHERLE
16. MEXICAN HAT ROCK- THE APPLEJACKS
17. NINE MORE MILES- GEORGIE YOUNG AND THE ROCKING' BOCS
18. BIRD AND BEES- THE TEMPTATIONS
19. TWO WEEKS WITH PAY- GEORGIE YOUNG AND THE ROCKING' BOCS
20. ROCKA-CONGA- THE APPLEJACKS
21. KISSIN' TIME- BOBBY RYDELL
22. WE GOT LOVE- BOBBY RYDELL
23. THE TWIST- CHUBBY CHECKER
24. WILD ONE- BOBBY RYDELL
25. SWINGIN' SCHOOL- BOBBY RYDELL
26. PONY TIME- CHUBBY CHECKER
27. TEACH ME TO TWIST- CHUBBY CHECKER & BOBBY RYDELL
28. LET'S TWIST AGAIN- CHUBBY CHECKER
29. BRISTOL STOMP- THE DOVELLS
30. THE WAH WATUSI- THE ORLONS
31. MERRY CHRISTMAS- THE ORLONS
Disc 2
1. SLOW TWISTIN'- CHUBBY CHECKER (W/DEE DEE SHARP)
2. MASHED POTATO TIME- DEE DEE SHARP
3. GRAVY (FOR MY MASHED POTATOES)- DEE DEE SHARP
4. DON'T HANG UP- THE ORLONS
5. RIDE- DEE DEE SHARP
6. DO TO THE NEW CONTINENTAL- THE DOVELLS
7. THE POPEYE WADDLE- DON COVAY
8. LIMBO ROCK- CHUBBY CHECKER
9. THE CHA CHA CHA- BOBBY RYDELL
10. VOLARE- BOBBY RYDELL
11. SWEET GEORGIA BROWN- THE CARROLL BROS.
12. BACK TO SCHOOL ONE MORE TIME- JERRY BLAVAT
13. (I'M THE GIRL FROM) WOLVERTON MOUNTAIN- JO ANN CAMPBELL
14. ROWDY- CLINT EASTWOOD
15. FORGET HIM- BOBBY RYDELL
16. MOTHER PLEASE!- JO ANN CAMPBELL
17. COME ON AND DANCE WITH ME- BILLY ABBOTT AND THE JEWELS
18. GROOVY BABY- BILLY ABBOTT AND THE JEWELS
19. THE JAM PART 1- BOBBY GREGG AND HIS FRIENDS
20. YOU CAN'T SIT DOWN- THE DOVELLS
21. SOUTH STREET- THE ORLONS
22. EVERYBODY SOUTH STREET- THE TAFFYS
23. DO THE BIRD- DEE DEE SHARP
24. NOT ME- THE ORLONS
25. CROSS FIRE!- THE ORLONS
26. (EVERYBODY DO) THE SWIM- THE MARLINS
27. THE 81- CANDY AND THE KISSES
28. DAYDREAMIN' OF YOU- THE DREAMERS
29. THE BOY WITH THE BEATLE HAIR- THE SWANS
30. JINGLE BELL ROCK- CHUBBY CHECKER & BOBBY RYDELL
Disc 3
1. SO MUCH IN LOVE- THE TYMES
2. WONDERFUL! WONDERFUL!- THE TYMES
3. I'LL BE TRUE- JOHNNY MAESTRO
4. WHEN WE GET MARRIED- THE DREAMLOVERS
5. SOMEWHERE- THE TYMES
6. HEY GOOD LOOKIN'- BILLY ABBOTT AND THE JEWELS
7. JUST ONE CHANCE- THE SPARKELTONES
8. YOU'LL NEVER WALK ALONE- PATTI LABELLE AND HER BLUE BELLES
9. DANNY BOY- PATTI LABELLE AND HER BLUE BELLES
10. CAST YOUR FATE TO THE WIND- SOUNDS ORCHESTRAL
11. IT ONLY TOOK A MINUTE- JOE BROWN AND THE BRUVVERS
12. LONG TALL SALLY- THE KINKS
13. BOYS- PETE BEST
14. YOU STILL WANT ME- THE KINKS
15. FUNNY HOW LOVE CAN BE- THE IVY LEAGUE
16. TOSSING & TURNING- THE IVY LEAGUE
17. SHE'S FALLEN IN LOVE WITH THE MONSTER MAN- SCREAMIN' LORD SUTCH
18. WILD THING- SENATOR BOBBY
19. LITTLE WHITE HOUSE- LEN BARRY
20. FOOL, FOOL, FOOL- JOE AND THE FLIPS
21. GIRL FROM NEW YORK CITY- THE GTO'S
22. SOCIETY GIRL- THE RAG DOLLS
23. SOLDIER BABY OF MINE- CANDY AND THE KISSES
24. S.O.S. (HEART IN DISTRESS)- CHRISTINE COOPER
25. BECAUSE OF MY HEART- FRANKIE BEVERLY AND THE BUTLERS
26. HEARTACHES AWAY MY BOY- CHRISTINE COOPER
27. GOT TO RUN- VICKI BAINES
28. MY BOY- THE STYLETTES
29. WHITE CHRISTMAS (3 O'CLOCK WEATHER REPORT)- BOBBY THE POET
Disc 4
1. ANGEL OF THE MORNING- EVIE SANDS
2. THE LOVE OF A BOY- EVIE SANDS
3. THIS CAN'T BE TRUE- EDDIE HOLMAN
4. WORLD OF FANTASY- THE FIVE STAIRSTEPS
5. COME BACK- THE FIVE STAIRSTEPS
6. AM I A LOSER- EDDIE HOLMAN
7. DANGER! SHE'S A STRANGER- THE FIVE STAIRSTEPS
8. MEET ME IN CHURCH- BOBBY MARCHAN
9. YOU'VE BEEN UNTRUE- THE DELFONICS
10. GET A HOLD OF YOURSELF- THE PERSIANS
11. HE DON'T REALLY LOVE YOU- THE DELFONICS
12. THE SWEETEST THING THIS SIDE OF HEAVEN- CHRIS BARTLEY
13. THE GRASS WILL SING FOR YOU- LONNIE YOUNBLOOD
14. I (WHO HAVE NOTHING)- TERRY KNIGHT AND THE PACK
15. BEG, BORROW AND STEAL- OHIO EXPRESS
16. 96 TEARS- ? & THE MYSTERIANS
17. I NEED SOMEBODY- ? & THE MYSTERIANS
18. EAST SIDE STORY- BOB SEGER AND THE LAST HEARD
19. CAN'T GET ENOUGH OF YOU, BABY- ? & THE MYSTERIANS
20. RESPECT- THE RATIONALS
21. SHAKE YOUR TAMBOURINE- BOBBY MARCHAN
22. LET THE GOOD TIMES ROLL & FEEL SO GOOD- BUNNY SIGLER
23. HEAVY MUSIC PART I- BOB SEGER AND THE LAST HEARD