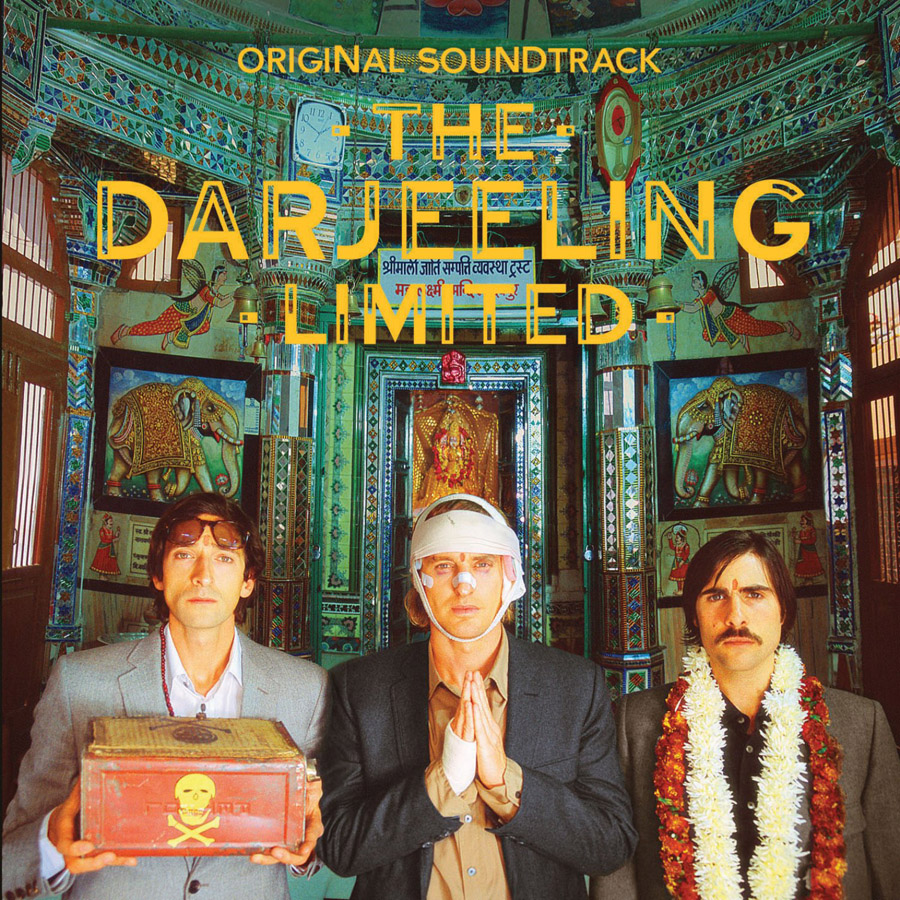 Wes Anderson's Film Offers Unique Mix Of Western Rock, Pop, Indian Film Music, Classical Pieces
Director Wes Anderson's highly anticipated new film THE DARJEELING LIMITED, from Fox Searchlight Pictures, offers one of the most eclectic soundtracks of contemporary time, tells the story of three estranged American brothers (Owen Wilson, Adrien Brody, and Jason Schwartzman) on a train journey across India. This "spiritual quest" which veers wildly off-course before a new, unplanned journey suddenly begins, is set to the music created by legendary Indian director Satyajit Ray for his own films as well as music from Merchant Ivory's early Indian films.
The Darjeeling Limited soundtrack album will be released by ABKCO Records on a world wide basis and will be available domestically on September 25 to coincide with the film's opening the 45th Annual New York Film Festival on September 28. It was shown at the Venice Film Festival earlier this month and will be screened at the closing night gala of the London Film Festival in November. The soundtrack includes music by The Kinks, Peter Sarstedt, French pop singer Joe Dassin as well as the Rolling Stones. In addition, several orchestral classical pieces by Beethoven and Debussy are part of the collection with a total of 22 tracks included in the CD. In the liner notes to the album, Anderson, comments on the use of the music from Satyajit Ray and Merchant Ivory films, "I am very happy to have been allowed to use the music from these films, which cast such a spell over me, and I hope it will do the same for you in this new context."
Jody Klein, President of ABKCO, commented, "Our relationship with Wes Anderson dates back many years so it felt like a natural progression for ABKCO to release the soundtrack of his latest film. We feel that the eclectic mix of music in The Darjeeling Limited is a perfect complement to the poignant moments and stunning visuals in the film that will appeal to all musical tastes. Klein added, "The Darjeeling Limited soundtrack, following on from ABKCO's groundbreaking role in sequentially releasing the soundtrack to the hit Showtime series Californication, demonstrates that ABKCO is exploring new technologies and find successful way of bringing out music to fans, both old and new."
Anderson, working with music supervisor Randall Poster, has a lengthy history of using music from ABKCO's classic Rolling Stones catalog. 1996's Bottle Rocket included "2000 Man," Rushmore utilized "I Am Waiting" (as well as The Who's "A Quick One While He's Away" from ABKCO's The Rolling Stones Rock and Roll Circus) while The Royal Tenenbaums incorporated "She Smiled Sweetly" and "Ruby Tuesday." In keeping with that tradition, "Play With Fire" is heard on The Darjeeling Limited soundtrack.
Following its New York Film Festival debut, the film will go into limited release on September 29 and expand throughout October. ABKCO plans an aggressive campaign on behalf of The Darjeeling Limited soundtrack in coordination with Fox Searchlight Pictures.
Advance notice is exceptionally strong for the film with Rolling Stone's Peter Travers; commenting, "Confession: I love this movie… The Darjeeling Limited is more than one of the best movies of the year."
The Darjeeling Limited track listing
01) "Where Do You Go To (My Lovely)" –Peter Sarstedt
02) Title Music from Satyajit Ray's film JALSHAGAR–Ustad Vilayat Khan
03) "This Time Tomorrow"–The Kinks
04) Title Music from Satyajit Ray's film TEEN KANYA–Satyajit Ray
05) Title Music from Merchant-Ivory's film THE HOUSEHOLDER– Jyotitindra Moitra
06) "Ruku's Room" from Satyajit Ray's film JOI BABA FELUNATH–Satyajit Ray
07) "Charu's Theme" from Satyajit Ray's film CHARULATA–Satyajit Ray
08) Title Music from Merchant Ivory's film BOMBAY TALKIE–Shankar/ Jaikishan
09) "Montage"from Nityananda Datta's film BAKSA BADAL–Satyajit Ray
10) "Prayer"–Jodphur Sikh Temple Congregation
11) "Farewell To Earnest" from Merchant-Ivory's film THE HOUSEHOLDER– Jyotitindra Moitra
12) "The Deserted Ballroom" from Merchant-Ivory's film SHAKESPEARE WALLAH – Satyajit Ray
13) Suite Bergamasque: 3. "Clair de Lune" –Alexis Weissenberg
14) Typewriter Tip, Tip, Tip_ from Merchant-Ivory's film BOMBAY
TALKIE (Sung by Kishore Kumar & Asha Bhosle)–Shankar/Jaikishan
15) "Memorial"–Narlai Village Troubador
16) "Strangers"–The Kinks
18) "Praise Him"–Udaipur Convent School Nuns and Students
17) Symphony No. 7 in A (Op 92) Allegro con brio–Fritz Reiner, Chicago Symphony Orchestra
19) "Play With Fire"–The Rolling Stones
20) "Arrival In Benaras" from Merchant-Ivory's film THE GURU–Ustad Vilayat Khan
21) "Powerman"–The Kinks
22) "Les Champs-Élysées"–Joe Dassin