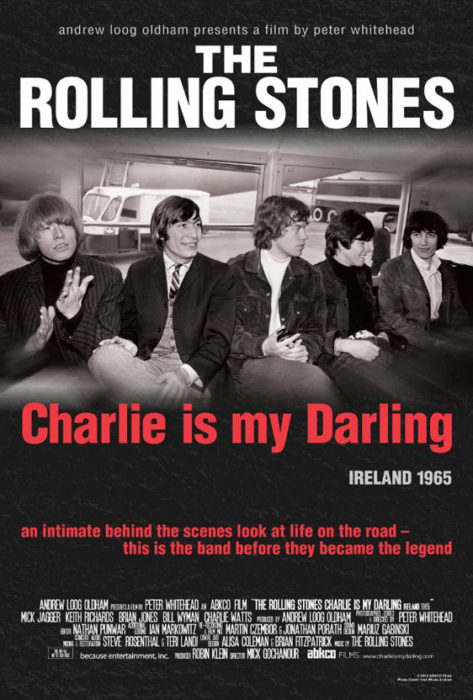 This year's Glastonbury Music Festival features the Rolling Stones, on their "50 and Counting Tour", performing on Saturday, June 29th . On Sunday, June 30th a special screening of The Rolling Stones Charlie is my Darling – Ireland 1965 from ABKCO Films will take place in the Pilton Place Cinema Tent on the festival grounds.
The Glastonbury audience will be treated to newly discovered concert and interview footage, woven into an intimate behind-the-scenes diary of life on the road with the young Stones. Shot during a quick two day tour of Ireland, just weeks after "(I Can't Get No) Satisfaction" hit # 1 on the charts, it features the first professionally filmed concert performances of the band and documents the early frenzy of their fans and the riots their appearances ignited.
Originally shot and directed by pioneering filmmaker Peter Whitehead and produced by Andrew Loog Oldham, the film was never officially released although bits and pieces have surfaced over the years. This new 65 minute cut by the GRAMMY© Award-winning duo of producer Robin Klein and director Mick Gochanour, showcases electrifying full performances of "The Last Time," "Time Is On My Side" and "(I Can't Get No) Satisfaction".
Motel rooms host impromptu songwriting sessions and familiar classics are heard in their infancy as riff and lyric are united. Charlie is my Darling – Ireland 1965 is the meticulously restored, invaluable frame that captures the spark about to combust into The Greatest Rock and Roll Band in the World.
For more information on the festival and to see the full line-up, click the link above to visit the festival website.
Critical praise for The Rolling Stones – Charlie is my Darling – Ireland 1965:
"THE GREATEST LOST ROCK MOVIE EVER.. packed with unseen footage of early Stones mayhem…" – Rolling Stone
"ABSOLUTELY STAGGERING…capturing both the primal energy of their performance and the hysteria it evoked…" – Billboard
"an important moment in the group's early history…" – The New York Times
"..a new film revealing…raw versions of songs that would become legend…" – Reuters