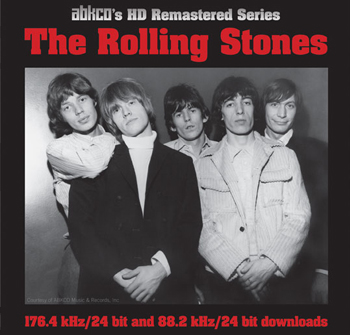 ABKCO Records and HDtracks announce the second installment of the super high definition digital downloads of the Rolling Stones original catalog of ground-breaking studio, compilation and live albums in sparkling fidelity FLAC formats. These Rolling Stones gems are offered in both 176.4kHz/24-bit and 88.2kHz/24-bit and both versions are DRM-free.
Four additional ABKCO Rolling Stones albums on HDtracks have been released, made available exclusively from HDtracks.com online store at www.hdtracks.com. Eighteen more ABKCO Rolling Stones titles will subsequently be released. This campaign follows in the footsteps of last month's highly successful ABKCO Records/HDtracks release of four classic Sam Cooke albums from ABKCO's catalog in 88.2kHz/24-bit.
The four new Stones albums include Out Of Our Heads (US) which features the Stones' covering R&B and soul classics – "Hitch Hike," "That's How Strong My Love Is," "Good Times" and "Cry To Me." Aftermath (US), the Stones' first true stereo album and the first to feature all Jagger-Richards compositions including the classics "Paint It Black," "Under My Thumb" and Lady Jane."
Mick Taylor made his first appearance as a band member on a studio album with the 1969 release of Let It Bleed. A panoply of guest musicians and vocalists including Ian Stewart, Nicky Hopkins, Jack Nitzsche, Ry Cooder, Leon Russell, Al Kooper, Bobby Keys, Byron Berline, Rocky Dijon, Merry Clayton, Madeline Bell, Doris Troy, Nanette Newman and The London Bach Choir also contribute to the landmark album that includes "Gimme Shelter," "You Can't Always Get What You Want" and "Midnight Rambler." December's Children, includes US and UK Top Ten hits: "Get Off Of My Cloud" (US & UK#1) and "As Tears Go By" (US#6), and two live tracks from their March 1965 British tour: "Route 66" and "I'm Moving On"
Forthcoming releases in the series include: Out of Our Heads (UK), Aftermath (UK), Between The Buttons (both UK and US versions), Beggars Banquet, The Rolling Stones Singles Collection,Get Yer Ya-Ya's Out!, Their Satanic Majesties Request, The Rolling Stones (US version a/k/a England's Newest Hit Makers), Hot Rocks, More Hot Rocks, The Rolling Stones Now!, Got Live If You Want It!, Big Hits (High Tide & Green Grass) (UK version), Through The Past, Darkly (UK version), Metamorphosis, Flowers and a compilation of three UK EPs – The RollingStones, Five by Five and Got Live If You Want It!.
Jody Klein, ABKCO Music & Records CEO, remarked, "The release through HDtracks of these ABKCO Rolling Stones titles means that fans can enjoy the sheer raw power of the music exactly the way the band recorded it and intended it to be heard."
"This ABKCO Rolling Stones collection in high resolution is a combination of the utmost care in re-mastering, the best technology in A/D conversion and the highest resolution files available on the web. Our goal is to bring out every musical nuance that occurred at the original recording session and deliver it to your home for your musical enjoyment," says David Chesky, HDtracks co-founder.