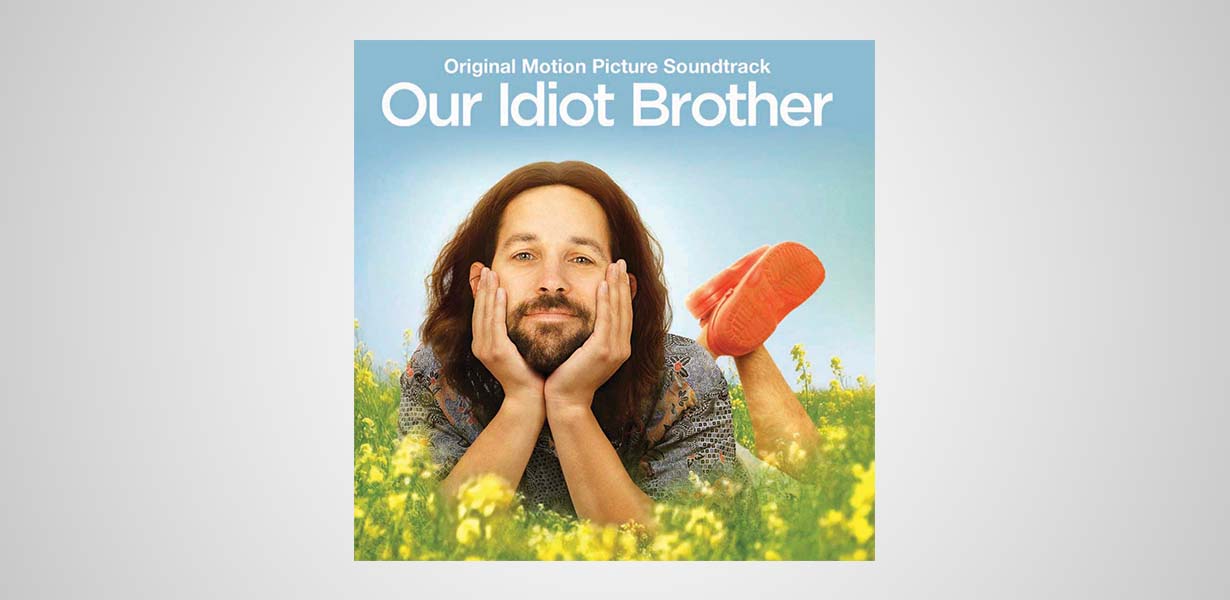 ABKCO Records will release Our Idiot Brother (Original Motion Picture Soundtrack) next month in conjunction with the film's August 26th nationwide release by The Weinstein Company. The album, on CD and through digital retailers, is out on August 23rd and includes 16 tracks from a broad spectrum of multi-generational artists. Directed by Jesse Peretz, produced by Likely Story's Anthony Bregman and Big Beach Films' Marc Turtletaub and Peter Saraf, Our Idiot Brother debuted at this year's Sundance Festival to great reviews. Peretz was the founding bass player for the Lemonheads but left his onstage role to photograph and film the band's stills and videos. Peretz made his feature directorial debut in 1997 with First Love, Last Rites and has directed scores of award-winning commercials and music videos. He won a Grammy Award® for Best Music Video for his direction of the Foo Fighters' "Learn To Fly" in 2000; his other music videos include Jimmy Fallon's "Idiot Boyfriend," "The Seed 2.0" by the Roots featuring Cody ChestnuTT, and Jack Black's "School of Rock."
Our Idiot Brother stars Paul Rudd, Elizabeth Banks, Zooey Deschanel, Emily Mortimer, Steve Coogan, Hugh Dancy, Kathryn Hahn, Rashida Jones, Adam Scott, T.J. Miller and Shirley Knight. Every family has one: the sibling with a peculiar knack for messing things up, despite having nothing but good intentions. For sisters Liz (Emily Mortimer), Miranda (Elizabeth Banks) and Natalie (Zooey Deschanel), that person is their perennially upbeat brother Ned (Paul Rudd), a biodynamic farmer whose willingness to rely on the honesty of mankind is a less-than-optimum strategy for a tidy, trouble-free existence. Ned may be utterly lacking in common sense, but he is their brother and so, after his girlfriend dumps him and boots him off the farm, his sisters once again come to his rescue. Deschanel who is also a successful musician, noted "Jesse Peretz has amazing taste in music, and the soundtrack he assembled for Our Idiot Brother is stellar; with great original music as well as classics it's a wonderful mix to behold."
As Liz, Miranda and Natalie each take a turn at housing Ned, his natural guilelessness proves to be a very unnatural fit with their daily lives. As their worlds are turned upside-down, they fix their blame on Ned, who always seems to be in the middle of every misunderstanding, forever saying or doing the exact wrong thing at the exact wrong time. Ultimately, it will fall to Ned to say and do something that will shake his siblings out of their assumptions – and cause them to realize that maybe their brother, with his genius for enjoying life and appreciating those he loves, isn't such an idiot after all.
The Our Idiot Brother soundtrack album's 16 tracks are a reflection of the film's mirthful quirkiness. The score was written by film composer, musician and author Nathan Larson (Boys Don't Cry, The Woodsman and The Messenger) and Fruit Bats' founder Eric D. Johnson (who also scored 2010's Ceremony). Larson added "Mellotron Melody" to the lineup while Johnson provided a counter-intuitively cool version of "Tie a Yellow Ribbon Round the Ole Oak Tree." The sentimental evergreen that got Tony Orlando and Dawn's career off and running in the 1970s was a "put" from director Jesse Peretz who explained, "Arrow, my three year old daughter, loved 'Tie A Yellow Ribbon' so much that she would make me play it for her on the way to school every day. As a consequence, the song was totally ingrained in my head as we worked on the music for the film. Eric cut a new version of the song that we played for Arrow who gave it a big 'thumbs-up.' It worked out perfectly for the film; I think we might have a budding little music supervisor on our hands."
Another standout track is the infectious "Taking You With Me," a youthful alt country folk duet recorded specifically for the soundtrack by Nashville-based Daniel Tashian and Mindy Smith. Tashian, who wrote the song, remarked, "There was something in Paul Rudd's character that reminded me of friends I'd had over the years, these sorts of flat-footedly brilliant characters. I was thinking about how most of the time, you don't really pick your friends, they kind of pick you, and then you can't really shake 'em. It's like God drops people on our doorstep and says 'You sort this one out.' The great secret is they came to sort YOU out. I was also thinking about my friend, Chris Feinstein, who passed away last year. He was so kind and never turned anyone away. God dropped me on his doorstep years ago, when I was starting to write music. I found a picture of him and put it on my desk for inspiration – and I like to think he helped me with the song. Mindy Smith and I caught a good buzz singing together on her first single "Come to Jesus" so she was the first person I called once I had the song. She came to sing on it and had me instantly in tears with the first note. It was a joy to be a part of it."
One of the Johnson-Larson tracks, "Cowboys and Hobos," features guest vocalist Nina Persson of Swedish rockers The Cardigans. There's also "Lightning Bug," an unreleased track from Johnson's own Fruit Bats and "Cool Yourself" by Thao with the Get Down Stay Down from their cult classic album Know Better Learn Faster. Also in the line-up is "When They Fight They Fight," from throwback popsters the Generationals and "The Things You Lost" from singer/tunesmith El May (aka Lara Meyerratken). More vintage material includes Carole King's Tapestry classic "Beautiful" as well as three offerings from the Willie Nelson canon: "Midnight Rider," "Wonderful Future," and "Ol' Blue." The latter two Nelson tracks have never before been used in a film and "Wonderful Future" is a rare track that dates back almost 40 years.
Nathan Larson, who had been a member of the band Shudder To Think, commented about his work on the film's music, "I've known Jesse since we were roommates and in punk bands playing shitty clubs. I've worked on everything Jesse's done film-wise; he kind of got me started in this movie scoring biz that has morphed into my main gig. When it came time to do the music for Our Idiot Brother, I was introduced to Eric by [music supervisor] Sue Jacobs. It was love at first sight! We wrote the music to "Cowboys and Hobos" together and recorded that track very roughly. My wife [Nina Persson, who sings the lead vocals] and I ran out to pick up some lunch for all of us. By the time we got back, Eric had more or less written all the lyrics and it was all there. Granted the service at our local Jamaican joint is slack island-style but, still, the man is a demon!"
Eric D. Johnson corroborated Larson's narrative, "We had never met – or even talked on the phone — when the concept was hatched that Nathan and I would work together on this music. It was something we clearly both wanted to do enough to throw caution to the wind. I showed up at his place in New York on a chilly morning, we had a cup of coffee and then started, fast as that. We were instant pals, and working together couldn't have been more fun or easy. Plus I was already a fan of his before diving in. I've almost never collaborated with anyone on anything (let along a giant undertaking such as a film score), and I can honestly say it was more than a pleasure. Can't wait to work with the dude again." Johnson went on to describe his version of "Tie A Yellow Ribbon Round the Ole Oak Tree" that kicks off the soundtrack album, "I had never played this song before in my life, but it's such a ubiquitous classic that it existed in the back of my skull like muscle memory – I pretty much knew every note of it without even knowing it. My demo version was more Elliot Smith or Nick Drake than Tony Orlando. When I re-cut the more fine-tuned rendition for the movie, I kind of belted and crooned more like the famous version, but Sue and Jesse and [music editor] Suzana [Peric] liked the demo better. What you hear is a half and half version of both. Sometimes a demo captures a moment that can't be recreated."
1. Tie a Yellow Ribbon Round the Ole Oak Tree – Eric D. Johnson
2. Wonderful Future – Willie Nelson
3. The Main Title – Nathan Larson & Eric D. Johnson
4. When They Fight, They Fight – Generationals
5. Lightning Bug – Fruit Bats
6. Mellotron Melody – Nathan Larson
7. Midnight Rider – Willie Nelson
8. Taking You With Me- Mindy Smith & Daniel Tashian
9. The Harvest Theme – Nathan Larson & Eric D. Johnson
10. Cool Yourself – Thao with the Get Down Stay Down
11. Ol' Blue – Willie Nelson
12. The Taxi – Nathan Larson & Eric D. Johnson
13. Cowboys and Hobos – Nathan Larson & Eric D. Johnson
14. 2 Roadrunners – Eric D. Johnson
15. The Things You Lost – El May
16. Beautiful – Carole King