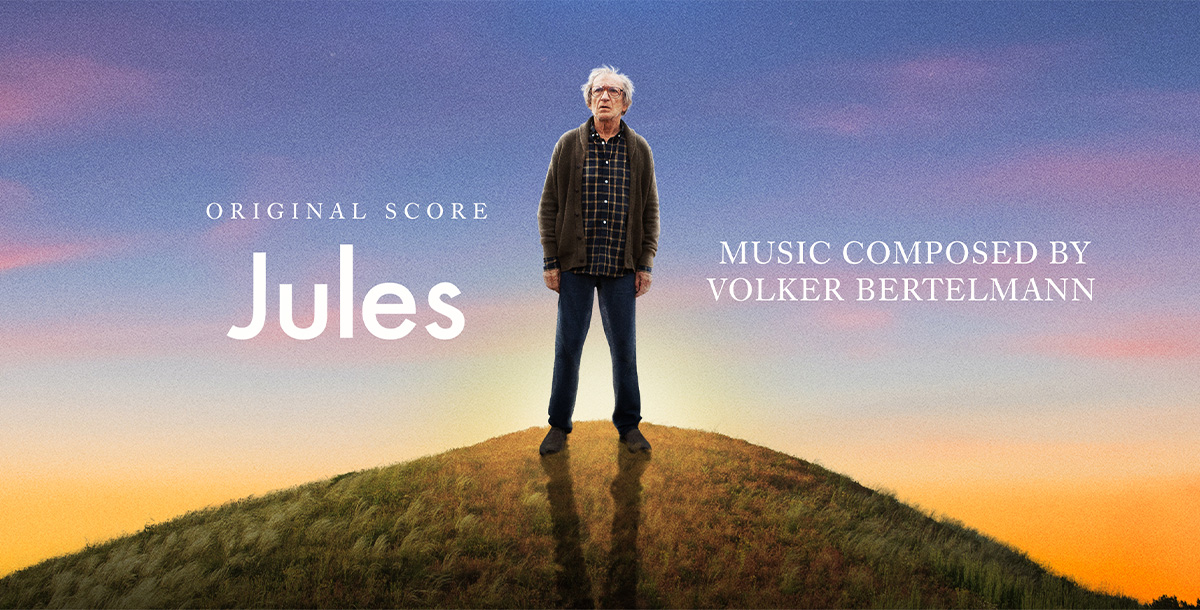 The original score by Academy Award winner Volker Bertelmann that is the soundtrack to Jules, starring Sir Ben Kingsley (Gandhi, Schindler's List), Harriet Sansom Harris (Licorice Pizza, "Hacks"), Jane Curtin (Coneheads, I Love You, Man) and Jade Quon (Transformers: The Last Knight, The Hunger Games) has been released by ABKCO Records.
Stream Jules (Original Score) here: https://ABKCO.lnk.to/Jules
Written by Gavin Steckler ("Review", "Playing House"), Jules made its world premiere at this year's Sonoma International Film Festival where it was the opening night film, and won the Stolman Audience Award for Best Feature. The film is produced by Michael B. Clark, Andy Daly, Deborah Liebling and Alex Turtletaub alongside Marc Turtletaub. Produced and directed by Marc Turtletaub (Puzzle, The Farewell, Little Miss Sunshine), Jules, a Bleecker Street release of a Big Beach production, was filmed in Morris County, NJ and follows Milton (Kingsley) who lives a quiet life of routine in a small western Pennsylvania town. His day is upended when a UFO and its extra-terrestrial passenger crash land in his backyard. Before long, Milton develops a close relationship with the extra-terrestrial he calls "Jules." Things become complicated when two neighbors (Harris and Curtin) discover Jules and the government quickly closes in. What follows is a funny, wildly inventive ride as the three neighbors find meaning and connection later in life – thanks to this unlikely stranger. 
The film's score, a digital release, is the work of composer/pianist Volker Bertelmann who was a 2017 Academy Award nominee for his score to Lion. Last year he received both an Academy Award and the British Academy Film Award (BAFTA) for his score for All Quiet on the Western Front. The Budapest Art Orchestra performs Bertelmann's music for the Jules score. Recording under the name Hauschka, Bertelmann is a prolific artist in his own right and, beyond soundtracks, has released 20 full length albums of original music to date.   
The Washington Post's Michael O'Sullivan wrote, "In the end, 'Jules' performs a magical, if tiny, bait-and-switch: It's less a sci-fi parable — "E.T. the Extraterrestrial" for the AARP demographic — than a fairy tale reminding us that the tribulations of getting old are more natural than sad, and best done in the company of loved ones." The film premiered at the Sonoma International Film Festival where it won the Stolman Audience Award for Best Feature.  
Jules (Original Score) track listing (all selections composed by Volker Bertelmann) 
 

Boonton 

 

Walk Home

 

Discovery

 

Council Meeting

 

 Second Walk

 

 Blanket and Water

 

 Invited Inside

 

Taking Care

 

House Tour

 

Underground

 

Cat Drawing

 

Leave A Message

 

Joyce Sneaks

 

Is Gary Here

 

He Saved Me

 

Seven Cats

 

Looking For Something

 

Shovel Cat

 

Agents

 

Cats To Fuel

 

Ship Fixed

 

Invitation

 

Chase

 

Good Bye

 

Into Space

 

Jules Credits