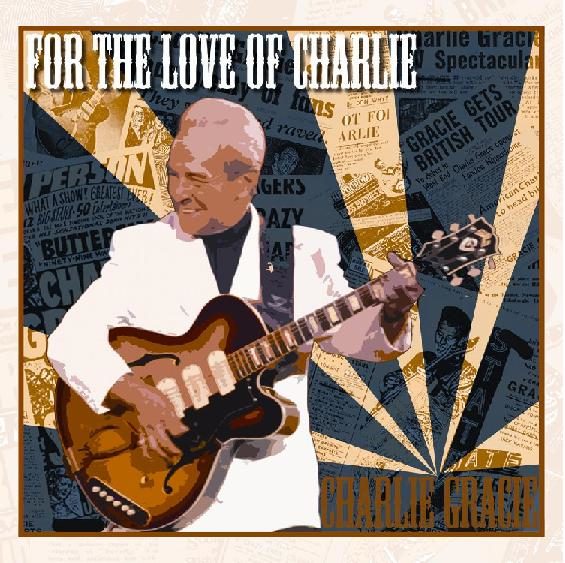 Charlie Gracie, the legendary Philadelphia-born and raised first generation rock 'n' roller whose 1957 hit "Butterfly" helped launch the fabled Cameo Records label, has never stopped recording and touring over the course of the past seven decades. ABKCO Records will release For The Love of Charlie, Gracie's first album of new material in over ten years in the UK on October 10th and in the US on November 8th. The album release, both on CD and digitally, will be supported by a string of tour dates in the UK (plus one festival performance in Italy) where his popularity has long endured. Charlie's admitted and enthusiastic admirers include Paul McCartney, who famously covered "Fabulous", Charlie's follow-up to "Butterfly", fellow Beatle George Harrison as well as Eric Clapton, Jeff Beck and Van Morrison (who had Charlie tour with him in recent years).
Ten of the twelve tracks on the new album by the 75-year-old Rockabilly Hall of Famer were produced by Al Kooper who has been a fan of Charlie's since his days as a member of The Royal Teens ("Short Shorts"). Also lending some "love" to the project is Graham Nash, who sings on the new album as does Peter Noone of the Herman's Hermits, who named Charlie as one of the most important influences on his musical career.
Of note is the fact that the album's packaging includes a Cameo-Parkway logo, the label having been acquired by ABKCO in the late 1960s. It's the first appearance of the trademark on an album of new material in over 40 years. Gracie's original hit recordings for the label have been collected on ABKCO's The Best of Charlie Gracie 1956-1958, which has been a consistent best seller since its release five years ago.
Al Kooper, the producer/performer whose own career extends back to his early guitar playing teens and includes his work as a member of the Blues Project, founder of Blood, Sweat & Tears and the producer who discovered and recorded Lynyrd Skynyrd has long been a huge Charlie Gracie fan. Kooper commented, "Charlie was a big part of my growing up in terms of influence on me in my rockabilly period that came after my doo wop phase". A couple of years ago, Kooper was approached by producer Quentin Jones with whom he's since become very friendly. Jones asked him to contribute to a new Charlie Gracie album and, thereafter, sent the tracks to Kooper who noted, "All I wanted to do is make it sound as good as it could; my set-up was more accommodating than Quentin's. I totally understood the idiom and, in fact, play in a rockabilly trio every now and then though 'Butterfly' and 'Fabulous' aren't in the repertoire because there are some things you can't touch".
As the recording evolved, other players including Conan O'Brien bandleader Jimmy Vivino contributed to the work-in-progress. Charlie was touched by the efforts of Kooper, Jones, Vivino and the others who worked on the album, stating, "I am so honored and grateful to have such an extraordinary group of artists contributing their enormous talents to this album. It is as much a testament to my peers, the pioneers of rock and roll who helped lay the foundation, as it is to me. Just the same, none of us really knew our music would evolve and have the kind of influence it's had on successive generations. To those musicians who continue to honor us through their recognition, I am eternally grateful!"
Graham Nash recalls the night many years ago when Charlie played in his native Manchester. "We had been waiting for many weeks for the show. It was a great night of this 'new music' and was enjoyed by all who were there. It raised and strengthened my spirits to know that I was not wrong when I sought out, strived for and finally loved this feeling, this desire, to make music, to communicate through music… to get it out…" He would, of course, go on to co-found the Hollies and, later Crosby, Stills & Nash and returned the favor to his original inspiration by providing backing vocals on "Rock 'N' Roll Heaven".
1. All I Wanna Do Is Love You (Charlie Gracie)
Lead Guitar – Quentin Jones
Backing Vocals – Peter Noone
All other instruments – Al Kooper
2. My Hummingbird (Rick Bell)
Guitars – Quentin Jones, Al Kooper, Charlie Gracie
Guitar Solo – Jimmy Vivino
Drums – Jay Sorrentino
Pedal Steel, Piano, Organ, Bass, Handclaps – Al Kooper
Backing Vocals – Al Kooper, Charlie Gracie Sr., Charlie Gracie Jr, Ralph Miller
3. Back To Philadelphia (Quentin Jones)
Rhythm Guitars – Quentin Jones, Al Kooper
Drums – Jay Sorrentino
Organ – Ralph Miller
Backup Vocals, Marimba, Piano, Horns, Acoustic Guitars, Mandolin, Tambourine, Congas – Al Kooper
4. Sweet Marie (Quentin Jones)
Rhythm Guitar & Lead Guitar – Quentin Jones (center)
Drums – Jay Sorrentino
Shaker – Quentin Jones
Sax – Kenneth McCoy
Trumpet- Robin Church
Rhythm Guitar (left, very "Keef"), Keyboards, Horn Arrangements, Bass, Mandolin, Acoustic Guitars – Al Kooper
Backup Vocals – Amy Banks, Sam "Lugar" Rawhauser
5. And Now I Win (Quentin Jones)
Electric Guitars – Quentin Jones, Al Kooper
Drums, Bass, Acoustic Guitars, Mandolin, Keyboards, Pedal Steel, Musette, Harmonica, Percussion – Al Kooper
Backing Vocals – Ralph Miller, Al Kooper
6. School Days (Cobb-Edwards; adapted by Louis Jordan)
Lead Slide Guitar – Jimmy Vivino
Rhythm Guitars – Charlie Gracie, Al Kooper
Wacka Wacka Guitar – Dave Roberts
Horns – Ken McCoy, Robin Church
Drums – Tommy Leanza
Bass, Keyboards, Acoustic Guitars – Al Kooper
Backup Vocals – Ralph Miller, Charlie Gracie Sr., Charlie Gracie Jr., Quentin Jones
7. I Don't Know Why (Quentin Jones)
Arpeggio Guitar, Bass – Quentin Jones
Drums – Dave Ferrara
Baritone Guitar, Acoustic Guitars, Electric Lead Guitars, Keyboards, Horns, Strings, Percussion – Al Kooper
Backup Vocals – Ralph Miller
8. Dance My Blues Away (Accardi-McDonnell)
Guitars – Charlie Gracie
Lead Guitar – Jimmy Vivino
Organ Solo – Al Kooper
Drums – Steve Patton
Bass – Quentin Jones
Horns, Keyboards, Tambourine &"Landlord" – Al Kooper
Backup Vocals – Charlie Gracie Sr., Charlie Gracie Jr., Quentin Jones
9. On The Way To Cape May (Maurice Nugent)
Rhythm Guitars – Charlie Gracie, Al Kooper
Banjo – Charlie Gracie
Drums – Steve Patton
Bass, Tuba, Clarinet, Pedal Steel, Mandolin, Castanets, Musette, Keyboards – Al Kooper
Backup Vocals – Charlie Gracie Sr., Charlie Gracie Jr Quentin, Ashlee & Caroline Jones
10. Everybody Rockin' (Knockin' Themselves Out) (Quentin Jones)
Lead Guitar – Eddie Angel
Rhythm Guitars – Quentin Jones, Al Kooper
Drums – Dave Ferrara
Piano, Organ, Cowbell, Percussion – Al Kooper
Group Vocals, Handclaps – Charlie Gracie Sr., Charlie Gracie Jr., Quentin Jones
11. Rock 'N' Roll Heaven (Charlie Gracie)
Rhythm Guitars – Charlie Gracie
Lead Guitar & Hammond B3 Organ – Craig Ross
Keyboards – Ralph Miller
Bass – Tony Breit
Drums – Tommy Leanza
Backup Vocals – Graham Nash
12. Rock 'N' Roll Party (Ace Filippini)
Lead Guitar and Bass – Quentin Jones
Drums – Dennis Diken
Rhythm guitar – Mike Fisher
Backing vocals – Ace Filipini
Tracks 1-10 Produced & Arranged by Al Kooper/Co-Produced by Quentin Jones
Basic Tracks engineered by Quentin Jones
All Other Engineering – "Magic" Dave Roberts
Mixed & Mastered by Al Kooper & "Magic" Dave Roberts
Tracks 11-12 Produced by Quentin Jones & Tom "T-Bone" Edmonds
Arranged by Quentin Jones
Basic Tracks engineered by Quentin Jones
Overdubs engineered by Tom "T-Bone" Edmonds
Mixed by Tom "T-Bone" Edmonds
Mastered by Joe Yannece
Charlie Gracie Fall Tour Dates:
October 7th Twickenham, England Winning Post Inn
October 8th Ravenna, Italy Moondogs International R&R Festival
October 9th Bristol, England Club Bawa
October 11th Whitchurch, Wales Earl High Mem British Legion Club
October 13th High Wycombe, England Private Event
October 14th Hull/E. Yorkshire, England The Springhead
October 15th Amersham, England White Eagle Hall
October 16th London, England Empire Theater Halstead, Essex
October 19th Hollymount, England Private Event
October 20th Manchester, England Bury Sportsman's Club
October 21st Nottingham, England Red Planet Rock/New Venture Club
October 22nd Conventry, England Pitstop R&R Club
October 23rd Woolacombe, England Royal Hotel/North Devon