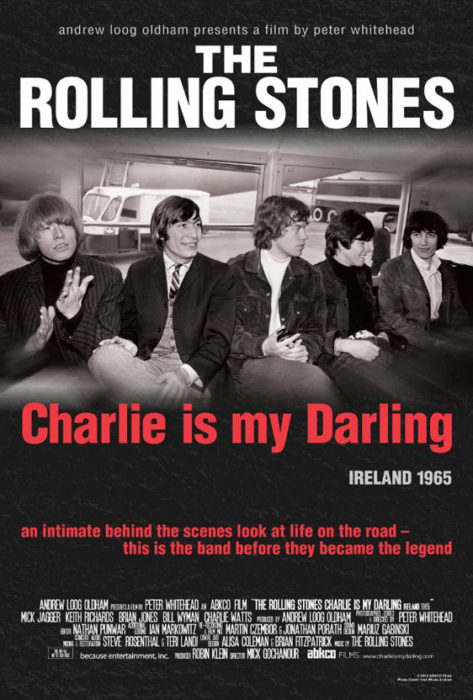 Charlie Is My Darling: Reinventing a Vintage Rolling Stones Documentary
by Andy Markowitz, MusicFilmWeb
The most exciting young band in a music documentary lately was the Rolling Stones 48 years ago. Re-engineered from one of the great lost rock docs, The Rolling Stones: Charlie Is My Darling – Ireland 1965 captures the Stones in a singular moment between pop stardom and rock god-dom, whirling through Belfast and Dublin on a two-day tour just after "(I Can't Get No) Satisfaction" powered up the charts. At the behest of manager Andrew Loog Oldham the band was trailed by filmmaker Peter Whitehead, the counterculture-connected British filmmaker who went on to make the swinging '60s time capsule/visual essay Tonite Let's All Make Love in London.
The original Charlie Is My Darling (or Darlings – Whitehead produced a 35-minute film, Oldham cut his own 50-minute version) was never released, though widely bootlegged. As the film's legend grew, the voluminous stock of footage gathered dust in the vaults of ABKCO, the label founded by the late Allen Klein, the famously hard-nosed music executive who for a time managed the Stones' business affairs (and later those of three of the Beatles) and secured the rights to much of their '60s material.
Lovingly restored by an ABKCO Films team led by director Mick Gochanour and producer Robin Klen, Allen Klein's daughter, the 65-minute Charlie Is My Darling that premiered last fall at the New York Film Festival is effectively a brand-new movie. (You can compare and contrast with the DVD, which includes both older versions as extras.) More than half of Ireland 1965 consists of previously unused, unseen material, including 20 minutes of electrifying live footage. More remarkably, the film packs a jolt of immediacy that from the first minute burns through nostalgia and the fixed mental image of today's desiccated, Olympian Stones. Working out what would become "Sitting on a Fence" on a hotel sofa, raucously (and sometimes drunkenly) goofing on Beatles and Elvis tunes, desperately ducking and weaving as fans rush the stage, these are the Stones almost but not quite yet fully formed, becoming aware of their astonishing power and coolly forecasting the explosive social and sexual changes on the near horizon.
With the film anchoring the "CIMMpathy for the Stones" retrospective at the Chicago International Movies & Music Festival, which begins today (and of which MusicFilmWeb is a media partner), Gochanour and Klein talked to MFW about reinventing Charlie Is My Darling.
MFW: What happened to Charlie Is My Darling in the first place? Why didn't it see the light of day?
Mick Gochanour: It never was meant to be a film, is the short answer. It was a screen test that they were doing for the Stones at the time, to see if they could find a vehicle for them, like what the Beatles had done with A Hard Day's Night. They hired this guy to go along with them, that was Peter Whitehead, to capture their personalities and see what emerged on film. Later Peter put together a short film and tried to put that out, but they had changed their direction. The Stones had decided to pursue arena rock, which seemed to work out for them. So it just got stashed away into storage.
RK: You have to realize that this is September [1965], so "Satisfaction" is just becoming No. 1. Right after Ireland, they run back to LA to start recording "Get Off My Cloud," and then they go right on tour. So there's really no time to focus on this piece, and by the time they get around to it, they've already moved on.
Was that typical for them, to just throw this stuff in the vault and forget about it?
RK: I think the beauty of that is that they're so in the moment. Mick [Jagger] is always looking forward and really hates to look back. If it doesn't happen when it happens, it seems to be their modus operandi just to move on and leave the past behind. So 30 years, 40 years, 50 years on, it's a goldmine.
What was the impetus for bringing Charlie Is My Darling back?
RK: It was the 50th anniversary and we were all trying to think of something special to be done. We all thought of Charlie. So we started to prepare it for restoration, and Mick was looking through all the [outtakes], and he happened upon all these shots from the performances. He said, "You know, I think we can make a concert [film] out of this, let me have a go at it."
MG: There'd be little snippets. Like, Peter would run around the auditorium and he would catch maybe 20 seconds of something, then he'd be in another part of the show and another part of a song, maybe not even the same one, and pick up another shot. So we didn't even know if we had enough coverage.
He was on his own shooting this in '65?
MG: He had one other guy with him who occasionally would shoot [with] a second camera. Both of these were silent – one was a Bolex and one was an Eclair. But it was mostly Peter on his own, yes. Glyn Johns was with him, and he would record on a little tiny reel-to-reel tape recorder, do interviews and stuff like that when they were on the move. Occasionally those were in sync, but it was pretty rare.
This was still all celluloid and reel-to-reel tape when you found it?
RK: In '89 we had gone and transferred all the celluloid to D1 tape, which is a really old format and very linear. It was transferred right off the reels and it was never slated, [sound and picture were] never synced in the celluloid form. It was just, as Mick said, snippets of shots that were on a roll and transferred. Mick went through the D1, and because of [Apple video-editing program] Final Cut we were able to organize it in a different way. And then we went back to the vaults, to the actual celluloid vaults, and we went through the actual film. We found prints that didn't have negatives and negatives that didn't have prints, and they weren't all transferred on to the D1.
MG: Besides the performances there were also a lot of in-transit sort of things that were going on that we didn't know existed either. We would find tape recordings that were done by Glyn that weren't synced to any picture, and then we would go back and find these pictures and it looked like certain things were happening on screen that we had heard. So we could line them up and kind of decipher the whole thing.
What was your reaction, both as filmmakers and as Stones fans, to finding all this stuff?
RK: First it was as a fan – [excited voice] "Oh my god! Oh my god!" And then as a producer, it's, [deeply concerned voice] "Oh my god. Really, we don't want to go here." And then Mick was like –
MG: [Interrupting] Oh, the minute I put "Satisfaction" and "The Last Time" up against the music and the picture, it was like finding a Van Gogh in the attic – "I can't believe what we have here." I mean, it was the earliest performance of "Satisfaction" in front of a live audience [that was] filmed.
And if you're a restorer, I guess you don't go, "Fuck, it's gonna take me 10 years to get this Van Gogh museum-ready."
RK: Actually, that was my reaction.
MG: [Laughs] That was her job.
Did you feel going into it that because so much time has passed, you needed to find and tell a different story than whatever they thought they were doing in '65?
MG: Well, Peter had a – I want to be respectful to what Peter was doing. I wanted to approach it as a completely separate piece. Peter had his cut, a kind of avant-garde, cinema verite approach, and I wouldn't want to mess with that. I don't want to cut up anybody else's work. So I kind of disassembled the whole thing and then wrote a narrative around what we had discovered and tried to build a story. I like to see it as being a completely different look using the same materials.
And there was a cut in between that Andrew Loog Oldham had done.
MG: Yes, he expanded a little bit on the interviews.
RK: Andrew's is really more of the complete interviews. Andrew had always said, and still always says, that he doesn't really believe in the warts-and-all approach. At that point Andrew was very much creating an image and trying to sell an image, and that's of the bad boys, the Rolling Stones. I think with all this history and hindsight, Mick was able to step back and tell a story of these young kids.
MG: Also showing the process. He would never had shown you how they wrote songs in that day. We wanted to give that.
What was the single biggest surprise, for each of you?
MG: Man, there's just so many things. For me I guess the overall global thing is just seeing them at that age. My only exposure at that period of their career was Hullaballoo or Shindig or something like that. American television controls when they start and they stop, and somebody introduces them. I never knew the rawness of what they were like, that sort of hysteria and what they were creating. It reminded me of seeing the Pistols or the Clash in '77.
RK: It was that interview, the "70-year-old" interview. [Editor's note: In one scene Jagger suggests the changing mores of '60s youth won't be cemented until his generation are grandfathers in their 70s.] To hear a 22-year-old man see so far into the future – I wasn't that way at 22, I don't know about you.
My experience watching the film was, I was surprised at how intimately I was able to connect with [the Stones] as those guys then. There's so much of a crust, if you will, around them now. To zero in so much on what they were like then, to have all of that crust fall away so instantly, is quite something.
MG: I think that's why it connects with a lot of kids. I've done a lot of festivals, and a lot of twentysomethings out there are seeing this film. They're connecting with them as they never have before, because they've only known them as adults, never as their own age.
What was the Stones' involvement?
RK: As we always do whenever we work with them, we send them a rough cut, we send them a fine cut with our mixes, and they get back to us with any changes they want to make. This time there were no changes.
What was their response upon seeing it?
MG: If they had any issues with it, we would have heard back, or [they would have] requested to pull it, which we would have done. So we consider that an endorsement.
Can you give us any idea of what's still sitting there, and what might be the next project in this ongoing excavation?
RK: My lips are sealed [laughs]. Needless to say, we're very busy.
One last question for Robin. I hope it's not impolite to ask, but I've always wanted to know what your dad thought of the John Belushi bit in the Rutles movie. [Belushi had a cameo in Eric Idle's 1978 Beatles parody All You Need Is Cash as ruthless business manager "Ron Decline" – see it here and here.]
RK: We love it. My dad loved it. Our archivist, who's been here over 20 years, is a huge Rutles fan, and we play it all the time. We disrupt work. We adore it.
MG: He was a fan of it. He admired those guys and what they did.
RK: My dad was an amazingly sweet, complex person, and for some reason I think Belushi just taps into something that is just so funny.
Robin Klein and Mick Gochanour will attend the April 19 screening of The Rolling Stones: Charlie Is My Darling – Ireland 1965 at the Chicago International Movies & Music Festival. Eight other Stones docs will be screened over CIMMFest's four days; check here for program details.