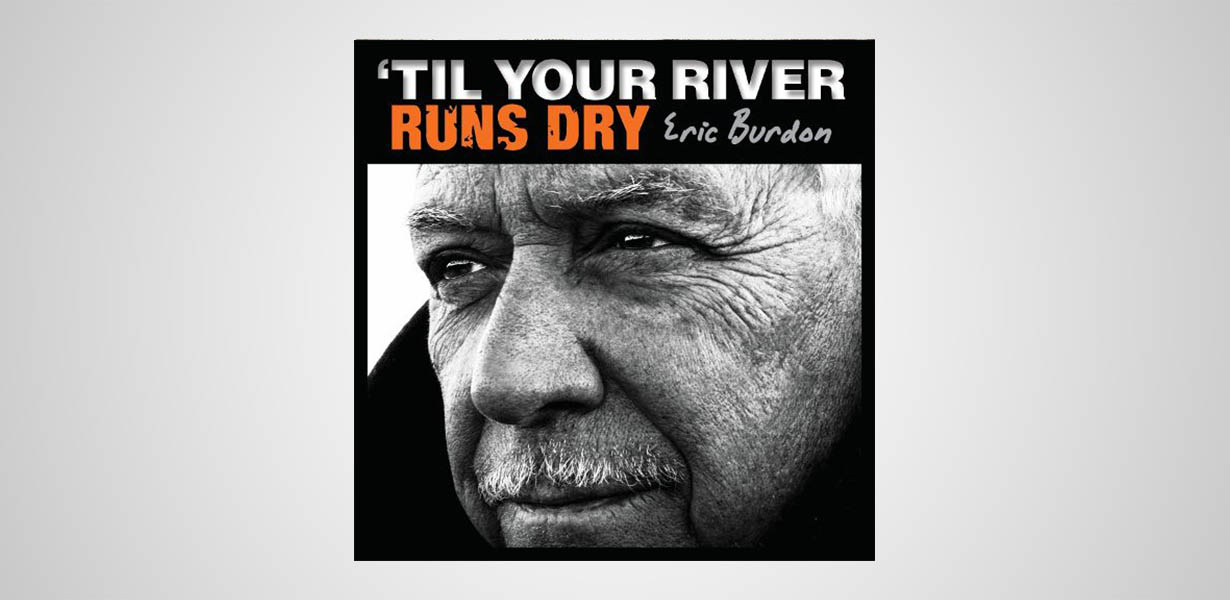 Eric Burdon has completed his most personal album to date, titled 'Til Your River Runs Dry; it will be released on CD, vinyl and digitally on January 29th by ABKCO Records. "Water," the debut single from the album will be released to radio on January 15th. A member of the Rock and Roll Hall of Fame and hailed by Rolling Stone Magazine as one of the "100 Greatest Singers of All Time," Burdon has long forged new ground while maintaining a commanding presence in music — as front man of The Animals, with WAR at its inception and, simply, as Eric Burdon.
'Til Your River Runs Dry is a collection of 12 songs, most of which were written by Eric. The album's title reflects Eric's lifelong passion to "express his own truth." The result is a deeply intimate, honest self-portrait, as well as an unsparing look, through his eyes, at religion, politics and the environment.
Many of the song titles reflect Eric's continuing concerns, addressing the topics that he finds most urgent, intriguing and important.
'Til Your River Runs Dry
 Water
Memorial Day
Devil And Jesus
Wait
Old Habits Die Hard
Bo Diddley Special
In The Ground
27 Forever
River Is Rising
Medicine Man
Invitation To The White House
Before You Accuse Me
Produced by Eric Burdon and Tony Braunagel, the new album was recorded at Playback Studios in Santa Barbara, at Ultratone Recording in Studio City (where Eric recorded his last two albums, My Secret Life and Soul of a Man), and in New Orleans, where Eric feels most closely connected to his original, musical roots. 'Til Your River Runs Dry was mixed by Ed Cherney and mastered by Doug Sax and Eric Boulanger at The Mastering Lab in Ojai, California.
Also on Eric Burdon's musical agenda this year is a special collection celebrating the 50th anniversary of the Animals. This exciting package will pay tribute to one of the British Invasion's most groundbreaking bands whose soulful ferocity resonates to this day. It will be released by ABKCO Records later this year.
Aside from his musical endeavors, Eric is also working on a memoir, a follow-up to his first two autobiographies, I Used to Be An Animal, But I'm Alright Now and Don't Let Me Be Misunderstood.
Having just signed with Paquin Entertainment Group for booking, Eric has already hit the ground running in 2013. He will be performing near you in the coming months. Following back surgery last summer, Eric is feeling rested, recharged and ready to rock and is excited to get out on the road and share his new music with his fans.
Eric is also looking forward to returning to SXSW in 2013 for an official performance and speaking engagement. Last year's SXSW included some surprising, though very well-deserved, kudos for Eric from none other than Bruce Springsteen. The Boss offered "props" during his keynote address, characterizing The Animals' "We Gotta Get Out of This Place," as "Every song I've ever written… 'Born to Run,' 'Born in the USA,' everything I've done for the past 40 years, including all the new ones." Just a few hours after Springsteen's 'confession,' he and Burdon joined forces for an electrifying duet on "We Gotta Get Out of This Place."
SHOWS & APPEARANCES
Tues. 1.28.13
Late Night w/ Jimmy Fallon
New York NY
Thurs. 1.31.13
Northern Lights Theater
Milwaukee, WI
Fri. 2.01.13
Medina Entertainment Center
Medina, MN
Sat. 2.02.13
The Surf Ballroom
Clear Lake, IA
Fri. 2.08.13
Casino Rama
Rama, ONT
Fri./Sat. 2.22-23.13
Skagit Valley Casino
Bow, WA
Sat. 3.09.13
Jamobree @ the Beach/HRC
Biloxi, M
Wed.–Tues. 3.13-19.13
SXSW
Austin, TX
Sun. 4.21.13
Sycuan Casino Live Up & Close
El Cajon, CA
Please check www.ericburdon.com for updates, current & upcoming shows.