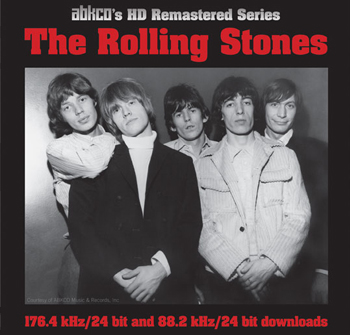 ABKCO Rolling Stones Titles in High Definition Now Exclusively From HDtracks.com
First-Ever Release of Legendary Studio Compilation and Live Albums Remastered as Hi Def Downloads
ABKCO Records and HDtracks announce the first-ever release of super high definition digital downloads of the Rolling Stones original catalog of ground-breaking studio, compilation and live albums in sparkling fidelity Flac formats. These Rolling Stones gems are offered in both176.4kHz/24-bit and 88.2kHz/24-bit and both versions are DRM-free.
The initial release of five ABKCO Rolling Stones albums on HDtracks are the first of several Stones collections to be made available exclusively from the HDtracks.com online store at www.hdtracks.com. An additional twenty two ABKCO Rolling Stones titles will subsequently be released. This campaign follows in the footsteps of last month's highly successful ABKCO Records/HDtracks release of four classic Sam Cooke albums from ABKCO's catalog in 88.2kHz/24-bit.
The five Stones albums include The Rolling Stones, the band's very first album (UK version) that was first released on vinyl 46 years ago as well as The Rolling Stones – No. 2, first released in 1965. Both albums are presented in mono as originally recorded. The Rolling Stones – No. 2 includes three of the songs from the band's legendary sessions at Chess Studios in Chicago in 1964 — "Down The Road Apiece, "I Can't Be Satisfied" and "Time Is On My Side" that are, for the first time, offered in mono in a high resolution digital format. That album also includes the band's version of Solomon Burke's "Everybody Needs Somebody To Love," as recently reprised by Mick Jagger on this year's 53rd Annual GRAMMY Awards. 12×5, includes six true stereo tracks that were also recorded at Chess, these were completed during the infamous June 1964 session: "2120 South Michigan Avenue," "Around And Around," "Confessin' The Blues," "Empty Heart," "It's All Over Now," and "If You Need Me."
Two compilation albums, Big Hits (High Tide & Green Grass) and Through The Past Darkly (Big Hits Vol. 2) are also part of the initial ABKCO/HDtracks Rolling Stones releases. Big Hits covers the band's top selling singles released from 1964 to early 1966 including "(I Can't Get No) Satisfaction," "The Last Time," "As Tears Go By," "19th Nervous Breakdown" and "Get Off Of My Cloud." Through The Past, Darkly includes such Top Ten hits as "Paint It Black," "Mother's Little Helper," "Have You Seen Your Mother, Baby, Standing In The Shadow?" "Ruby Tuesday," "Jumpin' Jack Flash" and "Honky Tonk Women."
Forthcoming releases in the series include: Out of Our Heads (both US and UK versions), December's Children, Aftermath (both US and UK versions), Let It Bleed, Between The Buttons (both UK and US versions), Beggars Banquet, The Rolling Stones Singles Collection, Get Yer Ya-Ya's Out!, Their Satanic Majesties Request, The Rolling Stones (US version a/k/a England's Newest Hit Makers) Hot Rocks, More Hot Rocks, The Rolling Stones Now!, Got Live If You Want It!, Big Hits (High Tide & Green Grass) (UK version), Through The Past, Darkly (UK version), Metamorphosis, Flowers and a compilation of three UK EPs – The Rolling Stones, Five by Five and Got Live If You Want It!.
Jody Klein, ABKCO Music & Records CEO, remarked, "The release through HDtracks of these ABKCO Rolling Stones titles means that fans can enjoy the sheer raw power of the music exactly the way the band recorded it and intended it to be heard."
"This ABKCO Rolling Stones collection in high resolution is a combination of the utmost care in re-mastering, the best technology in A/D conversion and the highest resolution files available on the web. Our goal is to bring out every musical nuance that occurred at the original recording session and deliver it to your home for your musical enjoyment," says David Chesky, HDtracks co-founder.
ABOUT The Rolling Stones:
Brian Jones, Ian Stewart, Mick Jagger Keith Richards, Bill Wyman and drummer Charlie Watts formed the original lineup of the Rolling Stones in London in 1962. Their earliest recordings featured churning renditions of R&B cover songs, pulling material for their repertoire from a host of American blues legends like Willie Dixon, Howlin'Wolf, and Muddy Waters, whose song "Rollin'Stone" is the source of the band's name.
The Rolling Stones came together during a period in music history when The Beatles had launched the all-continent-conquering British Invasion, but then quickly showed the world that like the Beatles, they too were to be no flash-in-the-pan pop group. These were the original bad boys of rock and roll, and they presented a rough and tumble, edgier alternative to the squeaky-clean image of mop-tops and bubblegum pop stars even when they first made the scene, leading members of the press and concerned parents everywhere to ask, "Would you let your daughter marry a Rolling Stone?"
These nascent rockers exposed the darker side of America's blues underbelly to middle-class teenagers who soon became enamored of the raw energy and sound The Rolling Stones produced in the studio and onstage in their increasingly rowdy concert performances. While ardent admirers of the blues and strongly influenced by them, the Rolling Stones made each cover song their own and were largely responsible in the early days for giving rock & roll its rough image and driving, distorted sound.
With nearly five decades performing behind them, the Rolling Stones remain one of the longest-running musical groups in history and show no signs of letting up anytime soon.
ABOUT HDtracks:
HDtracks.com is a high-quality music download service offering a diverse catalog of independent music from around the world. Developed by musicians for musicians, HDtracks provides a listening experience with an emphasis on purity, tone and expression. HDtracks' catalog is comprised of uncompressed CD and DVD-audio-quality recordings of world-class musicians, vocalists and ensembles. HDtracks offers consumers a variety of file formats: AIFF, FLAC loseless files and 320 kbps files that exceed the quality of a standard MP3 file. Currently, HDtracks has available select titles in ultra-high resolution up to 192kHz/24bit Flac files. This is a true DVD-audio sound quality. Additionally, each download includes complete PDF liner notes. http://www.hdtracks.com/