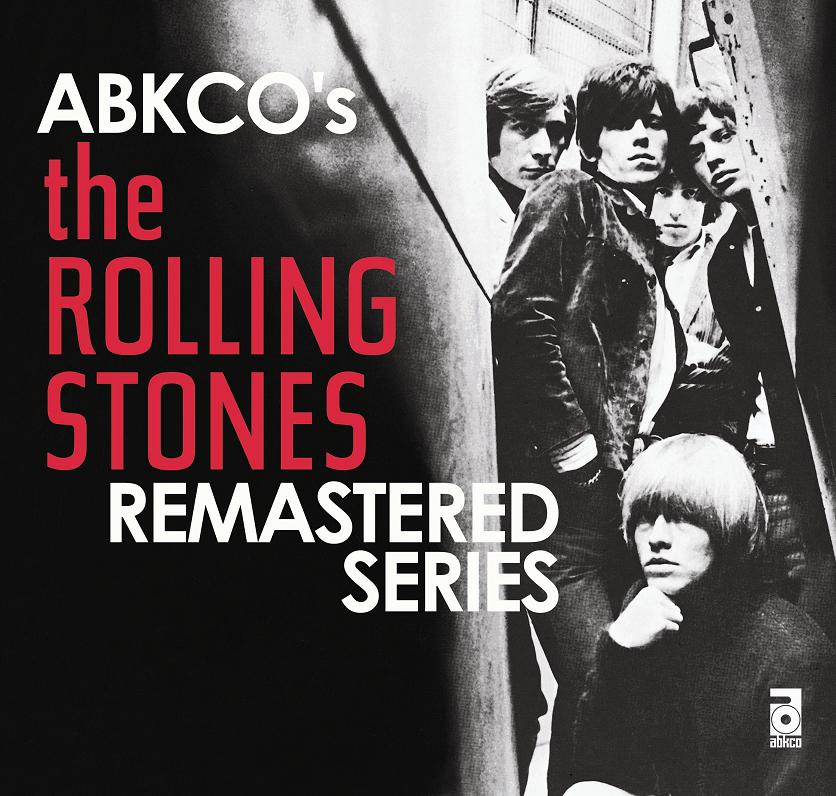 THE ROLLING STONES REMASTERED SERIES
GET STONED IN A WHOLE NEW WAY
STONES CLASSIC CATALOG RESEARCHED, RESTORED AND REMASTERED TO THE HIGHEST POSSIBLE STANDARDS
ABKCO's recently announced series, The Rolling Stones Remastered, encompasses twenty-two albums by "the world's greatest rock 'n roll band" recorded between 1963 and 1970 when Mick, Keith, Brian, Charlie and Bill were in their fiery youth. This monumental series of hybrid SACDs, which are playable on standard CD players, will be in stores August 20th. Inaugural pressings of each title will carry a certificate of authenticity that will not be included in future pressings.
Classic studio albums including 12 X 5, The Rolling Stones Now, Aftermath, Between The Buttons, Let It Bleed, Flowers, Their Satanic Majesties Request, Beggars Banquet, Let It
Bleed, Out of Heads, December's Children, Get Yer Ya-Ya's Out, and their very first long player, England's Newest Hitmakers are key components of the series. So, too, are all of
the albums that document this era at the root of the band's forty year history including Big Hits (High Tide & Green Grass), Through the Past Darkly, Hot Rocks, More Hot Rocks, The Rolling Stones Singles Collection and Metamorphosis, and in the frenzied live performance of Got Live If You Want It.
In a number of instances, where the repertoire is substantially different, both domestic and- for the first time in this country — UK versions of the original albums are offered including Out of Our Heads, Aftermath and Between The Buttons. Metamorphosis has never, heretofore, been available on CD in any version and ABKCO is releasing the UK version in The Rolling Stones Remastered Series as it includes two tracks not included on the US vinyl album that was originally released in 1975: "Some Things Just Stick In Your Mind" and "We're Wasting Time." The Rolling Stones Remastered Series version of More Hot Rocks features three additional tracks, not previously included. The tune stack now includes the version of "Everybody Needs Somebody To Love" that originally appeared on the UK LP release Rolling Stones #2 as well as a version of "Poison Ivy" that has never before appeared on CD. The collection also features "I've Been Loving You Too Long." The version now included first appeared with an overdubbed audience on Got Live If You Want It and will be making its CD debut in its un-dubbed form on The Rolling Stones Remastered Series edition of More Hot Rocks.
All electronically reprocessed stereo recordings have been expunged from the catalog and have now been replaced with mono mixes while, when available and appropriate, true stereo mixes replace the mono counterparts on the following recordings: "2120 South Michigan Avenue," "(I Can't Get No) Satisfaction," "Around And Around," "Confessin' The Blues," "Empty Heart," "Heart Of Stone," "Honky Tonk Women," "If You Need Me," "It's All Over Now," "Jumpin' Jack Flash," "Look What You've Done," "Paint It Black" and "Time Is On My Side."
Meticulous attention has been paid to ensure that original analog sources for all of these titles are as close to first generation as possible. Research conducted in New York and
London has turned up the best quality two-track masters ever used, that combined with Sony's Direct Stream Digital (DSD) mastering process with a sampling rate of 2,822,400 samples per second, provide unprecedented brilliance and rawness never before experienced outside of the Stones' recording sessions. A process called Super Bit Mapping Direct was used to down convert directly from DSD to the CD format, enabling the listener to hear more of the original master, more directly.
During the course of researching analog sources for The Rolling Stones Remastered Series it was discovered that an erroneous production masters responsible for producing original LP and CD releases, were recorded on a tape machine running at a faster than called for speed, resulting in a "slow" tape master when played back on a tape machine running at the proper speed. Correct speed versions of these tracks are included in The Rolling Stones Remastered Series editions of December's Children, Big Hits (High Tide and Green Grass), Between The Buttons, Flowers, Beggars Banquet, Through The Past Darkly, Hot Rocks, More Hot Rocks and The Rolling Stones Singles Collection.
Beyond that, this edition of The Singles Collection now reflects the original US and UK singles with original single masters used as sources while the track listing was not
changed.
When the first generation master of Let It Bleed was found, it was discovered that the original intent for the album was for the tracks to be contiguous without bands of silence between the songs. The new version reflects that original intent though it may also be programmed on a track-by-track basis, as well.
One of the most comprehensive restoration and remastering programs ever undertaken for a major catalog, The Rolling Stones Remastered Series is uniquely offered as hybrid,
dual-layer discs. Each includes the entire disc's musical content in both Super Audio CD (SACD) as well as standard CD, providing for complete backward and forward hardware
compatibility. The discs will play flawlessly on any SACD compatible or CD player. In an SACD player, the laser pick-up automatically reads the SACD layer while a (standard) CD player's laser pick-up will automatically read through the SACD layer to the CD layer.
With regard to the restoration of the catalog, original art and liner copy including the essays by Anthony DeCurtis and Andrew Oldham that appeared in the original release of The Singles Collection have been painstakingly replicated in digipacks that capture the look of the original LPs. While it was not possible to reproduce the original 3D cover of Their Satanic Majesties Request, the cover of this edition will be printed on holographic board stock. Graphics and texts are rendered exactly as they first appeared as part of the LP
packages without gratuitous after the fact embellishment, underscoring a painstaking commitment to authenticity that is the hallmark of The Rolling Stones Remastered Series.
Every effort has been made to ensure that each of the 327 tracks presented on the 26 discs covering all 22 titles meet the highest audio standards that exist today making The
Rolling Stones Remastered Series the Stones collection for the ages.
All titles distributed in the U.S. and Canada for ABKCO Records by Universal at a suggested retail list price of $18.98 for single disc packages in the United States.
They are distributed for ABKCO Records by Universal in the World excluding the United States and Canada.
PROJECT CREDITS
Restoration Producer: Jody H. Klein
Sound Restoration and Archive Coordinator: Steve Rosenthal/the Magic Shop
Analog to Digital Transfers and Tape Archive Research: Teri Landi
Mastering: Bob Ludwig/Gateway Mastering
DSD Engineer: Gus Skinas
Additional Tape Archive Research: Jane Byrne and Mick McKenna
Additional Analog To Digital Transfer: Jon Astley and Pascal Byrne
Production Assistants: Maria Papazahariou and Laura Walton
Repackage Art Direction: Iris W. Keitel and Alisa Coleman-Ritz
Repackage Design: Zane Peterson/AGI
Art Production Assistants: Nicole Monea and Patricia Sheppard
Conception: Lenne Allik