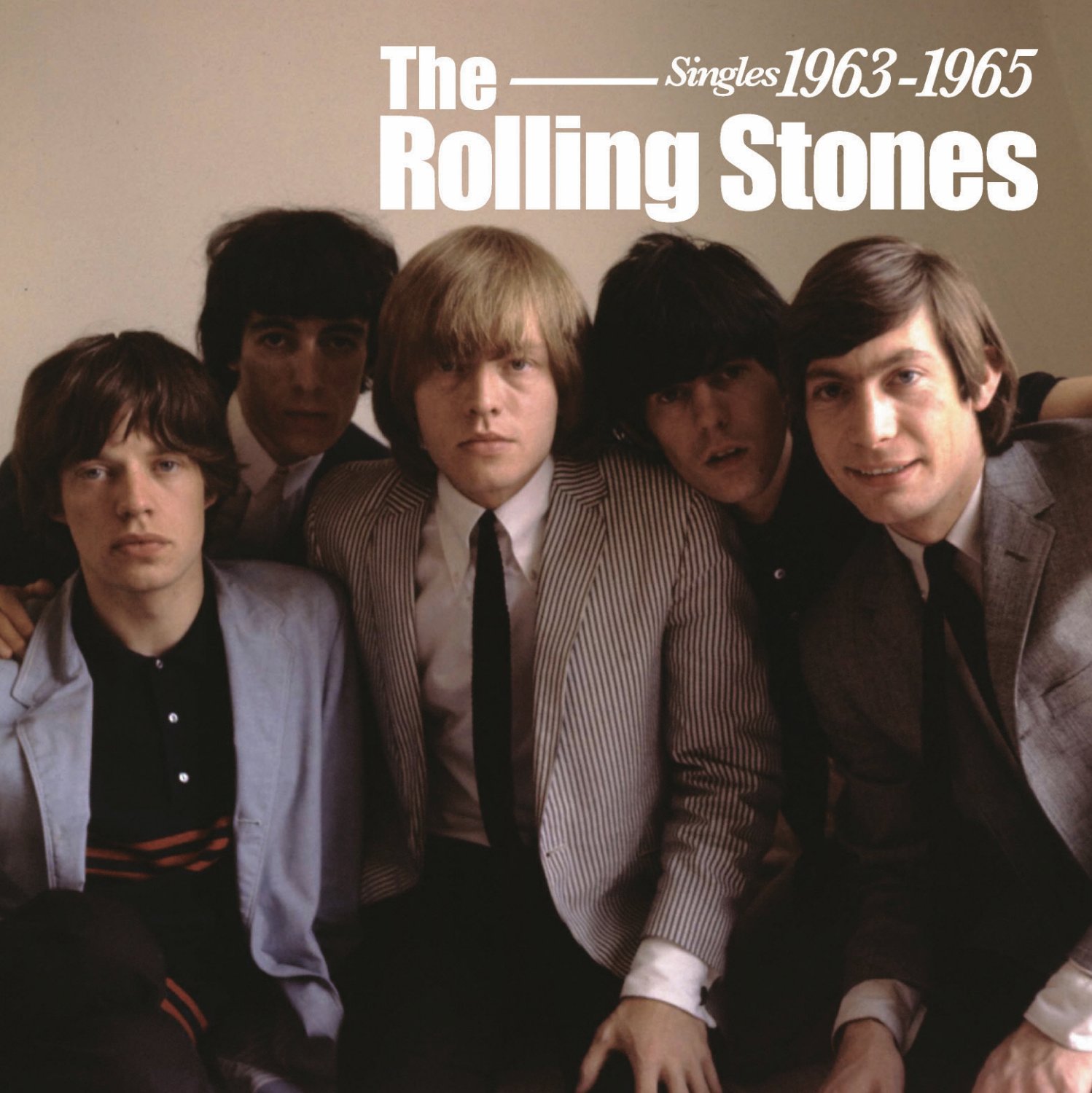 ABKCO Records is set to release The Rolling Stones Singles 1963-1965, the first of three limited edition box sets that are a comprehensive chronological overview of the Rolling Stones' early career as pop chart hitmakers. The set will be in store May 4th and features a total of twelve individual CDs beginning with the band's very first studio effort in the spring of 1963, including all of their ensuing hits, b-sides and EPs released through mid-1965. Release dates for Volume 2 (The Rolling Stones Singles 1965-1967) and Volume 3 (The Rolling Stones Singles 1968-1971) will be released in the summer and fall of 2004, respectively.
Today, the Rolling Stones are thought of as one of the rock era's quintessential album bands but their origin and earliest notoriety came at 45 revolutions per minute. It was their version of Chuck Berry's "Come On" recorded at Olympic Studios in London in May of 1963 that launched them and began the process that made the Rolling Stones a household name as they have been for over forty years. The track is paired with its original b-side, Muddy Waters' "I Want To Be Loved," on one CD. That record, as were the majority of the content in The Rolling Stones Singles 1963-1965 was produced by Andrew Loog Oldham.
The discs in the series replicate the band's groundbreaking singles and EPs. The first volume includes a number of rarities including their cover of Lennon and McCartney's "I Wanna Be Your Man" that is, once again, coupled with the band's shocking, yet mostly instrumental, theme entitled "Stoned" which was withdrawn from U.S. release on "moral" grounds. The song is credited to Nanker Phelge, the songwriting pseudonym for the entire band and Oldham. The set includes a total of 33 tracks ranging from their first U.K. #1, "It's All Over Now," written by Bobby and Shirley Womack to "Tell Me," their first U.S. Top 40 hit and the first significant hit written by the Mick Jagger and Keith Richards, themselves. Also included are such Stones classics as "The Last Time," "Heart of Stone" and "Time Is On My Side."
The package marks the first release on CD of three Rolling Stones EPs that were only previously released on vinyl in the UK including The Rolling Stones EP, the band's first. Five By Five features such key tracks as "If You Need Me," "Confessin' The Blues," "Empty Heart," "Around And Around" and the band's homage to Chicago's Chess Studios "2120 South Michigan Avenue." All are released here in mono and were recorded at that very address in June, 1964 at the end of the band's first U.S. tour. The Got Live If You Want It EP, recorded in March of 1965, includes versions of "Everybody Needs Somebody To Love" and "Pain In My Heart" never before released on CD.
Each of the twelve discs is individually packaged in a picture sleeve utilizing original artwork while the actual discs approximate the black vinyl look of the Stones' original 45s. The set includes a 28 page booklet that is packed with rare photos and extensive annotation. Also included in the package is an an exclusive original essay by Rolling Stones authority Nigel Williamson. It provides a highly detailed historical narrative that puts the classic material of The Rolling Stones Singles 1963-1965 in perspective, offering facts and insight into the earliest recording efforts of the group that would come to be known as "The World's Greatest Rock 'n Roll Band."
The Rolling Stones Singles 1963-1965
Disc 1: Come On / I Want To Be Loved (UK 1963)
Disc 2: I Wanna Be Your Man / Stoned (UK 1963 / US 1964)
Disc 3: The Rolling Stones EP: Bye,Bye Johnny / Money / You Better Move On / Poison Ivy (UK 1964)
Disc 4: Not Fade Away / Little By Little (UK 1964 / US 1964)
Disc 5: It's All Over Now / Good Times, Bad Times (UK 1964 / US 1964)
Disc 6: Five By Five (EP): If You Need Me / Empty Heart / 2120 South Michigan Avenue / Confessin'The Blues / Around and Around (UK 1964)
Disc 7: Tell Me / I Just Want To Make Love To You (US 1964)
Disc 8: Time Is On My Side / Congratulations (US 1964)
Disc 9: Little Red Rooster / Off The Hook (UK 1964)
Disc 10: Heart Of Stone / What A Shame (US 1964)
Disc 11: The Last Time / Play With Fire (US 1964 / US 1965)
Disc 12: Got Live If You Want It (EP): We Want The Stones / Everybody Needs Somebody To Love / Pain In My Heart / Route 66 / I'm Moving On / I'm Alright (UK 1965)
Concept: Andy Street and Jody Klein
Art Directors: Alisa Coleman-Ritz and Iris W. Keitel
Design: Matt Read
Project Manager: Giancarlo Sciama
Art Coordinator: Janessa Gursky
Booklet Photos and Images courtesy of: Ali Zayeri
Front Cover and Photo Car Photos Courtesy of: Redferns
Sound Restoration and Archive Coordinator: Steve Rosenthal/The Magic Shop
Analog to Digital Transfers and Tape Archive Research: Teri Landi
Mastering: Bob Ludwig/Gateway Mastering & DVD