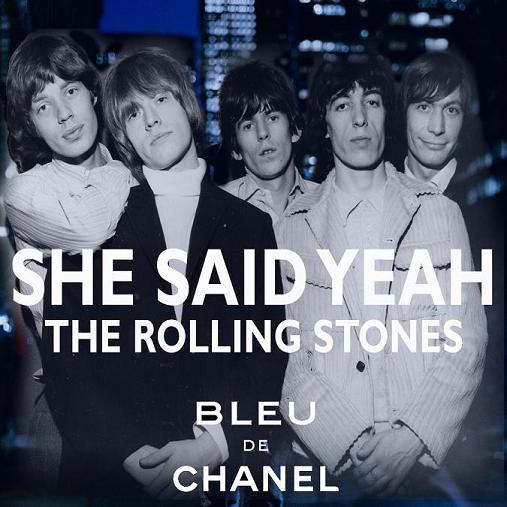 The Rolling Stones' "She Said Yeah," a track from their album December's Children (And Everybody's) that was recorded and released in 1965, serves as the soundtrack for a short advertising film for BLEU DE CHANEL, the new men's fragrance, directed by Academy Award ® winning filmmaker Martin Scorsese. ABKCO Records is offering the original song via iTunes bundled with a video of the band performing the number with live vocals from the November 15, 1965 episode of the nationally broadcast NBC Hullabaloo series.
Director Scorsese's relationship with the Rolling Stones and their catalog of songs dates back to Mean Streets, his breakthrough film that included the band's "Tell Me" in a key scene. No fewer than three Rolling Stones songs, "Gimme Shelter," "Monkey Man" and "Memo From Turner" are heard in Goodfellas while The Departed includes both "Gimme Shelter" and "Let It Loose." Scorsese directed the 2008 Rolling Stones concert film Shine A Light.
Typifying the early Stones' high energy approach, "She Said Yeah" propels the action in the film, titled Bleu de Chanel, in which rising international star Gaspard Ulliel plays the role of a young actor whose artistic talent, rebelliousness and luck have recently catapulted him into the public eye, but who refuses to conform to the lifestyle and expectations his newly found fame has forced upon him. As he struggles with new demands and expectations, he encounters his first love who, for years, supplied him with the passion and turmoil that fueled his work. Faced with a choice, he pushes aside convention to embody the bold energy and elegance of BLEU DE CHANEL by daring to be unexpected.
The song was recorded by the group in September of 1965 at RCA Studios in Hollywood, the very same facility where their epochal "(I Can't Get No) Satisfaction" had been recorded a few months earlier. "She Said Yeah" was written by Sonny Bono and west coast rockabilly performer Roddy Jackson, and had been a single for Larry Williams in the late 1950s. Williams skyrocketed to fame with such early rock 'n' roll hits as "Bony Maronie," "Dizzy Miss LIzzy" and "Slow Down," the last two of which were covered by the Beatles.
Created by CHANEL Master Perfumer Jacques Polge, BLEU DE CHANEL is a woody aromatic fragrance for today's modern man. The provocative fragrance features notes of grapefruit, dry cedar and labdanum.