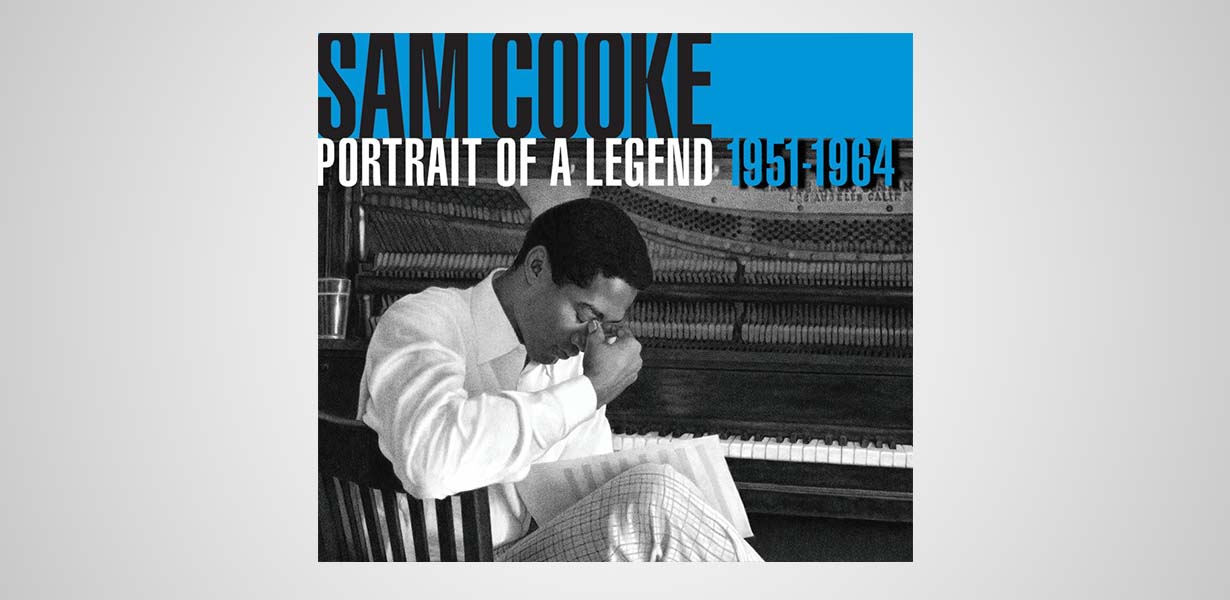 From Sam Cooke's teenage debut as a full fledged member of the legendary Soul Stirrers in 1951 through his career as a rhythm and blues phenomenon thanks to the recordings for which he is acknowledged as the progenitor of soul music. His hit songs, most of which he wrote, went on to become pop standards, enduring to this day. Sam Cooke's amazing body of work is now encapsulated in Sam Cooke: Portrait of A Legend: 1951-1964. It includes 30 tracks and is part of ABKCO's Sam Cooke Remastered Collection, an initiative to offer state of the art editions of restored and remastered Sam Cooke albums on dual layer (hybrid) CD/SACD discs, compatible with any standard CD player as well as Super Audio players.
A diligent quality assurance program coupled with painstaking research and the most advanced digital-to-analog transfer and mastering technologies were employed in producing this collection. Extensive analysis was carried out to determine the best mastering sources and first generation masters were utilized throughout the assembly of the album's track lineup. The result is nothing less than extraordinarily authentic with the shadings and nuance last experienced in the studio years ago. "The sound quality is, arguably, as close to what Sam Cooke and his fellow musicians heard when the engineer pressed the 'playback' button for the first time after those original sessions," notes Jody Klein, restoration producer for The Sam Cooke Remastered Collection.
With a running time of one hour and twenty minutes, Sam Cooke: Portrait Of A Legend includes all of his essential hits and provides a major overview of a career that has left an ever lasting mark on American music that remains indelible today almost forty years after Cooke's untimely death. ABKCO presents tracks from Cooke's gospel and early R&B career as well as his pop/soul hits from the Specialty and RCA labels and has combined them with the cream of the masters that are part of his own company, Tracey Records. He was one of the first recording stars, black or white, to command this kind of artistic control, the most noteworthy other example at the time being Frank Sinatra.
Sam Cooke: Portrait of a Legend:1951 – 1964 highlights Cooke's astounding command of the gospel idiom when, at age 19, he joined the world renowned Soul Stirrers. With Cooke singing lead, the veteran group recorded "Jesus Gave Me Water," on March 1, 1951 at a session for Specialty Records; Sam Cooke's professional career had begun. More than a half century later, that same song closes this collection that starts with another Soul Stirrers song, "Touch The Hem Of His Garment," that was written by Cooke. After his decision to sing secular music as a solo artist, Cooke began to dominate the charts, starting with "You Send Me," released by Keen Records in 1957. A simultaneous Pop and R&B #1 smash hit, the career making song is included in this new retrospective.
Throughout the late 1950's and until the time of his death, Cooke was one of the most popular vocalists in the world with a streak of Top 10 Billboard Pop Chart hits that, of
course, began with "You Send Me" and continued through "Chain Gang," "Twistin' The Night Away," "Another Saturday Night" and "Shake," all of which are on Sam Cooke: Portrait of a Legend. Three of these hits were also #1 Billboard R&B Chart singles; two peaked at #2. Seven other songs in the collection were also Top 10 R&B hits including "I'll Come Running Back To You," "Win Your Love For Me," "Everybody Likes To Cha Cha Cha, "Wonderful World," "Bring It On Home to Me," "Having A Party," "Nothing Can Change This Love," and "A Change Is Gonna Come."
A bonus, hidden track entitled "Soul" is included in the album. The melody was extemporaneously brought forth by Cooke during an interview with famed DJ Magnificent Montague of "burn baby, burn" fame. He had asked Cooke to "hum 'soul'" and this is an audio document of that moment in 1962.
The songs included in Sam Cooke: Portrait Of A Legend collectively logged 273 weeks or five years and three months on Billboard's Pop Chart and a mind boggling 508 weeks (nine years and nine months) on the Pop and R&B charts, combined.
Comprehensive liner notes by author Peter Guralnick are provided in the Sam Cooke: Portrait Of A Legend package, as are detailed musician credits.
Release date: June 17, 2003
Running time: 80 minutes
Suggested retail selling price: $18.95
Sam Cooke: Portrait Of A Legend
1. TOUCH THE HEM OF HIS GARMENT
2. LOVABLE
3. YOU SEND ME
4. ONLY SIXTEEN
5. (I LOVE YOU) FOR SENTIMENTAL REASONS
6. JUST FOR YOU
7. WIN YOUR LOVE FOR ME
8. EVERYBODY LOVES TO CHA CHA CHA
9. I'LL COME RUNNING BACK TO YOU
10. YOU WERE MADE FOR ME
11. SAD MOOD
12. CUPID
13. (WHAT A) WONDERFUL WORLD
14. CHAIN GANG
15. SUMMERTIME
16. LITTLE RED ROOSTER
17. BRING IT ON HOME TO ME
18. NOTHING CAN CHANGE THIS LOVE
19. SUGAR DUMPLING
20. (AIN'T THAT) GOOD NEWS
21. MEET ME AT MARY'S PLACE
22. TWISTIN' THE NIGHT AWAY
23. SHAKE
24. TENNESSEE WALTZ
25. ANOTHER SATURDAY NIGHT
26. GOOD TIMES
27. HAVING A PARTY
28. THAT'S WHERE IT'S AT
29. A CHANGE IS GONNA COME
30. JESUS GAVE ME WATER
31. SOUL (HIDDEN TRACK)