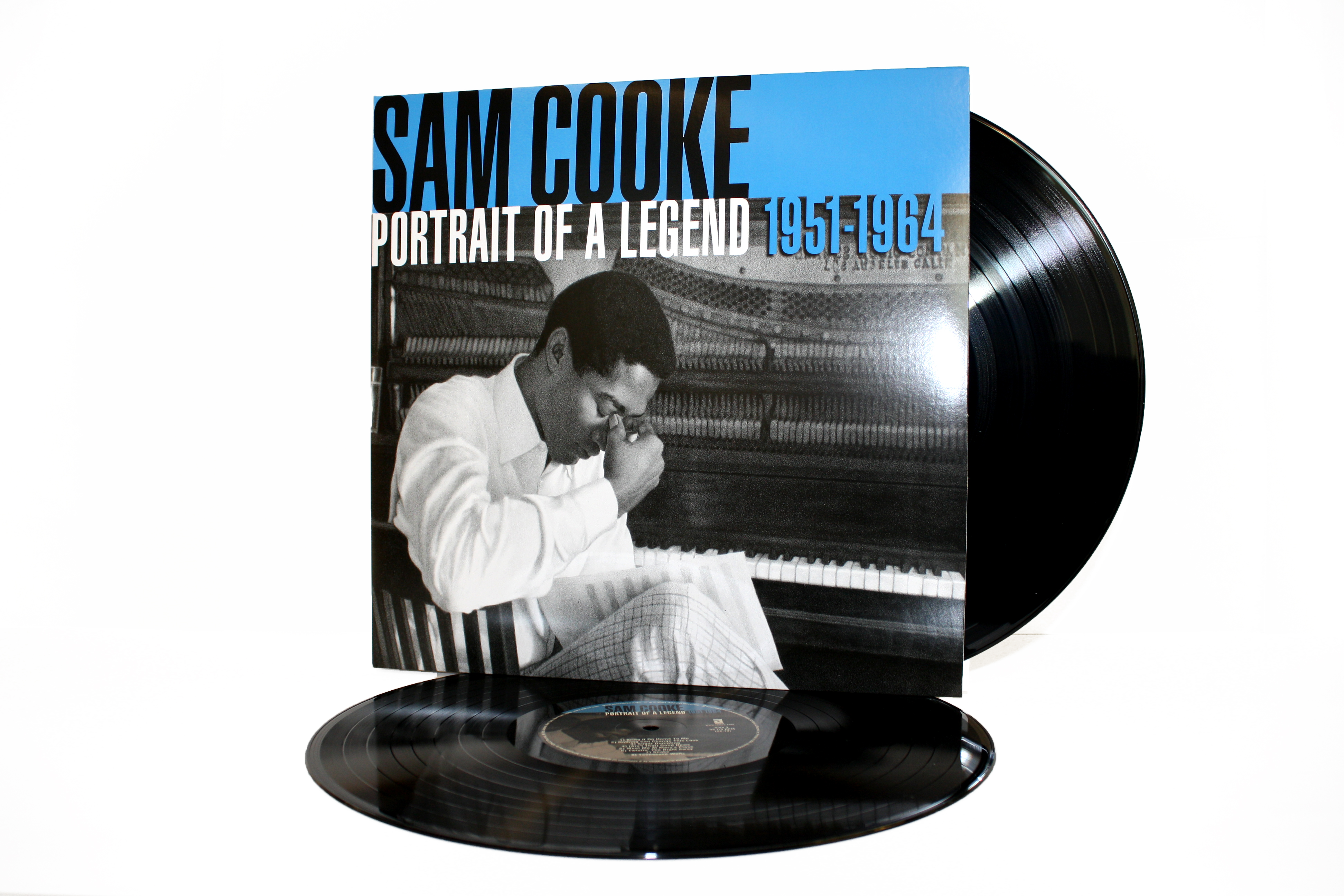 Portrait of a Legend 1951-1964, a career-spanning 31 track collection of music pioneer Sam Cooke's greatest works, is being released by ABKCO Records for the first time ever as a vinyl double album on June 24. Originally released in 2003 as a CD/Super Audio CD hybrid, Portrait of a Legend has never before been available on LP, the dominant format at the time of Cooke's greatest success.
In Portrait of a Legend 1951-1964, ABKCO presents tracks from Cooke's gospel and early R&B career as well as his pop/soul hits from the Specialty and RCA labels and has combined them with the cream of the masters that are part of his own company, Tracey Records. He was one of the first recording stars, black or white, to command this kind of artistic control, the most noteworthy other example at the time being Frank Sinatra.
The collection highlights Cooke's astounding command of the gospel idiom where, at age 19, he joined the world renowned Soul Stirrers. With Cooke singing lead, the veteran group recorded "Jesus Gave Me Water," on March 1, 1951 at a session for Specialty Records; Sam Cooke's professional career had begun. More than a half century later, that same song closes this collection that starts with another Soul Stirrers song, "Touch The Hem Of His Garment," written by Cooke.
After Cooke's decision to sing secular music as a solo artist in the late 50s, until the time of his death, Cooke was one of the most popular vocalists in the world with a streak of Top 10 Billboard Pop Chart hits that began with "You Send Me" and continued through "Chain Gang," "Twistin' The Night Away," "Another Saturday Night" and "Shake," all of which are on Portrait of a Legend. Three of these hits were also #1 Billboard R&B Chart singles; two peaked at #2. Seven other songs in the collection were also Top 10 R&B hits including "I'll Come Running Back To You," "Win Your Love For Me," "Everybody Likes To Cha Cha Cha," "Wonderful World," "Bring It On Home to Me," "Having A Party," "Nothing Can Change This Love," and "A Change Is Gonna Come."
A diligent quality assurance program, coupled with painstaking research has resulted in the best sounding product possible. The vinyl was cut from high-resolution files mastered by Bob Ludwig at Gateway Mastering, and the master lacquers were cut by Carl Rowatti at Trutone Mastering. Both discs are pressed on high quality 200 gram vinyl; the result of these efforts is nothing less than extraordinarily authentic.
A bonus, hidden track entitled "Soul" is included in the collection, the full version of which had only been previously heard on the Super Audio layer of the 2003 SACD Portrait of a Legend.
The songs included in Portrait of a Legend collectively logged 273 weeks or five years and three months on Billboard's Pop Chart and a mind boggling 508 weeks (nine years and nine months) on the Pop and R&B charts, combined.
Comprehensive liner notes by Cooke biographer (Dream Boogie: The Triumph of Sam Cooke) Peter Guralnick are provided in the Portrait of a Legend vinyl package, as are detailed musician credits.
Release date: June 24, 2014
Running time: 83 minutes
Tracklist:
Record 1 Side 1
1) Touch The Hem Of His Garment
2) Lovable
3) You Send Me
4) Only Sixteen
5) (I Love You) For Sentimental Reasons
6) Just For You
7) Win Your Love For Me
8) Everybody Loves To Cha Cha Cha
Record 1 Side 2
1) I'll Come Running Back To You
2) You Were Made For Me
3) Sad Mood
4) Cupid
5) (What A) Wonderful World
6) Chain Gang
7) Summertime
8) Little Red Rooster
Record 2 Side 1
1) Bring It On Home To Me
2) Nothing Can Change This Love
3) Sugar Dumpling
4) (Ain't That) Good News
5) Meet Me At Mary's Place
6) Twistin' The Night Away
7) Shake
8) Tennessee Waltz
Record 2 Side 2
1) Another Saturday Night
2) Good Times
3) Having A Party
4) That's Where It's At
5) A Change Is Gonna Come
6) Jesus Gave Me Water
7) Soul (Hidden Track)