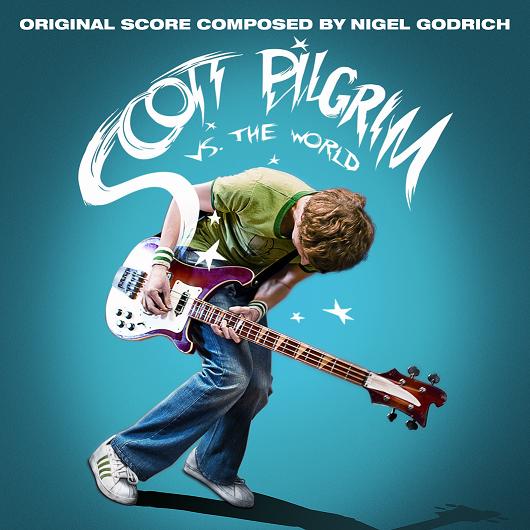 ABKCO is digitally releasing Scott Pilgrim vs. the World (Original Score Composed by Nigel Godrich) on August 10th in anticipation of the film's national theatrical debut on August 13th, it was announced today. August 10th is also the release date for Scott Pilgrim vs. the World (Original Motion Picture Soundtrack) which will be available both digitally and physically.
Filmmaker Edgar Wright (Shaun of the Dead, Hot Fuzz), commented: "I have been very fortunate to be good friends with the amazing Nigel Godrich for a full decade and couldn't be more thrilled that we finally got to work together on this. Nigel's score is unique, eclectic and multi-faceted. I love how it works in the film, and it makes for a great listen in its own right. It was also a treat for us both to work with some many great collaborators on it including Beck Hansen, Cornelius, Dan Nakamura, Kid Koala, David Campbell, Danny Goffey, Gaz Coombes, Kevin Drew, Brendan Canning, Joey Waronker and Gus Seyffert. The score is a sonic embarrassment of riches, and I can't wait for people to hear it."
Godrich, the celebrated producer who has worked on albums by Radiohead, Beck, Paul McCartney, Travis and many others composed the film's original score and also served as executive producer on a soundtrack that includes a number of original songs composed by alternative/modern rock kingpin Beck. The score album includes two mash-ups—"Katayanagi Twins vs. Sex Bob-Omb" from Cornelius + Beck as well as "We are Sex Bob-Omb (Fast)" from Godrich + Beck—as well as "Slick (Patel's Song)" and "Ninja Ninja Revolution," both from Dan the Automator. Godrich collaborated with Jason Falkner & Justin Meldal-Johnsen on "Bass Battle," which is one of the score album's 38 tracks. Also included are three remixes by Osmyso: "Love," "Ramona" and "Prepare."
About the movie:
Meet charming and jobless Scott Pilgrim (Michael Cera). A bass guitarist for totally average garage band Sex Bob-Omb, the 22-year-old has just met the girl of his dreams…literally. The only catch to winning Ramona Flowers (Mary Elizabeth Winstead) is battling her seven evil exes that are coming to kill him. Genre-smashing filmmaker Edgar Wright tells the amazing story of one romantic slacker's quest to power up with love in Scott Pilgrim vs. the World.
Scott Pilgrim has never had a problem getting a girlfriend. It's getting rid of them that proves difficult. From the girl who kicked his heart's ass—and now is back in town—to the teenage distraction he's trying to shake when Ramona rollerblades into his world, love hasn't been easy. He soon discovers his new crush has the most unusual baggage of all: a nefarious league of exes controls her love life and will do whatever it takes to eliminate him as a suitor.
As Scott gets closer to Ramona, he must face an increasingly vicious rogues' gallery from her past—from infamous skateboarders to vegan rock stars and fearsomely identical twins. And if Scott Pilgrim hopes to win his true love, he must vanquish them all before it really is game over.
1. Universal Theme – Nigel Godrich
2. Hillcrest Park – Nigel Godrich
3. Fight! – Nigel Godrich
4. Slick (Patel's Song) – Dan the Automator
5. Love Me Some Walking – Nigel Godrich
6. Talk to the Fist – Nigel Godrich
7. Rumble – Nigel Godrich
8. Feel the Wrath – Nigel Godrich
9. The Grind – Nigel Godrich
10. Hello Envy – Nigel Godrich
11. Mystery Attacker – Nigel Godrich
12. Second Cup – Nigel Godrich
13. The Vegan – Nigel Godrich
14. Bass Battle – Nigel Godrich, Jason Falkner & Justin Meldal-Johnsen
15. Sorry I Guess – Nigel Godrich
16. Roxy – Nigel Godrich
17. The Ninth Circle – Nigel Godrich
18. Katayanagi Twins vs. Sex Bob-Omb – Cornelius / Beck
19. This Fight is Over – Nigel Godrich
20. Gideon Calling – Nigel Godrich
21. Level 7 – Nigel Godrich
22. Welcome to Chaos Theatre – Nigel Godrich
23. We are Sex Bob-Omb (Fast) – Beck / Nigel Godrich
24. Fast Entrance Into Hell – Nigel Godrich
25. Chau Down – Nigel Godrich
26. Game Over – Nigel Godrich
27. So Alone – Nigel Godrich
28. Round 2 – Nigel Godrich
29. Death to All Hipsters – Beck/Nigel Godrich
30. A Different Guy – Nigel Godrich
31. Boss Battle – Nigel Godrich
32. Blowing Up Right Now – Nigel Godrich
33. Aftermath – Nigel Godrich
34. Bye and Stuff – Nigel Godrich
35. Love (Bonus Track) – Osymyso
36. Ramona (Bonus Track) – Osymyso
37. Prepare (Bonus Track) – Osymyso
38. Ninja Ninja Revolution (Bonus Track) – Dan the Automator
Scott Pilgrim vs. the World (Original Motion Picture Soundtrack)
1. We Are Sex Bob-Omb – Sex Bob-Omb
2. Scott Pilgrim – Plumtree
3. I Heard Ramona Sing – Frank Black
4. By Your Side – Beachwood Sparks
5. O Katrina! – Black Lips
6. I'm So Sad, So Very, Very, Sad – Crash and the Boys
7. We Hate You Please Die – Crash and the Boys
8. Garbage Truck – Sex Bob-Omb
9. Teenage Dream – T-Rex
10. Sleazy Bed Track – The Bluetones
11. It's Getting Boring By The Sea – Blood Red Shoes
12. Black Sheep – Metric
13. Threshold – Sex Bob-Omb
14. Anthems For A Seventeen Year-Old Girl – Broken Social Scene
15. Under My Thumb – The Rolling Stones
16. Ramona (Acoustic) – Beck
17. Ramona – Beck
18. Summertime – Sex Bob-Omb
19. Threshold (8 bit) – Brian LeBarton