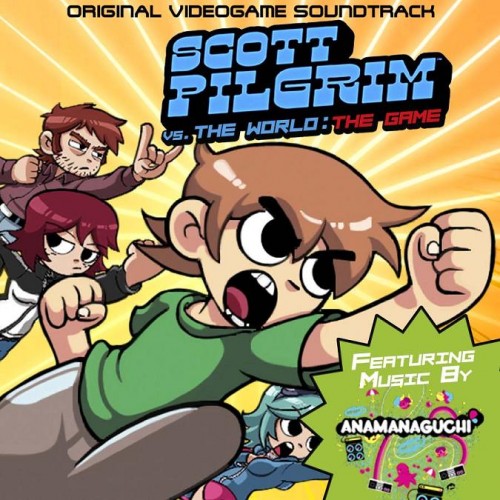 ABKCO RECORDS TO RELEASE ANAMANAGUCHI ORIGINAL VIDEO GAME SOUNDTRACK FOR UBISOFT®'S SCOTT PILGRIM VS. THE WORLD™: THE GAME
"The music alone is worth the price – seriously, this has got to be one of the best game soundtracks I've ever heard. It fits so perfectly but stands strong on its own. You'll love it. And if you don't, frankly, you don't deserve this game. I couldn't stop playing. That's a testament to Scott Pilgrim's charm and its genius soundtrack." IGN (Imagine Games Network)
New York, NY – August 23, 2010, ABKCO Records and UBISOFT® have announced the August 24, 2010 release of the soundtrack to Scott Pilgrim vs. the World™: The Game. Anamanaguchi, a four-piece melodic, 8-bit rock band from Brooklyn, created a freshly conceived 24-song soundtrack to the Scott Pilgrim vs. the World video game from Ubisoft, following the release of the critically acclaimed Universal Pictures film Scott Pilgrim vs. the World, directed by Edgar Wright. The game soundtrack follows ABKCO's release of both the Scott Pilgrim vs. the World original motion picture soundtrack as well as the original score album featuring music composed by Nigel Godrich, which was released August 10.
The Scott Pilgrim game first launched on the PlayStation®Network on August 10, 2010, and will now debut on Xbox LIVE® Arcade for the Xbox 360® video game and entertainment system from Microsoft on August 25, 2010. ABKCO Records will release the video game soundtrack worldwide to all digital retailers on August 24.
Combining raw guitars and thrashing drums with a glitchy digital soundscape, Anamanaguchi has created a powerful, energetic sound that rests in the sonic netherworld between organic and robotic. The band started in 2003 by then 15-year-old Peter Berkman, released their debut POWER SUPPLY EP on the New York DIY label 8bitpeoples in 2006. In 2009 the lineup solidified with bassist James DeVito, Ary Warnaar on guitar and Game Boy and Luke Silas on drums.
The game follows Scott Pilgrim's quest to date Ramona Flowers by defeating her seven evil exes. Scott Pilgrim vs. the World: The Game is a rock 'n' roll action love story for the 8-bit generation with an arcade-style, beat-'em-up experience inspired by many classic retro games of the '80s and '90s. Scott Pilgrim vs. the World: The Game is rated "T" for TEEN by the ESRB.
Gameplay features a four-player co-op mode in which players fight alongside Stephen Stills, Kim Pine and Ramona Flowers to kick, punch and beat their way through hordes of hipsters, emos, paparazzi, aliens and flying piggy banks. The 8-bit retro-gaming animations were created by the world-famous pixel artist Paul Robertson.
Scott Pilgrim' is a unique property, one that is both nostalgic and original. The game provides a fun and entertaining experience that combines elements of the film and comics with romance, pop culture, fighting and rock 'n' roll."
"The Scott Pilgrim vs. the World brand completely stole the show at Comic-Con this year," said Chris Early, vice president of digital publishing at Ubisoft. "'Scott Pilgrim' is a unique property, one that is both nostalgic and original. The game provides a fun and entertaining experience that combines elements of the film and comics with romance, pop culture, fighting and rock 'n' roll."
Peter Berkman, Anamanaguchi's founder declares, "It's a bit surreal, we made a ton of music for a video game that wasn't – quote – 'video game music;' its equal parts rock 'n' roll. We all grew up playing games as much as we did playing in bands, and I feel like that's pretty essential to the Scott Pilgrim universe. We tried to get across a real range of emotion and mood here, hopefully, it worked!"
Tracklisting
1. Scott Pilgrim Anthem
2. Another Winter
3. Skate or Live
4. Sushi Box
5. Shrine Bros
6. Suburban Tram
7. Maki Ya
8. Cheap Shop
9. Rock Club
10. Vegetable Rock
11. Bollywood
12. Rox 300
13. Gideon Wrath Part I
14. Gideon Wrath Part II
15. Giant Contraband Robot
16. The Dark One
17. Leave the Past Behind
18. Come on Down
19. Party Stronger
20. Twin Dragons
21. TechnoMan
22. Subboss Theme
23. Just Like in the Movies
24. This Is the End
*All Songs Composed by Anamanaguchi (Peter Berkman/Ary Warnaar/Luke Silas/James DeVito)