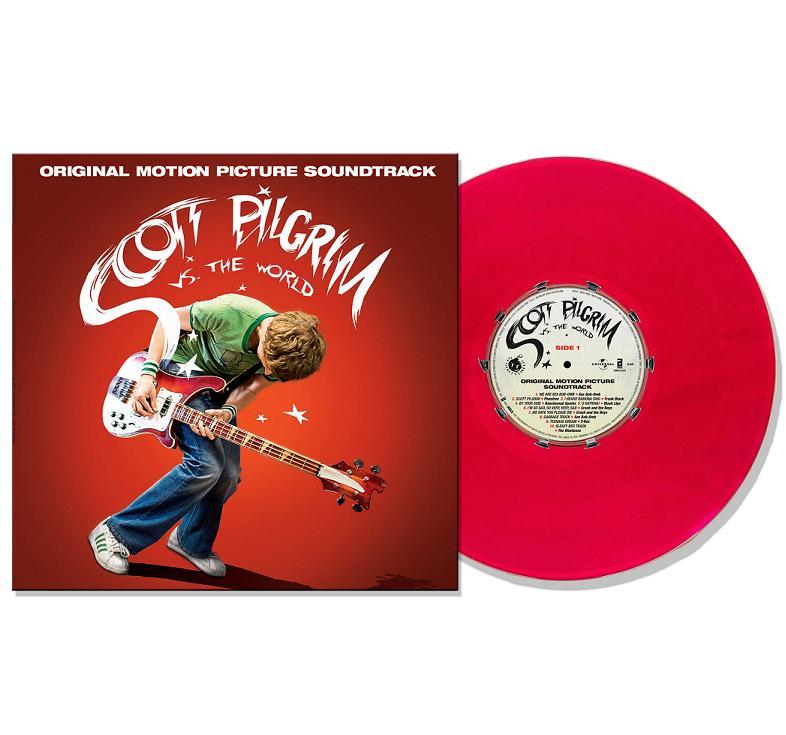 The Scott Pilgrim vs. the World Soundtrack will now be available on red vinyl exclusively at independent record stores nationwide on August 10, 2010! Visit RecordStoreDay.com to find your local independent record store and to get more info.
About the movie:
Meet charming and jobless Scott Pilgrim (Michael Cera). A bass guitarist for totally average garage band Sex Bob-Omb, the 22-year-old has just met the girl of his dreams…literally. The only catch to winning Ramona Flowers (Mary Elizabeth Winstead) is battling her seven evil exes that are coming to kill him. Wright tells the amazing story of one romantic slacker's quest to power up with love in Scott Pilgrim vs. the World.
Scott Pilgrim has never had a problem getting a girlfriend. It's getting rid of them that proves difficult. From the girl who kicked his heart's ass—and now is back in town—to the teenage distraction he's trying to shake when Ramona rollerblades into his world, love hasn't been easy. He soon discovers his new crush has the most unusual baggage of all: a nefarious league of exes controls her love life and will do whatever it takes to eliminate him as a suitor.
As Scott gets closer to Ramona, he must face an increasingly vicious rogues' gallery from her past—from infamous skateboarders to vegan rock stars and fearsomely identical twins. And if Scott Pilgrim hopes to win his true love, he must vanquish them all before it really is game over. www.scottpilgrimthemovie.com
About the soundtrack:
Edgar Wright noted, "Music is such an integral part of the Scott Pilgrim books that myself and Nigel have been working on the soundtrack for nearly two years. This collection of songs represents an amazing span of artists. Some inspired Bryan Lee O'Malley in the creation of the comic, some 'soundtracked' our lives while making the movie and most excitingly, some of our favourite artists contributed new songs that are performed in the movie. It was a thrill to work with Beck, Metric and Broken Social Scene on the original soundtrack and I think you will enjoy the loud fruits of this collaboration."
Scott Pilgrim vs. the World (Original Motion Picture Soundtrack) includes a number of original songs composed by alternative/modern rock kingpin Beck. They are performed in the film by Sex Bob-Omb, the group featuring Scott Pilgrim (Cera) on bass, Stephen Stills (Mark Webber) on lead vocals and guitar and Kim Pine (Alison Pill) on drums. Cast members perform the band's vocals, with multi-platinum and Grammy® Award winner Beck providing instrumentation – a unique collaboration unprecedented in the annals of soundtrack albums. Beck's Sex Bob-Omb songs, including the grunge-infused "Garbage Truck" and the alternative-themed "Summertime," are woven seamlessly into the film. Both the film and album feature four Beck/Sex Bob-Omb tracks, as well as "Ramona," a Beck (only) song featured here in both acoustic and lush orchestral arrangements.
The soundtrack album also features "Black Sheep," a previously unreleased track by Canadian synth rock heroes Metric. Other Scott Pilgrim soundtrack components include "Anthems For A Seventeen Year-Old-Girl," plus two previously unreleased audio outtakes from the film by Broken Social Scene, the Canadian indie rock collective in an 11-piece incarnation. Additional highlights include "By Your Side" from Beachwood Sparks, the cosmic California-based country-pop group and "Sleazy Bed Track," a 1998 single from Brit-pop rockers The Bluetones. Blood Red Shoes, a post-punk duo from Brighton, England, contributes "It's Getting Boring by the Sea"; Black Lips, the Atlanta-based "flower punk" band and Pixies member Frank Black's recording of "I Heard Ramona Sing." Classic recordings from Marc Bolan & T. Rex ("Teenage Dream") and The Rolling Stones ("Under My Thumb") are also part of the Scott Pilgrim vs. the World collection. Of special note is the inclusion of Plumtree's 1997, vinyl only release "Scott Pilgrim," which was the original inspiration for O'Malley to create the series. Programmer Brian LeBarton's interpretation of Beck's "Threshold-8 bit" offers a quirky video game ambiance to the soundtrack.
1. We Are Sex Bob-Omb – Sex Bob-Omb
2. Scott Pilgrim – Plumtree
3. I Heard Ramona Sing – Frank Black
4. By Your Side – Beachwood Sparks
5. O Katrina! – Black Lips
6. I'm So Sad, So Very, Very, Sad – Crash and the Boys
7. We Hate You Please Die – Crash and the Boys
8. Garbage Truck – Sex Bob-Omb
9. Teenage Dream – T-Rex
10. Sleazy Bed Track – The Bluetones
11. It's Getting Boring By The Sea – Blood Red Shoes
12. Black Sheep – Metric
13. Threshold – Sex Bob-Omb
14. Anthems For A Seventeen Year Old Girl – Broken Social Scene
15. Under My Thumb – The Rolling Stones
16. Ramona (Acoustic Version) – Beck
17. Ramona – Beck
18. Summertime – Sex Bob-Omb
19. Threshold (8 Bit) – Brian LeBarton