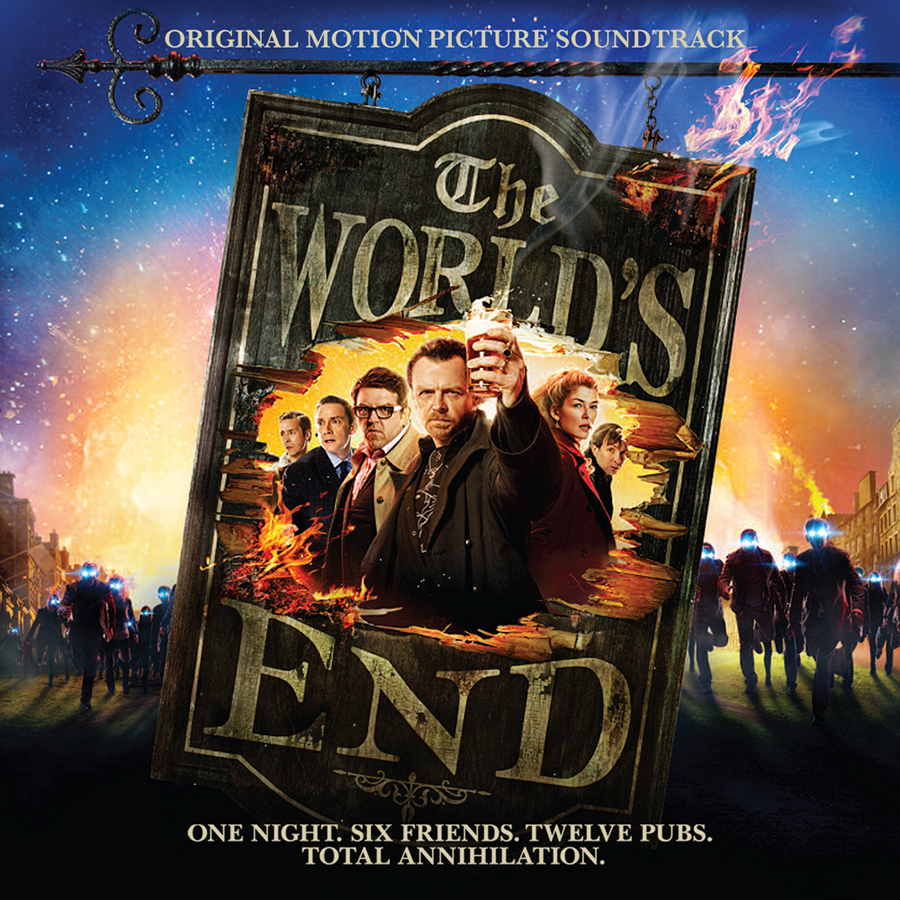 ABKCO Records will release The World's End – Original Motion Picture Soundtrack on Tuesday August 20th, available both on CD and through digital retail outlets. The film is a Focus Features Presentation in association with Relativity Media of a Working Title production in association with Big Talk Pictures. Focus Features releases the "Barmageddon" comedy nationwide on Friday, August 23rd.
The World's End reunites the dynamic team of director/screenwriter Edgar Wright, actor/screenwriter Simon Pegg, and actor Nick Frost. Their previous movies together were the fan favorites Shaun of the Dead and Hot Fuzz. ABKCO and Edgar Wright last collaborated on the hit soundtrack to his 2010 film Scott Pilgrim vs. the World.
A signature brew of camaraderie, knockabout humor, excessive quaffing, questionable life choices, hand-to-hand combat and explosive surprises, The World's End's eclectic soundtrack channels the songs the five main characters heard over 20 years ago when they first attempted an epic pub crawl. Primal Scream's "Loaded" is something of a theme for the action in The World's End, and is featured along with high-profile tracks from Blur, The Soup Dragons, Pulp, Suede, Teenage Fanclub, Stone Roses, Sisters of Mercy (whose t-shirt Simon Pegg's character Gary King wears throughout the film) – and even The Doors' iconic take on Brecht and Weill's "Alabama Song (Whisky Bar)." The physical album totals 18 selections (see Tracklist below).
Director/screenwriter Wright notes, "My new film with Simon Pegg revolves around a man that wants his teens to go on forever. I think many can sympathize with that. This is as much a soundtrack to our school and college days as it is to the film. When I listen to songs from my teens it triggers all sorts of sights, sounds, and abstract memories of the radio and the television, of watching vinyl spin and of making endless compilation tapes. When Simon Pegg and myself wrote the screenplay for the film, we listened to a 300-strong playlist of songs, mainly from 1988 to 1993. Big pop hits, groundbreaking dance smashes, and all the indie gold of our youth. We never, ever tired of them. It powered our writing as much as it powers Gary's quest."
Tracklist
1 Loaded – Primal Scream
2 There's No Other Way – Blur
3 I Put This On A Tape For You – Simon Pegg, Paddy Considine
4 I'm Free – The Soup Dragons
5 So Young – Suede
6 Do You Remember The First Time? – Pulp
7 Welcome – Simon Pegg
8 What You Do To Me – Teenage Fanclub
9 Fools Gold – The Stone Roses
10 We Have Changed – Nick Frost
11 Get A Life – Soul II Soul
12 Alabama Song (Whiskey Bar) – The Doors
13 Wear Your Love Like Heaven – Definition of Sound
14 I Hate This Town – Nick Frost
15 20 Seconds To Comply (World's End Bomb Squad Mix Re-Edit) – Silver Bullet
16 This Corrosion – Sisters of Mercy
17 Happy Hour – The Housemartins
18 Let's Boo Boo – Simon Pegg, Paddy Considine