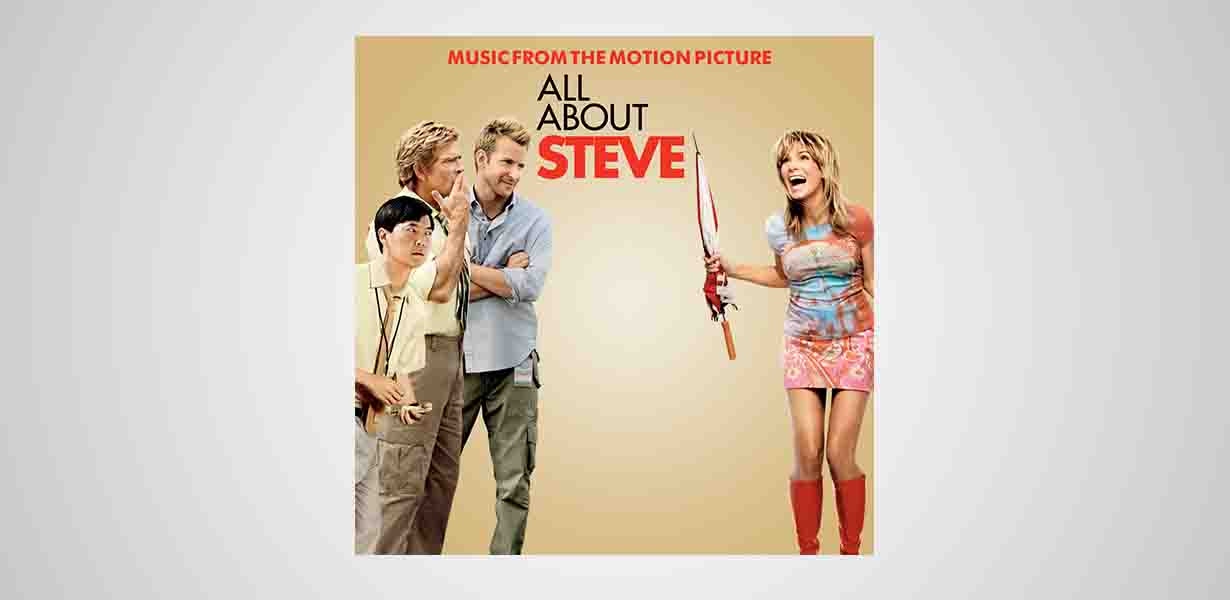 ABKCO Records To Release All About Steve (Music From The Motion Picture) – Out August 25th
ABKCO Records announces the digital release of All About Steve (Music From The Motion Picture) includes songs and score music heard in the Fox 2000 film. The Proposal's Sandra Bullock, Oscar nominee Thomas Haden Church and The Hangover's Bradley Cooper come together in a hilarious tale of a woman who, after falling hard for a guy, thinks they're an item; unfortunately, the guy thinks she's stalking him! The film, directed by Phil Traill and produced by Bullock, opens in theaters nationwide on September 4th.
The album includes two tracks from pop-soul sensation Nikka Costa, including a version of "Everybody Got Their Something" that was recorded especially for the project. The album includes key elements of the film's score that was composed by Christopher Beck, the Emmy Award-winning (Buffy the Vampire Slayer) composer whose scores have been heard in such films License To Wed, School For Scoundrels, The Pink Panther, Drillbit Taylor and many others. The album also features "Do The Panic" from rockers Phantom Planet as well as "Sugar" by Grammy® Award winner Dan Wilson as well "Love Is Everywhere" by Austin-based singer/songwriter Bob Schneider. Two classic tracks featured are Peggy March's 1963 hit "I Will Follow Him" and Patsy Montana's "I Want To Be A Cowboy's Sweetheart" that dates back to 1936.
Also heard on the album is "Casta Diva Che Inargenti" from the 1831 Bellini opera Norma. The selection was performed by Helga Bullock, Sandra Bullock's German-born late mother, who was a noted opera singer and celebrated music teacher. Sandra found an acapella version of her mother's performance of the song following her passing from a courageous battle with breast cancer. Close friend and music producer John Houlihan added instrumentation to it and the song was actually first heard, as it appears in the film and on the album, as Sandra walked down the isle for her wedding to husband Jesse James.
Some of the action depicted in All About Steve takes place in proximity to a devastating hurricane. In light of that fact, a portion of the proceeds from the album will be donated to The Warren Easton Charter Foundation in New Orleans. The Warren Easton Charter School, founded in 1845, is the oldest public school in New Orleans and despite its having been severely damaged by Hurricane Katrina, the school earned U.S. Department of Education's National Blue Ribbon designation.
Music From The Motion Picture All About Steve track listing:
Stuck To You – Nikka Costa
Desert Sunrise (score)
Sugar – Dan Wilson
Everybody Got Their Something – Nikka Costa
I Will Follow Him – Peggy March
Do The Panic – Phantom Planet
Mary Did This (score)
Casta Diva Che Inargenti from Norma – Helga Bullock
Love Is Everywhere – Bob Schneider
Let's Finish This (score)
Mary's Theme (score)
I Want To Be A Cowboy's Sweetheart – Patsy Montana