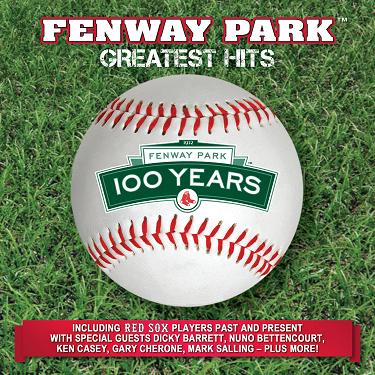 In celebration of Fenway Park's centennial, the Boston Red Sox and the Red Sox Foundation have joined forces with ABKCO Records to create the commemorative album, 100 Year Anniversary of Fenway Park. This historic album is officially licensed by the Major League Baseball Players Association and is comprised of contemporary recordings of songs that are fan favorites traditionally heard at Fenway Park and associated with iconic Boston bands.
The ABKCO Records commemorative album, 100 Year Anniversary of Fenway Park will be available for pre-order on Tuesday, May 1 at redsox.com/fenway100album.com
On Tuesday, May 15, the CD will be available exclusively at the Yawkey Way Store/The Official Red Sox Team Store and at redsox.com/fenway100album. This historic album will be available at traditional retail and all digital retailers on Tuesday, May 22.
Featured talent includes current and former Red Sox players, numerous special guests and children from the team's charitable Red Sox Scholars program.
Red Sox players who participated in the project include David "Big Papi' Ortiz, who provides background vocals and improv on "Sweet Caroline." Ryan Kalish and Darnell McDonald can also be heard on background vocals, as well as Clay Buchholz who plays acoustic guitar on the track. Jarrod Saltalamacchia lends some additional guitar licks to "Dream On" and Alfredo Aceves handles co-lead guitar on "Dirty Water." Also joining in are Jacoby Ellsbury, Dustin Pedroia and Kevin Youkilis who provide percussion on the track "2007," a musical celebration of the team's most recent World Championship, while Daniel Bard plays acoustic guitar on album's debut single, "Let the Good Times Roll."
Among the Red Sox roster alumni participating are Curt Schilling and Jim Lonborg featured on "Hub Fans Bid Kid Adieu." Kevin Millar handles lead vocals on "Tessie" whileJerry Remy sings lead on "Take Me Out to the Ball Game."
Emmy nominated actor Mike O'Malley lends his spoken-word prowess to "Hub Fans Bid Kid Adieu." Special musical guests on 100 Year Anniversary of Fenway Park includeKen Casey of the Dropkick Murphys whose lead vocals are heard on "Knights of Bostonia." Extreme lead singer Gary Cherone, who also fronted Van Halen for a time and Extreme guitarist Nuno Bettencourt rock "Let the Good Times Roll." Grammy nominated guitarist, vocalist and producer Jon Butcher's guitar licks are featured on "Dream On." Actor, singer-songwriter, composer, and musician Mark Salling provides lead vocals on "Sweet Caroline." J. Geils Band keyboardist Seth Justman and Baseball Hall of Fame journalistPeter Gammons join forces on "Meet Me at Mary's Place" with Staind lead guitarist Mike Mushok featured on "Take Me Out To The Ball Game."
Session players for the project include Kenny Aronoff on drums (John Mellencamp/John Fogerty/Chickenfoot), Leland Sklar on bass (James Taylor/Linda Ronstadt/Carole King),Tim Pierce on guitar (Michael Jackson) and Matt Rollings on piano (Tim McGraw). The album was produced by GRAMMY-nominated producer Loren Harriet.
"The Red Sox are proud to celebrate Fenway Park's 100th Anniversary through this musical tribute to America's Most Beloved Ballpark" said Red Sox Executive VP and COO Sam Kennedy. "The CD features current Red Sox players, Legends, musical All Stars and kids who are part of our charitable team. It's a great way to share the magic of Fenway Park with family and friends throughout the baseball season and beyond."
Track list:
1. Tessie – Kevin Millar
2. Let the Good Times Roll – Gary Cherone, Nuno Bettencourt & Daniel Bard
3. The Impossible Dream (The Quest) – Dicky Barrett & Rico Petrocelli
4. Dream On – Jon Butcher & Jarrod Saltalamacchia
5. Meet Me at Mary's Place – Peter Gammons & Seth Justman
6. Knights of Bostonia – Ken Casey, Nora Parkington & Cory Pesaturo
7. Take Me Out to the Ball Game – Jerry Remy & Mike Mushok
8. Sweet Caroline – Mark Salling, Clay Buchholz, David Ortiz, Ryan Kalish & Darnell McDonald
9. 2007- Kevin Youkilis, Jacoby Ellsbury & Dustin Pedroia
10. Dirty Water – Dick Dodd, Alfredo Aceves & Barry Goudreau
11. Fenway Park – Mark Lennon
12. Hub Fans Bid Kid Adieu – Jim Lonborg, Mike O'Malley & Curt Schilling