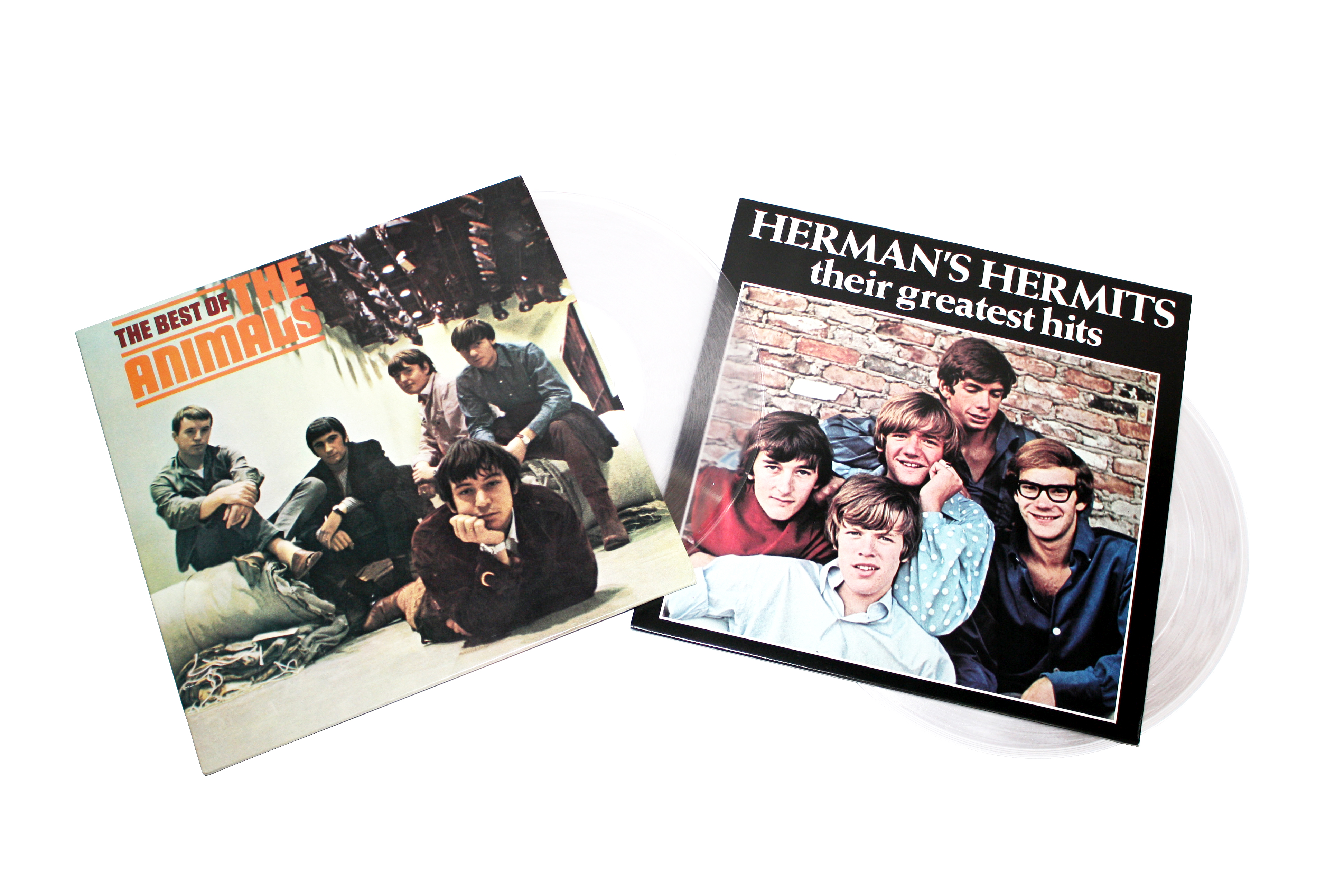 In recognition of the 50th anniversary of the British Invasion, ABKCO Records will release clear vinyl editions of The Best of The Animals and Herman's Hermits' Their Greatest Hits on August 12. These titles are the newest additions to ABKCO's Clearly Classic series, which saw the release of six clear vinyl Rolling Stones titles over the last few years. Both releases are pressed on 180 gram vinyl with original art. Lacquers were cut by Carl Rowatti at Trutone Mastering from high resolution audio sources mastered at Gateway Mastering.
Herman's Hermits, hailing from Manchester, were among the British Invasion's freshest faces. The group, led by heartthrob vocalist Peter Noone, introduced a unique blend of infectious pop and traditional English music hall to the world in 1964, when "I'm Into Something Good" shot straight to No. 1 in the UK and pierced the top 20 in the U.S. The following year, Grammy-nominated "Mrs. Brown, You've Got A Lovely Daughter" and "I'm Henry VIII, I Am" became No. 1 hits in the U.S., and the Hermits edged out The Beatles to become the top selling pop act in the nation in 1965. Their Greatest Hits covers the period of mid-1964 to early 1967, and features other top 5 singles like "Can't You Hear My Heartbeat," "(What A) Wonderful World," written and originally recorded by Sam Cooke, and "Dandy," which was a bigger hit for the Hermits than fellow invaders The Kinks. The legendary Mickie Most produced all of the tracks on Their Greatest Hits.
"I am really excited," Peter Noone commented, "that my group Herman's Hermits are now part of ABKCO's Clearly Classic series with the release of the original recordings of our greatest hits on high quality, clear vinyl. I know our fans will appreciate hearing our music the way it was when we recorded it."
Fronted by charismatic lead singer Eric Burdon, The Animals exploded onto the world stage in 1964 with their transatlantic No. 1 hit "House of the Rising Sun." Straddling the line between hard-edged blues and Brill Building pop, the group from Newcastle enjoyed a swath of top 20 singles under the guidance of producer Mickie Most, including "I'm Crying," "Don't Let Me Be Misunderstood," and "We Gotta Get Out Of This Place." Recorded entirely within a scant 20-month period ending in September of 1965, The Best of The Animals includes all the aforementioned hits as well as timeless gems such as "It's My Life," and "Boom Boom", renditions of Chuck Berry's "Around And Around" and Sam Cooke's "Bring It On Home To Me." All of The Best of The Animals tracks were also produced by Mickie Most.
"For me the release of The Best of The Animals on vinyl is a journey back to a working world that doesn't exist anymore," said Eric Burdon, who is ecstatic about the upcoming release. "This is the way that all of those songs were originally intended to be heard. I am happy to see more and more young people discover the joy of putting on a record – and the elders rediscovering the thrill of the needle setting down into those grooves." Burdon then vividly described the organic nature of the recording process in the 60s. "The Animals were a live, living band, coming off of the road and completing an album in two days and then going back on the road again. The moment was captured on quarter inch tape and now it's returned to you in its original form, 50 years later. Enjoy the trip down memory lane!"
The Animals – The Best of The Animals
Side 1
House Of The Rising Sun
I'm Crying
Baby Let Me Take You Home
Around And Around
Talkin' Bout You
Don't Let Me Be Misunderstood
Boom Boom
Dimples
Side 2
We Gotta Get Out Of This Place
I'm In Love Again
Bury My Body
Gonna Send You Back To Walker
Story Of Bo Diddley
It's My Life
Bring It On Home To Me
All tracks produced by Mickie Most, 1964-1965
The Best of The Animals was originally released in 1987
Mastered by Adam Ayan, Gateway Mastering
Lacquer cutting by Carl Rowatti, Trutone Mastering
Pre-Order The Best Of The Animals: http://smarturl.it/BestOfAnimalsLP
Herman's Hermits – Their Greatest Hits
Side 1
Mrs. Brown You've Got A Lovely Daughter
No Milk Today
End Of The World
This Door Swings Both Ways
Just A Little Bit Better
I'm Henry The VIII, I Am
There's A Kind Of Hush
Silhouettes
Side 2
I'm Into Something Good
Can't You Hear My Heartbeat
Dandy
(What A) Wonderful World
Hold On
Listen People
Leaning On A Lamp Post
A Must To Avoid
All tracks produced by Mickie Most, 1964-1966
Their Greatest Hits was originally released in 1987
Mastered by Bob Ludwig, Gateway Mastering
Lacquer cutting by Carl Rowatti, Trutone Mastering
Pre-Order Their Greatest Hits: http://smarturl.it/HermitsGreatestLP
Other ABKCO Clearly Classic series releases:
– Rolling Stones – Hot Rocks 1964-1971
– Rolling Stones – Beggars Banquet
– Rolling Stones – Let It Bleed
– Rolling Stones – 12 x 5
– Rolling Stones – Get Yer Ya-Ya's Out!
– Rolling Stones – Through the Past, Darkly (Big Hits Vol. 2)