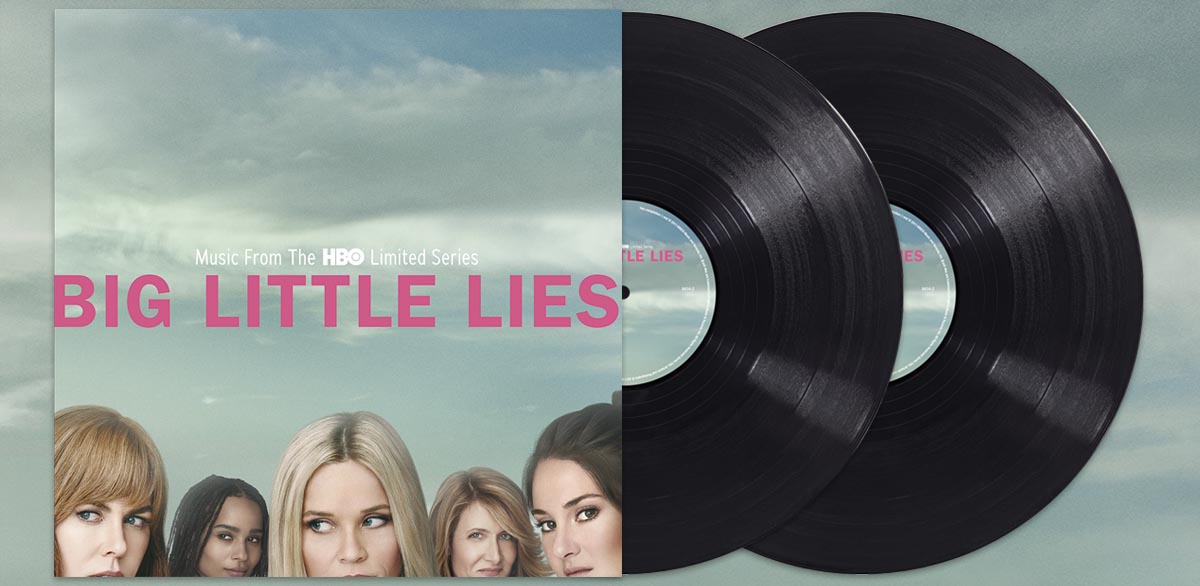 ABKCO Music & Records will release Big Little Lies: Music From the HBO Limited Series on CD June 30, and vinyl on July 28. Released digitally in March by ABKCO, it shot to #1 on the iTunes Soundtracks Chart and #2 on Top Albums U.S. iTunes Chart.
Based on the New York Times #1 bestseller of the same title by Liane Moriarty, Big Little Lies, the seven-episode HBO drama series starring Reese Witherspoon, Nicole Kidman, Shailene Woodley and Alexander Skarsgård follows three mothers in the tranquil seaside town of Monterey, California whose seemingly perfect lives unravel to the point of murder. Written for television and created by David E. Kelley (Picket Fences, LA Law, The Practice, Ally McBeal), the series was directed entirely by Jean-Marc Vallée (Dallas Buyers Club, Wild, Demolition). Wildly popular, the series aired between February and April, and is due out on DVD August 1.
"Much has been made of the show's soundtrack," New Yorker television critic Jia Tolentino noted. "The music tends toward the soulful, and it is often diegetic—we hear what the characters hear. It is also woven into the story much the way that trauma is: as a pulsing, irregular beat—a jangly noise that rises and falls in volume and affects everyone who can hear it."
The music on Big Little Lies is a goddamn delight
"The music on Big Little Lies is a goddamn delight," said Matt Miller of Esquire, who also described how the music "has become a character of its own." Spencer Kornhaber of the Atlantic went so far as to write an article entitled "The Soul of Big Little Lies Is in Its Music."
Soul music, as broadly defined, predominates Big Little Lies: Music From the HBO Limited Series. Current soul sensations Leon Bridges, Michael Kiwanuka, Charles Bradley and Kinny, as well as legacy artist Irma Thomas are represented. "This Feeling" by blues-rockers Alabama Shakes and Martha Wainwright's "Bloody Mother Fucking Asshole" are also standouts, in addition to Ituana's breathy interpretation of the Rolling Stones' "You Can't Always Get What You Want." The album also includes "The Wonder of You" performed by Villagers, Daniel Agee's take on "How's The World Treating You" and "Don't," performed by cast member Zoë Kravitz.
The double vinyl LP version will contain two tracks not included on the CD or digital versions – "Treat Me Nice," sung by director Jean-Marc Vallee, and "It's Now Or Never (Instrumental)" by Jean-Phi, aka Jean-Philippe Goncalves, who produced and arranged both tracks.
CD Tracklist 
1. Cold Little Heart – Michael Kiwanuka
2. Victim of Love – Charles Bradley
3. Bloody Mother Fucking Asshole – Martha Wainwright
4. River – Leon Bridges
5. Queen of Boredness – Kinny (featuring Diesler)
6. September Song – Agnes Obel
7. This Feeling – Alabama Shakes
8. Changes – Charles Bradley
9. Straight From the Heart – Irma Thomas
10. Nothing Arrived (Live From Spotify London) – Villagers
11. Don't – Zoë Kravitz
12. The Wonder of You – Villagers
13. How's the World Treating You – Daniel Agee
14. You Can't Always Get What You Want – Ituana
VINYL Tracklist (DOUBLE LP)
Side 1
1. Cold Little Heart – Michael Kiwanuka
2. Victim of Love – Charles Bradley
3. Bloody Mother Fucking Asshole – Martha Wainwright
Side 2
4. River – Leon Bridges
5. Queen of Boredness – Kinny (featuring Diesler)
6. September Song – Agnes Obel
7. This Feeling – Alabama Shakes
Side 3
8. Changes – Charles Bradley
9. Straight From the Heart – Irma Thomas
10. Nothing Arrived (Live From Spotify London) – Villagers
11. Don't – Zoë Kravitz
12. The Wonder of You – Villagers
Side 4
13. How's the World Treating You – Daniel Agee
14. Treat Me Nice – Jean-Marc Vallee*
15. It's Now Or Never (instrumental) – Jean-Phi*
16. You Can't Always Get What You Want – Ituana
*on vinyl version only