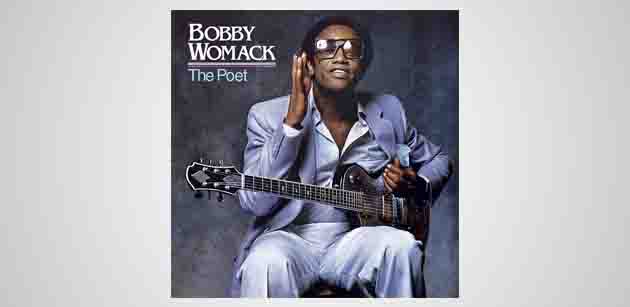 Exactly one month after celebrating his 65th birthday, the legendary Bobby Womack will be inducted into the Rock and Roll Hall of Fame. He is the first Cleveland native to be inducted into the Hall of Fame as an individual performer. This year's induction ceremony is set to take place in Cleveland for only the second time in the Hall's 24-year history, making the event a true homecoming for this brilliant singer/songwriter/guitarist.
"This is just the greatest, I'm extremely happy. My very first thought was — I wish I could call Sam Cooke and share this moment with him. This is just about as exciting to me as being able to see Barack Obama become the first Black President of the United States of America! It proves that, if you're blessed to be able to wait on what's important to you, a lot of things will change in life. Being able to work, perform and make people happy is where it's at. I haven't been home in almost 30 years, so having this happen in my hometown is really icing on the cake," Womack remarked after he heard the good news. "I'm looking forward to going home."
Bobby Womack first came to prominence in the in the 1950s as part of The Womack Brothers, a gospel group that was comprised of siblings Cecil, Harry, Curtis and Friendly. Impressed with the group, Sam Cooke encouraged them to come to Los Angeles where he signed them to his SAR label. Making the transition from gospel to R&B, they recorded as The Valentinos, ultimately hitting with "Lookin' For A Love" and "It's All Over Now." The latter song which was written by Bobby and Shirley Womack was soon covered by the Rolling Stones and became the group's very first #1 hit. Bobby's relationship with the Stones continues to this day.
As Bobby's solo career evolved, he became the standard bearer for contemporary soul music, with such hits as "That's The Way I Feel About 'Cha" and "Woman's Gotta Have It." He wrote the title theme for the film Across 110th Street which went on to be used in both Quentin Tarantino's Jackie Brown as well as in the recent American Gangster.
A new career pinnacle was achieved in the 1980s with the release of the albums THE POET and THE POET II. These evocative records yielded numerous hits including "Where Do We Go From Here," "Secrets," "It Takes A Lot of Strength To Say Goodbye," "Love Has Finally Come At Last," "Tell Me Why" "If You Think You're Lonely Now," and others. "If You Think You're Lonely Now" was the basis for Mariah Carey's #1 hit "We Belong Together." Womack has also recorded Snoop Dogg, Rod Stewart and host of other top names.
ABKCO Records will release both albums as THE POET I & II, combined on one CD and in their original album format as THE POET I and THE POET II for digital release on February 17th. In honor of Martin Luther King Day, ABKCO is servicing radio with a special TracPack of two evocative songs from the album, "Through The Eyes Of A Child" (featuring Patti LaBelle, Wilton Felder and George Benson) and "American Dream." The release is especially timely in light of the fact that this year's MLK holiday falls just one day prior to the inauguration of President Barack Obama.