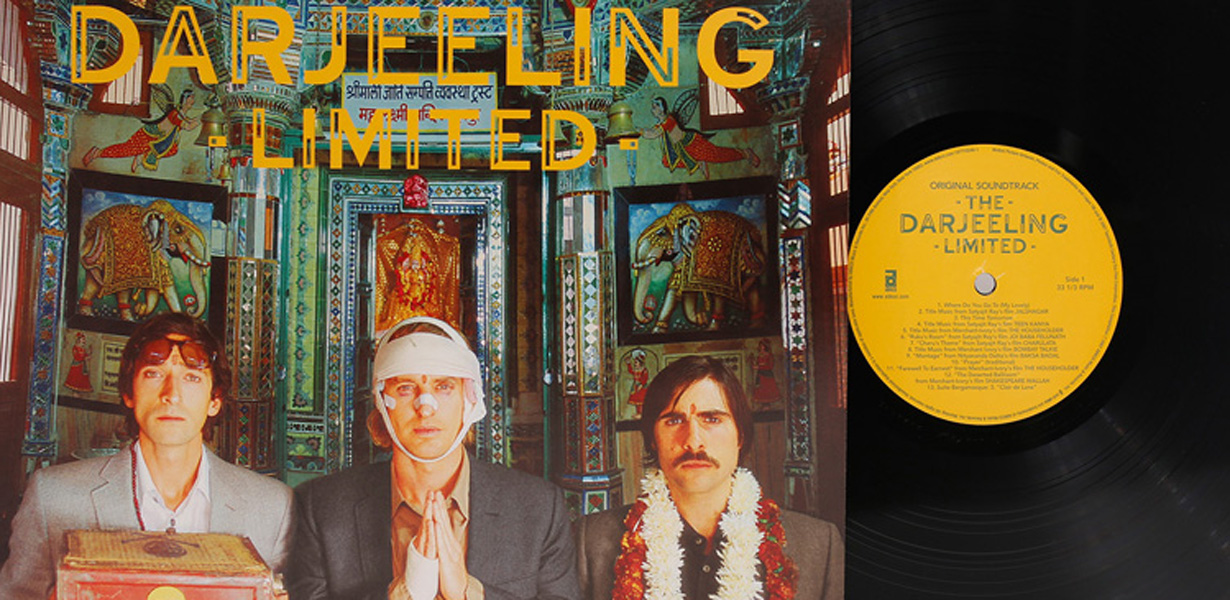 The Darjeeling Limited, the 2007 Wes Anderson-directed film starring Owen Wilson, Adrien Brody and Jason Schwartzman is notable for its eclectic soundtrack, which will be released on vinyl on May 19 by ABKCO Records. Set in India, the film incorporates the music of acclaimed director Satyajit Ray's own films, scoring from early Indian Merchant-Ivory films, and pop hits by the Rolling Stones and the Kinks. The soundtrack album was a significant success at the time of its initial release when it went to # 1 on Billboard's Top World Album Chart, going on to become the fourth top selling World Album of 2008.
The soundtrack had not been available on LP until a limited edition green vinyl pressing came out on Record Store Day of this year, making the RSD Best-Selling Titles chart. The May 19 release will be on black vinyl.
Randall Poster, the film's music supervisor who co-produced the soundtrack album with Anderson, commented, "Wes and I are thrilled that our friends at ABKCO will be releasing The Darjeeling Limited soundtrack on vinyl. Wes Anderson and vinyl go together like curry and chutney."
The Kinks and the Rolling Stones feature prominently on The Darjeeling Limited soundtrack. "This Time Tomorrow," "Strangers," and "Powerman" all originally appeared on the Kinks' 1970 album Lola Versus Powerman and the Moneygoround, Part One. While Anderson has used Rolling Stones songs in his earlier films, "Play With Fire" (originally released in 1965 as a b-side to "The Last Time") has the distinction of being the first song by the English rock legends to make it onto a Wes Anderson soundtrack album.
The films of Satyajit Ray, set in his native India, sparked Anderson's inspiration for creating The Darjeeling Limited. During his lifetime, Ray not only wrote and directed, but also composed the music for his own films. The Darjeeling Limited soundtrack features music from Ray's Teen Kanya, Charulata, Baksa Badal and Joi Baba Felunath, all dating from the 1960s and 70s.
American-born French singer-songwriter Joe Dassin provides the final song ("Les Champs-Élysées") in both the film and soundtrack. Son of film director Jules Dassin, who was blacklisted from Hollywood during the McCarthy era, Joe Dassin became the first French singer to sign to an American record label when he inked a deal with CBS Records in 1964.
Original Soundtrack: The Darjeeling Limited tracklist
SIDE ONE:
1) "Where Do You Go To (My Lovely)" – Peter Sarstedt
2) Title Music from Satyajit Ray's film Jalsaghar – Ustad Vilayat Khan
3) "This Time Tomorrow" – The Kinks
4) Title Music from Satyajit Ray's film Teen Kanya – Satyajit Ray
5) Title Music from Merchant-Ivory's film The Householder – Jyotitindra Moitra
6) "Ruku's Room" from Satyajit Ray's film Joi Baba Felunath – Satyajit Ray
7) "Charu's Theme" from Satyajit Ray's film Charulata – Satyajit Ray
8) Title Music from Merchant-Ivory's film Bombay Talkie – Shankar/Jaikishan
9) "Montage" from Nityananda Datta's film Baksa Badal – Satyajit Ray
10) "Prayer" – Jodphur Sikh Temple Congregation
11) "Farewell To Earnest" from Merchant-Ivory's film The Householder – Jyotitindra Moitra
12) "The Deserted Ballroom" from Merchant-Ivory's film Shakespeare Wallah – Satyajit Ray
13) Suite Bergamasque: 3. "Clair de Lune" – Alexis Weissenberg
SIDE TWO:
1) "Typewriter Tip, Tip, Tip" from Merchant-Ivory's film Bombay Talkie (sung by Kishore Kumar & Asha Bhosle) – Shankar/Jaikishan
2) "Memorial" – Narlai Village Troubador
3) "Strangers" – The Kinks
4) "Praise Him" – Udaipur Convent School Nuns and Students
5) Symphony No. 7 in A (Op 92) Allegro con brio – Fritz Reiner, Chicago Symphony Orchestra
6) "Play With Fire" – The Rolling Stones
7) "Arrival in Benaras" from Merchant-Ivory's film The Guru – Ustad Vilayat Khan
8) "Powerman" – The Kinks
9) "Les Champs-Élysées" – Joe Dassin