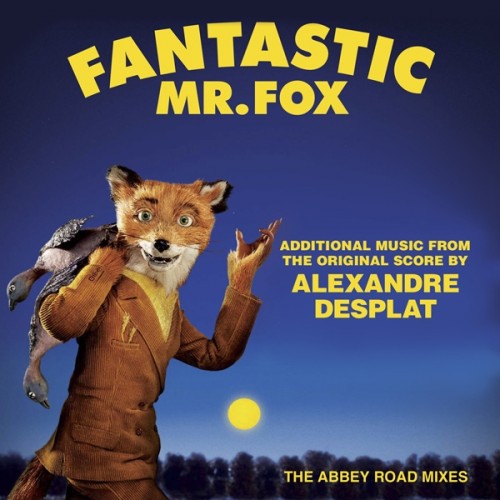 ABKCO Records is proud to announce the digital release of Alexandre Desplat's score for Wes Anderson's critically acclaimed animated feature FANTASTIC MR. FOX. Desplat's score received a Best Original Score nomination for this year's 82nd ACADEMY® AWARDS airing on March 7, 2010.
FANTASTIC MR. FOX is Desplat's third Academy® Award nomination. His first was for his score for THE QUEEN (2007), followed by THE CURIOUS CASE OF BENJAMIN BUTTON (2008). The MR. FOX soundtrack also received a BAFTA Award nomination for Best Score as well as a 2009 Los Angeles Film Critics Association nomination for Best Music Score. Desplat's work on the score for FANTASTIC MR. FOX was lauded by numerous critics, including the New York Times' A.O. Scott who called it "eccentric and just right."
Throughout Alexandre Desplat's award-winning career, he has successfully managed to blend his eclectic musical influences of classical, jazz and soundtrack scores into a unique sound all his own. After composing the music for over 50 European films and receiving his first two prestigious Cesar Award nominations, Desplat hit the ground running in Hollywood in 2003 with his score for THE GIRL WITH THE PEARL EARRING, for which he received a Golden Globe nomination for Best Original Score.
That was just the beginning of Desplat's awards onslaught. He is the recipient of a Silver Bear Award from the Berlin Film Festival, a total of four Cesar nominations (including a win), four BAFTA nominations, a total of four Golden Globe nominations (including his win for THE PAINTED VEIL), three World Soundtrack Awards and now, with the inclusion of FANTASTIC MR. FOX, a total of three Academy® Award nominations!
To date, Desplat's body of work includes scores for such diverse films as BIRTH, SYRIANA, THE QUEEN, THE PAINTED VEIL, MR. MAGORIUM'S WONDER EMPORIUM, LUST CAUTION, THE GOLDEN COMPASS, COCO BEFORE CHANEL, A PROPHET, JULIE AND JULIA, THE GHOST WRITER and of course this year's Academy® Award contender, FANTASTIC MR. FOX.
Randall Poster, Wes Anderson's co-producer on the soundtrack concludes, "The Alexandre Desplat/Wes Anderson collaboration on FANTASTIC MR. FOX resulted in some of the most unique and compelling film music that I have ever heard. Working very closely, Alexandre and Wes created an incomparable musical element that renders the magical world of Roald Dahl inimitably. People were so enthralled and captivated by Desplat's music that a second collection of pieces drawn from his FANTASTIC MR. FOX score was compiled and is now available."
Fantastic Mr. Fox:
Additional Music From The Original Score By Alexandre Desplat
The Abbey Road Mixes
1/ Moving In
2/ Mr. Fox In The Fields Medley
3/ Trains
4/ Side Car Escape
5/ Shoot Out
6/ Kristofferson
7/ Plan B
8/ Trains 2
9/ Looking For Cider
10/ Death Of Rat
11/ Whack-Bat Majorette Ensemble
12/ Canis Lupus
13/ Trains 3
14/ Rat Fight
15/ Dig!
16/ Mr. Fox's Promenade
17/ Three Farmers
18/ Kristofferson 2
19/ Boggis Bunce And Bean (Reprise)
20/ Trains 4
21/ Mr. and Mrs. Fox
22/ Canis Lupus 2
23/ Finale
24/ Choir Boys Farewell (To The Puppets)