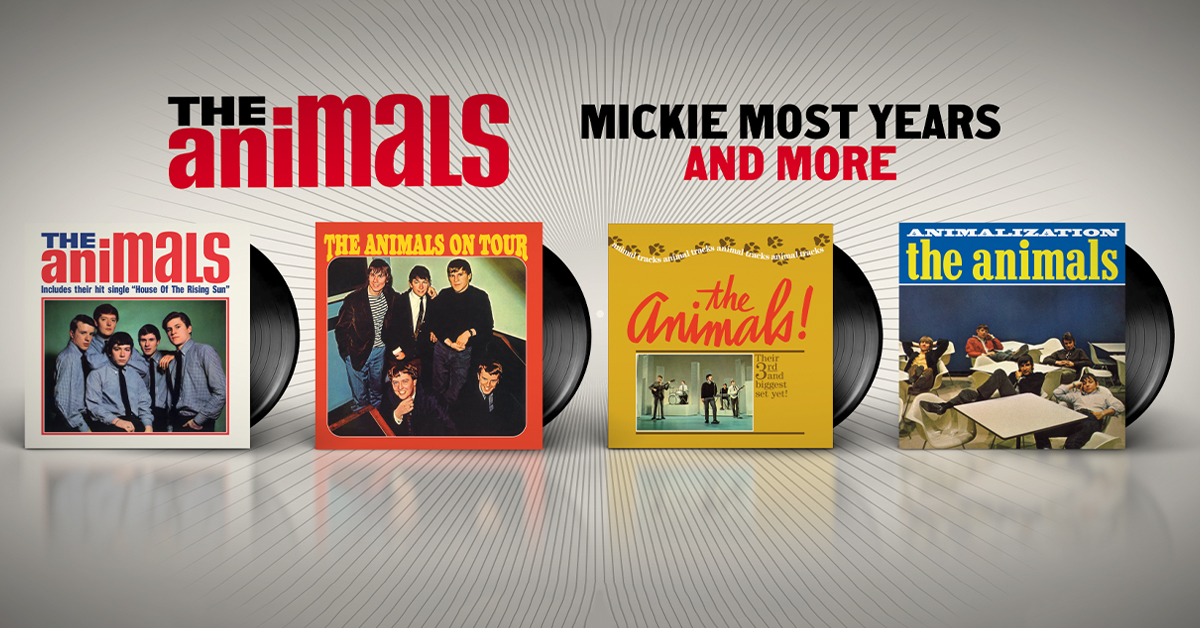 The Animals, The Animals on Tour, Animal Tracks, Animalization Get Mono Vinyl Treatment For the First Time In Decades; Mickie Most Years And More Bundle Includes Vinyl Set + I Just Wanna Make Love To You 12" EP 
ABKCO will reissue the first four US albums by Rock and Roll Hall of Fame inductees The Animals this May. Originally released between 1964 and 1966 on MGM Records, The Animals, The Animals on Tour, Animal Tracks and Animalization have been out of print for decades and will be made available on 180-gram vinyl in mono with original cover art on May 20. CD versions of all four titles will come with contemporaneous bonus tracks. Also out on May 20, The Animals Mickie Most Years And More vinyl bundle will come with a reproduction of the ultra rare, one-sided 12" EP I Just Wanna Make Love To You, which kicked off the British Invasion band's career in 1963.  
Pre-order [Mickie Most Years And More]
Formed in Newcastle by frontperson Eric Burdon from the ashes of the Alan Price Rhythm and Blues Combo, The Animals were known for their hard driving, R&B-influenced sound and became a hit-making machine on both sides of the Atlantic right out of the gate. Their self-titled 1964 album includes the #1 US and #1 UK charting "House of the Rising Sun," and was made in an era when they were "the most important and successful British export after the Beatles," as asserted by Rolling Stone's David Fricke. Despite its title, their February 1965 follow-up The Animals on Tour contains studio recordings and features the Top 20 single "I'm Crying." Animal Tracks was released just six months later, in the same calendar year. As was customary for American versions of British records, hit singles were packed into it—"Don't Let Me Be Misunderstood" (originally recorded by Nina Simone the previous year), Sam Cooke's "Bring It On Home to Me" and the Mann/Weil-penned "We Gotta Get Out of This Place," the latter of which became a de facto anthem for U.S. Armed Forces G.I.s deployed to Vietnam. 1966's Animalization, released during the band's final year of existence, saw original producer Mickie Most replaced by Tom Wilson (Bob Dylan, Simon & Garfunkel, the Velvet Underground, The Mothers of Invention). There is no shortage of Top 40 material, from "Don't Bring Me Down" (written for The Animals by Gerry Goffin and Carole King), Ma Rainey's "See See Rider" and the Animals' re-imagining of a prison work song originally recorded by American folklorist Alan Lomax, "Inside-Looking Out."   
"To me, The Animals were a revelation," said Bruce Springsteen at his 2012 SXSW keynote speech. He went on to describe their catalog as "the first records with full blown class consciousness that I had ever heard," before picking up a guitar and performing a large chunk of "We Gotta Get Out of This Place" and declaring, "That's every song I've ever written. That's all of them. I'm not kidding either. That's 'Born To Run,' 'Born In the U.S.A.,' everything I've done for the past 40 years, including all the new ones." Billy F Gibbons of ZZ Top expounds, "Oddly enough, it was the British bands who turned a lot of us Americans onto the blues that were our own backyard, and no one did it better than The Animals." Along with numerous other groups, Tom Petty and the Heartbreakers were also disciples of The Animals, having covered "Don't Bring Me Down" at Farm Aid in 1985.  
The CD versions of these titles will contain bonus tracks relating to the time periods in which they were originally released. The Animals has the unedited "Talkin' 'Bout You," (the LP version was shortened due to the time constraints of the vinyl format), while The Animals on Tour has their versions of Jimmy Reed's "Baby What's Wrong," Ray Charles' "F-E-E-L" and a radio spot recorded for New Year's Eve 1964. The CD version of Animal Tracks has five bonus tracks, including the hit "It's My Life" and the UK version of "We Gotta Get Out of This Place." The Animalization CD has stereo versions of three of the album tracks, which gradually overtook the mono format in the second half of the '60s. 
 ABKCO Records will be offering The Animals Mickie Most Years And More, a limited edition bundle consisting of all four titles on vinyl plus I Just Wanna Make Love To You—a faithful reproduction of the very first record by the band—a 12" EP privately issued in a run of 500 copies by Graphic Sound Ltd. Recorded on September 15, 1963. It contains the title track, "Big Boss Man," "Pretty Thing" and an early version of "Boom Boom" (originally by John Lee Hooker) all on one side of a 45 rpm record housed in a plain outer sleeve. Captured by recording engineer Phil Woods at his home in Wylam, Northumberland, I Just Wanna Make Love To You is a peek into the early days of The Animals just before their rise international dominance.   
The Animals (U.S., 1964) 
Side 1 
House of the Rising Sun

 

The Girl Can't Help It

 

Blue Feeling

 

Baby Let Me Take You Home

 

The Right Time

 

Talkin' 'Bout You (edited)

 
Side 2 
Around and Around

 

I'm in Love Again

 

Gonna Send You Back to Walker

 

Memphis, Tennessee

 

I'm Mad Again

 

I've Been Around

 
CD bonus track: 
Talkin' 'Bout You (unedited)

 
The Animals on Tour (U.S., 1965)  
Side 1 
Boom Boom

 

How You've Changed

 

Mess Around

 

Bright Lights, Big City

 

I Believe to My Soul

 

Worried Life Blues

 
Side 2 
Let the Good Times Roll

 

I Ain't Got You

 

Hallelujah, I Love Her So

 

I'm Crying

 

Dimples

 

She Said Yeah

 
CD bonus tracks: 
Baby What's Wrong

 

F-E-E-L

 

New Year's Radio Spot

 
Animal Tracks (U.S., 1965) 
Side 1 
We Gotta Get Out of This Place

 

Take It Easy Baby

 

Bring It On Home to Me

 

The Story of Bo Diddley

 
Side 2 
Don't Let Me Be Misunderstood

 

I Can't Believe It

 

Club A-Go-Go

 

Roberta

 

Bury My Body

 

For Miss Caulker

 
CD bonus tracks: 
Roadrunner

 

Don't Want Much

 

We Gotta Get Out of This Place (UK Single Version)

 

It's My Life

 

I'm Gonna Change the World

 
Animalization (U.S., 1966)  
Side 1 
Don't Bring Me Down

 

One Monkey Don't Stop No Show

 

You're On My Mind

 

Cheating

 

She'll Return It

 

Inside-Looking Out

 
Side 2 
See See Rider

 

Gin House Blues

 

Maudie

 

What Am I Living For

 

Sweet Little Sixteen

 

I Put a Spell on You

 
CD bonus tracks: 
Don't Bring Me Down (Stereo Version)

 

Cheating (Stereo Version)

 

See See Rider (Stereo Version)

 
I Just Wanna Make Love To You 12" EP (available as part of The Animals Mickie Most Years And More bundle) 
Side 1 
I Just Wanna Make Love To You

 

Big Boss Man

 

Boom Boom

 

Pretty Thing

 
Side 2 intentionally blank 
All tracks in mono unless otherwise stated