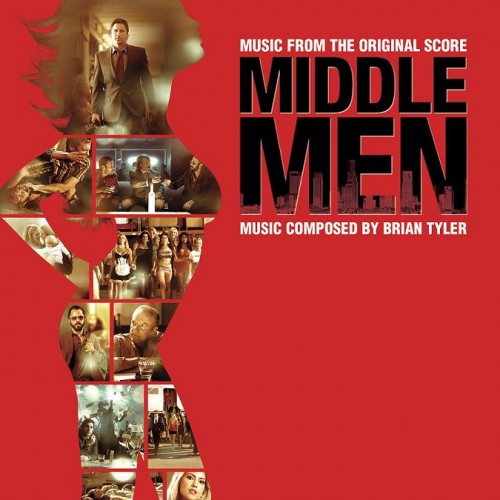 BRIAN TYLER'S MIDDLE MEN FILM SCORE FROM ABKCO AUG. 3rd
ABKCO Records has set August 3rd for the digital release of the score Brian Tyler composed for MIDDLE MEN, simultaneous with the release of MIDDLE MEN (Original Motion Picture Soundtrack) that includes music from the Rolling Stones, J. Geils Band, Hall & Oates, George Thorogood, 2Pac, Outkast, Tito Puente, Moby, Patsy Cline, Tears for Fears, OMC and others. The film, which opens nationally on August 6th, is a Paramount Pictures release, directed and co-written by George Gallo and produced by Christopher Mallick, William Sherak, Jason Shuman and Michael J. Weiss with Tricia Holloway serving as music supervisor. MIDDLE MEN stars Luke Wilson, Giovanni Ribisi, Gabriel Macht, Jacinda Barrett, Laura Ramsey, Terry Crews, Rade Sherbedgia, with Kevin Pollak and James Caan.
In 1995, everyone had a VCR, music was sold in record stores, and the world-wide-web was a new found discovery. Businessman Jack Harris (Luke Wilson) had the perfect life – a beautiful family and a successful career fixing problem companies. And then he met Wayne Beering (Giovanni Ribisi) and Buck Dolby (Gabriel Macht), two genius but troubled men, who had invented the way adult entertainment is sold over the internet. When Jack agrees to help steer their business, he soon finds himself caught between a 23-year-old porn star and the FBI all the while becoming one of the wealthiest entrepreneurs of his time. Inspired by a true story that proves business is a lot like sex… getting in is easy, pulling out is hard. Daily Variety descried MIDDLE MEN as "Boogie Nights meets Goodfellas."
George Gallo noted "Tricia Holloway and Chris Mallick were fantastic with their commitment to the movie's soundtrack and understanding that it was just as much a character in the story as the characters themselves. Normally you temp a movie with great songs and rarely do you get the opportunity to keep them in the final cut. Here I not only got the opportunity to keep them all, a few more great tunes were added. Composer Brian Tyler added an even deeper dimension to the movie. Whereas the songs punctuated the upbeat and chaotic energy of the story, Brian's score completely realized the growing sense of danger and regret that was driving Luke Wilson's character on his journey. The music, both songs and score, were beautifully synchronized and completely compliment one another."
Brian Tyler, an accomplished multi-instrumentalist (drums, piano, guitar, bass, cello, percussion) and conductor has written scores for dozens of feature films and television productions. Recent projects Fast and Furious and Law Abiding Citizen earned him 3 ASCAP Film Music Awards and a nomination for Composer of the Year by the International Film Music Critics Association in 2010. His scores for Constantine and The Final Cut were also IFMCA nominees. He has scored numerous action features including Rambo, The Expendables, The Hunted, Alien vs. Predator: Requiem, The Final Destination, and Eagle Eye for producer Steven Spielberg.
Cinemusic named him Best New Film composer of the Year in 2002 with his Frailty score winning Best Thriller Score of the Year; he received an Emmy nomination for his score for The Last Call. He was nominated for Discovery of the Year at the World Soundtrack Awards that same year. His scores for both Darkness Falls and Children of Dune won BSO Spirit GoldSpirit Awards for Best Score of the Year in their respective categories in 2004.
1. My Name is Jack Harris
2. Middle Men
3. Tightrope
4. Wayne and Buck
5. Broken
6. Down the Rabbit Hole
7. Boat Ride
8. Back to LA
9. Aimless Electricity Upon Touching
10. Paranoia
11. Friendly Warning
12. Guilt
13. Trouble
14. FBI
15. Alejandro
16. Full Circle
17. Middle Men Finale
MIDDLE MEN (Original Motion Picture Soundtrack)
1. Who Do You Love – George Thorogood
2. You Make My Dreams – Hall & Oates
3. Honey – Moby
4. Sympathy For The Devil – The Rolling Stones
5. How Bizarre – OMC
6. Oye Como Va – Tito Puente
7. Buona Sera – Louis Prima
8. Sweet Dreams – Patsy Cline
9. Everybody Wants to Rule The World – Tears for Fears
10. Freeze Frame – J. Geils Band
11. Body Rock – Moby
12. You Can't Always Get What You Want – The Rolling Stones
13. The Way You Move – Outkast (featuring Sleepy Brown)
14. California Love (Remix) – 2Pac (featuring Dr. Dre & Roger Troutman)
15. 24-7 – Brian Tyler
16. Middle Men Suite – Brian Tyler