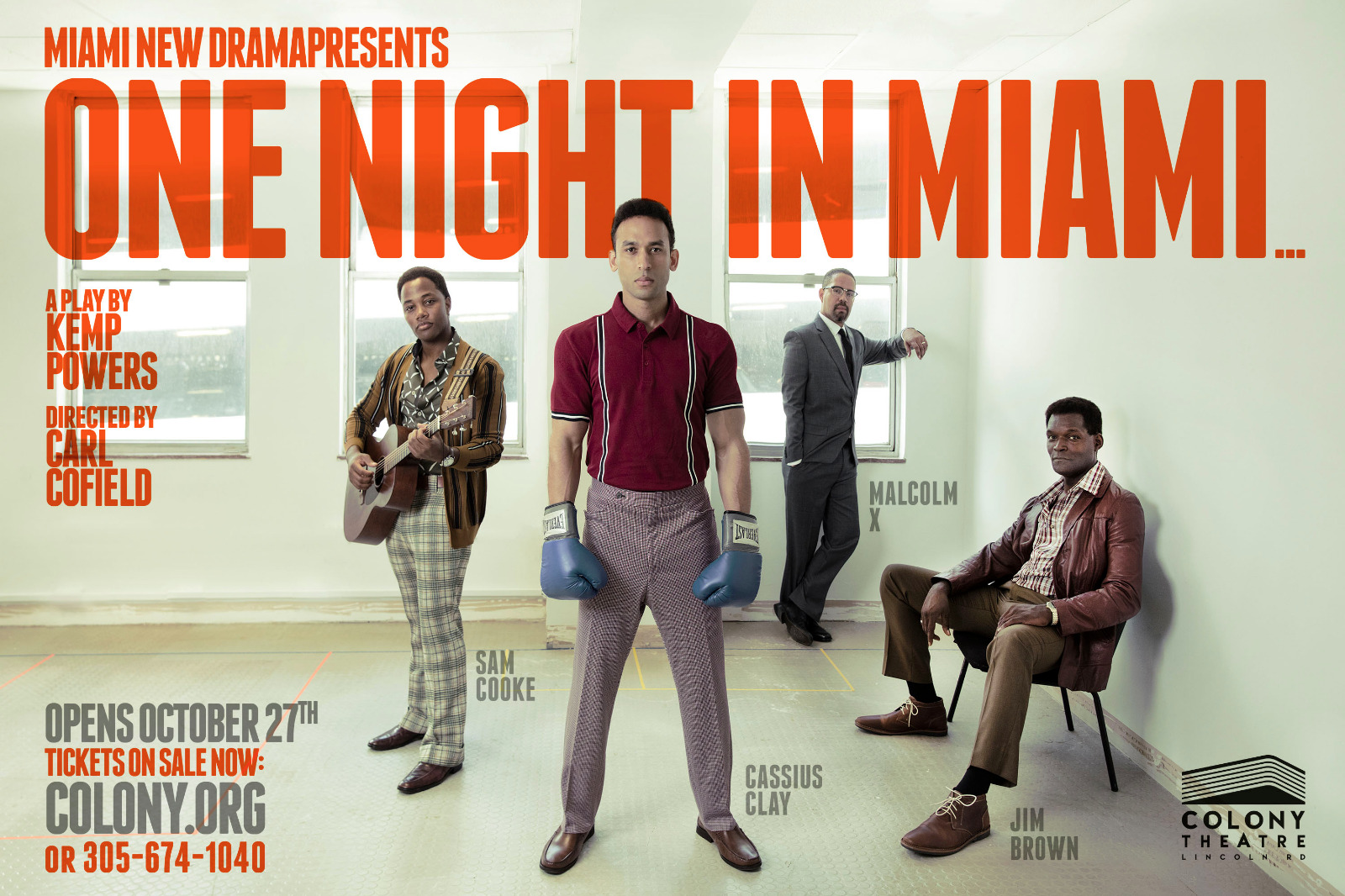 One Night in Miami… a play by Kemp Powers
October 25 – November 18 at Colony Theater on Lincoln Road
MIAMI, FL – September 18, 2018. Miami New Drama is proud to announce the cast for its season opener, One Night in Miami… a play with music that focuses on the night of February 25th,1964, when a young Cassius Clay celebrated his victory over Sonny Liston with three of his closest friends – activist Malcolm X, singer Sam Cooke and football icon Jim Brown.
Against all odds, Cassius Clay defeated Sonny Liston to become the new World Heavyweight Boxing Champion at the Miami Beach Convention Center. While crowds of people swarmed Miami Beach's hotspots to celebrate the match, Clay, unable to stay on the island because of Jim Crow-era segregation laws, spent the night at the Hampton House Motel.
In One Night in Miami…, critically-acclaimed playwright Kemp Powers aims to explore exactly what happened during those pivotal hours. At this critical point in each of their lives, the four men challenge ideas about power, religion, morality, and the realities of fighting racism. Featuring the legendary music of Sam Cooke, including his seminal opus, "A Change is Gonna Come," the show sets out to reveal the men for who they were: friends who became mavericks of the Civil Rights Movement.
This production is a celebration of the historical significance of Miami's deep legacy, presence, and prominence in the fight for civil rights in America. Throughout its history, Miami attracted international figures of all backgrounds; for these four men, it was a place for them to celebrate their success and discover themselves. Miami New Drama's Artistic Director, Michel Hausmann, asserts the play's purpose and impact: "as a theater company, we magnify the unique voice and narrative of the multicultural Miami community, which is in many ways a model for the modern America these men imagined in February 1964."
Grammy Award-winning actor and singer Leon Thomas will play singer Sam Cooke. Leon began his stage career on Broadway as Young Simba in The Lion King, and later in the original Broadway casts of Tony Kushner's Caroline or Change and The Color Purple. Leon starred in Nickelodeon's hit TV show Victorious alongside Ariana Grande, and with Robin Williams and Terrence Howard in the Warner Brothers' film August Rush, performing La Bamba on the movie's soundtrack. In 2015, Thomas added a Grammy to his list of accolades, for writing and producing for Toni Braxton and Babyface's Love, Marriage & Divorce.
The role of Cassius Clay will be played by Kieron J. Anthony. Kieron is an accomplished actor originally from Trinidad and Tobago. He spent his early years as a sprinter for his country and alma mater, the University of Miami where he studied Biology and Kinesiology. Anthony is an alumnus of the Atlantic Acting School and is currently a teaching artist at Atlantic Theater Company and a resident actor at The Flea Theater.
Esau Pritchett, a prolific actor originally from Saginaw, Michigan, will play football icon Jim Brown. He has performed in regional theaters across the country and on television, previous credits include NBC's The Blacklist and Chicago PD, HBO's The Night Of, Netflix/Marvel's Iron Fist, Netflix's Orange Is The New Black,  the Law & Order franchise.
Jason Delane, a founding member of the Los Angeles based Lower Depth Theatre Ensemble will play activist Malcolm X. He has also appeared on stage across the country and his film and television credits include Criminal Minds, Secret Lives of American Teenagers, and Make it or Break it. The cast is rounded out by local actors Roderick Randle and Jovon Jacobs. Randle is a Miami Gardens native and a graduate of Florida State University, he was last seen in Main Street Players' production of Superior Donuts and M Ensemble's Fences. Jacobs holds a BFA from Barry University and has been a prolific performer throughout South Florida with credits including City Theatre, Actors' Playhouse, Miami Theater Center, and M Ensemble.
The play will be directed by Miami-native Carl Cofield, responsible for the award-winning world premiere of One Night In Miami… at the Rogue Machine Theater in Los Angeles for which he received the Los Angeles N.A.A.C.P award for Best Director. Cofield was a member of the New World School of the Arts inaugural class and received a BFA from the University of Miami. He is currently the Associate Artistic Director of the Classical Theatre of Harlem.
Written by visionary playwright and screenwriter Kemp Powers, his other works include: Little Black Shadows, The Two Reds, Christa McAuliffe's Eyes Were Blue and A Negro by Choice. He received the 2013 Ted Schmitt Award for outstanding new play for the One Night in Miami… world premiere in Los Angeles; it also won three LA Drama Critics Circle Awards, four NAACP Theatre Awards and an LA Weekly Theater Award. Its 2016 production at London's Donmar Warehouse was nominated for an Olivier Award for Best New Play. In television, he has written for Star Trek: Discovery (CBS All Access) and most recently for 8 Fights: Muhammad Ali (CBS All Access). Powers has toured nationally as a storyteller for the Peabody Award-winning series The Moth and was one of the fifty storytellers selected for publication in their New York Times-bestselling book, The Moth: 50 True Stories (Hyperion Press). Powers is a founding member of The Temblors, producing playwrights collective in Los Angeles, where he resides.
One Night in Miami… is produced in association with ABKCO Theatre.
What:             One Night in Miami… a play by Kemp Powers
When:           October 27th – November 18th, 2018
Where:          Colony Theatre, 1040 Lincoln Road, Miami Beach, FL 33139