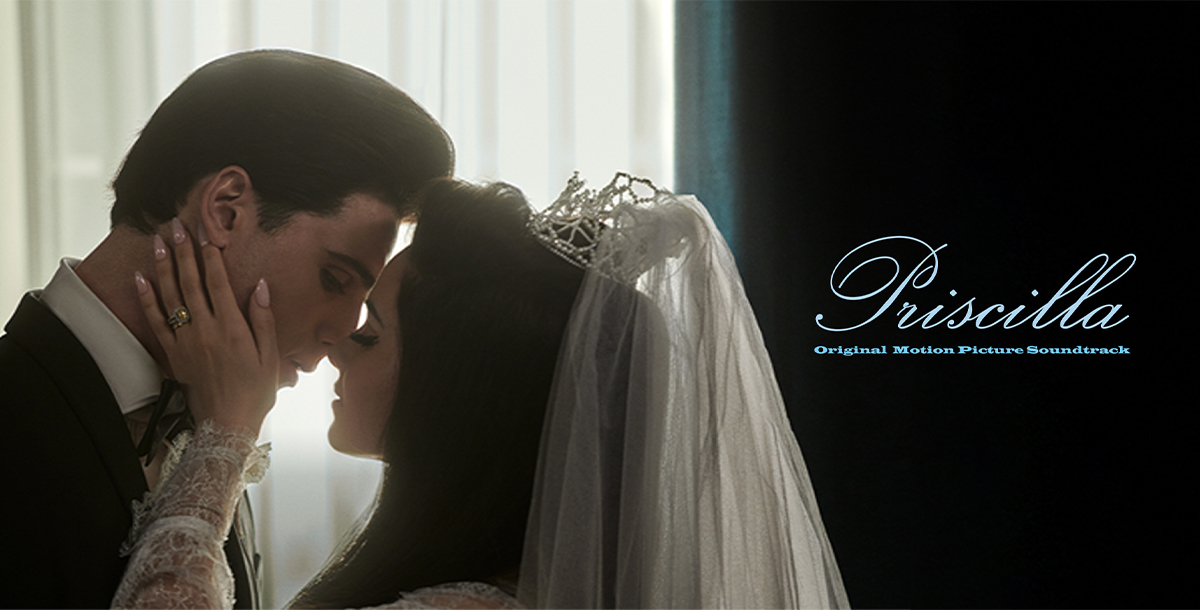 Priscilla (Original Motion Picture Soundtrack) is available on all streaming digital platforms November 3 in conjunction with the US release of the latest feature film written and directed by Sofia Coppola. Starring Cailee Spaeny in the title role and Jacob Elordi as Elvis Presley, the film is based on Priscilla Presley's bestselling memoir Elvis and Me. Priscilla is released in US cinemas today via A24 and select international territories via MUBI, including in the UK on December 26th.
Stream Priscilla – Original Motion Picture Soundtrack now:
https://abkco.lnk.to/priscillaPR
When teenage Priscilla Beaulieu meets Elvis Presley at a party, the man who is already a meteoric rock-and-roll superstar becomes someone entirely unexpected in private moments: a thrilling crush, an ally in loneliness, a vulnerable best friend. Through Priscilla's eyes, Sofia Coppola tells the unseen side of a great American myth in Elvis and Priscilla's long courtship and turbulent marriage, from a German army base to his dream-world estate at Graceland, in this deeply felt and ravishingly detailed portrait of love, fantasy, and fame. Priscilla music supervision is by Phoenix and Randall Poster who have created an eclectic soundtrack that is both a reflection of the times chronicled in the film and underscores the personalities who portray the most famous married couple in 20th century American history.
Two #1 hits from the era of the Presleys courtship and marriage, "Venus" by Frankie Avalon and "Crimson and Clover" by Tommy James and the Shondells, are part of the Priscilla soundtrack. "Venus" spent five weeks atop Billboard's Hot 100 chart in 1959 while "Crimson and Clover" topped that same chart almost exactly ten years later. "Sweet Nothin's," the 1959 Brenda Lee smash hit in both the US and Great Britain, is also featured in the Priscilla album. Somewhat more contemporary, though representing an earlier era, is the Ramones version of "Baby, I Love You." The song was written by Jeff Barry, Ellie Greenwich and Phil Spector originally for the Ronettes; the Ramones cover, also a Spector production, went on to be the band's biggest UK hit in 1980. The Righteous Brothers version of "(I Love You) for Sentimental Reasons," also produced by Spector, is included as is "Forever," the recording by The Little Dippers (a pseudonym for the Anita Kerr Singers). The latter was a top 10 single in 1960. Speedy West, the LA-based pedal steel player, who was a session man of great renown, is heard on "Rippling Waters" while The Orlons' recording of "Goin' Places," a Bob Crewe production, is also part of the Priscilla collection.
The 17-track set includes "Wade In the Water" by The Soul Stirrers, co-written and produced Sam Cooke, whose gospel career flourished when he joined the famed group.  After he pursued secular music, he produced later recordings by the Soul Stirrers with Paul Foster serving as lead singer as heard on the album. "Nobody Knows" by Pastor T.L. Barrett & the Youth Christ Choir reprises The Soul Stirrers' gospel spirit on the Priscilla soundtrack.
"Going Home" adapted from the second movement of Dvorak's Symphony No. 9 in D by legendary jazz innovator Alice Coltrane, backed by Charlie Haden and Ben Riley, leads off the Priscilla set and dates from her 1973 album Lord of Lords.
"The Crystal Cat" by electronic composer/performer Dan Deacon is part of Priscilla. His music has been heard on the soundtracks to such recent films as All Light, Everywhere, Ascension and Twixt. Composer, performer, and producer Kaitlyn Aurelia Smith, who works primarily with the Buchla 100 synthesizer, is heard on "Stratus" while percussionist and jazz vibraphonist Erik Charlston's take on Orff Schulwerk's "Gassenhaurer" is included.  Spectrum's "How You Satisfy Me" continues in that modernist vein. Porches, the New York-based music project masterminded by Aaron Maine, contributes "Country," which originally appeared on their 2018 album The House. The soundtrack closes with an instrumental orchestral cover by Sons Of Raphael of Phoenix's song "My Elixir" which was recorded specifically for Priscilla.
Priscilla (Original Motion Picture Soundtrack) tracklisting
Going Home – Alice Coltrane
Baby, I Love You – Ramones
Venus – Frankie Avalon
Sweet Nothin's – Brenda Lee
Crimson & Clover – Tommy James & The Shondells
(I Love You) for Sentimental Reasons – The Righteous Brothers
How You Satisfy Me – Spectrum
Country – Porches
The Crystal Cat – Dan Deacon
Forever – The Little Dippers
Wade in Water – The Soul Stirrers
Goin' Places – The Orlons
Stratus – Kaitlyn Aurelia Smith
Nobody Knows – Pastor T.L. Barrett & the Youth Christ Choir
Gassenhauer – Erik Charlston
Rippling Waters – Speedy West
My Elixir – Sons of Raphael