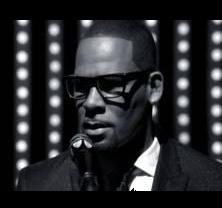 This coming weekend, Centric Network honors Grammy-award winning R&B king R. Kelly with a weekend takeover special. The superstar will be featured on a number of programs, the centerpiece of which will be the Broadcast Premiere on Saturday May 14 at 10 PM of Kelly performing a tribute to the legendary Sam Cooke titled, R. Kelly Sings Sam Cooke, Live At The Five Star!. Kelly documented the evening's performance at his Chicago-area residence, where he transformed his living room into an intimate, modern day juke joint he dubbed "The Five Star" for the occasion. Raves about Kelly's spot-on rendition of Cooke spread like wildfire, prompting Team Kelly to create a little magic of its own by editing event footage with a newly shot interview piece.
Backed by an 11 piece band, Kelly tackles such Sam Cooke standards as "Bring It On Home To Me," "You Send Me, " "Feel It (Don't Fight It)," "Twistin' The Night Away" and "A Change Is Gonna Come" with passion and panache before an invited crowd of family, friends and fans on this never-before-seen special. His connection to the legacy of the late Sam Cooke has been a long-standing one dating back to his childhood when his late mother, Joanne, made him aware of Sam Cooke as a founding father of soul music. R. Kelly Sings Sam Cooke, Live At The Five Star! airs Saturday, May 14th at 10 PM and repeats Sunday, May 15th at that same time.
The original versions of all of the Sam Cooke songs that Kelly performs on the R. Kelly Sings Sam Cooke special are included in Portrait Of A Legend 1951 – 1964 and Sam Cooke at the Copa, from ABKCO Records and are also available for download in high definition audio at HDtracks.com. The song "Fight It (Don't Feel It" from the One Night Stand! Sam Cooke Live at the Harlem Square is available on the Sony Legacy label.