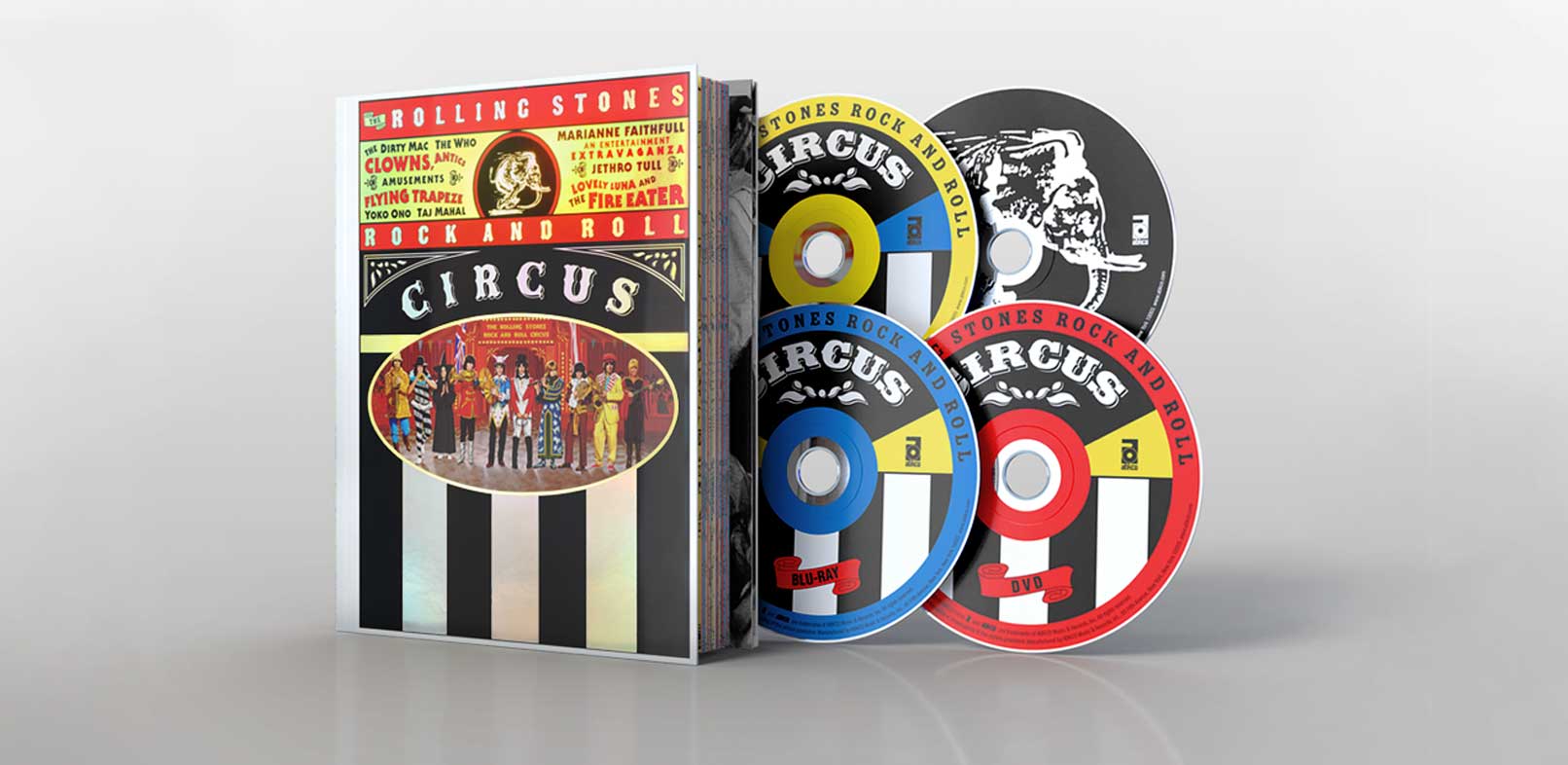 On June 7, the Dolby Vision and Dolby Atmos restoration of the concert film The Rolling Stones Rock and Roll Circus will be released in a Limited Deluxe Edition which is a multi-format package of Blu-Ray, DVD, and a 2CD soundtrack. The film will also be available for digital download (TVOD) and for the first time available on Blu-ray. The movie, shot over two days in December 1968, features The Who, Jethro Tull, Taj Mahal, Marianne Faithfull, impromptu supergroup The Dirty Mac (John Lennon, Keith Richards, Mitch Mitchell, Eric Clapton), Yoko Ono in addition to the original lineup of The Rolling Stones.
Filmed in a north London television studio by Director Michael Lindsay-Hogg (Let It Be, Ready Steady Go!), and Cinematographer, Tony Richmond (Sympathy For The Devil / ONE PLUS ONE, Let It Be), The Rolling Stones Rock and Roll Circus was a concert filmed against a Felliniesque circus backdrop with the band themselves as on-screen hosts in addition to performing. For the first time in front of an audience, "The World's Greatest Rock and Roll Band" performs six Stones classics ("Jumpin' Jack Flash," "Parachute Woman," "No Expectations," "You Can't Always Get What You Want," "Sympathy for the Devil" and "Salt of The Earth"). The audience, consisting of fan club members, contest winners and friends, witnessed what was initially envisioned as a BBC special to promote the band's 'Beggars Banquet' album. Those plans were abandoned in the wake of Brian Jones' departure from the band and subsequent death; the film wasn't officially released for the next 28 years.
Produced by ABKCO's Grammy Award winning team, The Rolling Stones Rock and Roll Circus archival concert film was re-mastered using Dolby Vision and Dolby Atmos technologies for an unprecedented immersive experience. When compared to a standard picture, Dolby Vision can deliver spectacular colors never before seen on a screen, highlights that are up to 40 times brighter, and blacks that are 10 times darker. Dolby Atmos transports you from the ordinary into the extraordinary with breathtaking depth and dimension for a completely immersive and fully emotional listening experience. Opposed to stereo audio, which limits audio to only left and right channels, Dolby Atmos delivers incredible clarity to every sound with greater spatial separation of instruments, vocals, and harmonies.
The Deluxe Edition multi-format package contains perfect-bound 44-page book with David Dalton's original 1969 Rolling Stone essay, and photographs by Michael Randolf. The Rolling Stones Rock and Roll Circus soundtrack has been expanded to 28 tracks, received a new mix and 192k 24 bit HD restoration. Bonus material included by the late concert pianist Julius Katchen, three additional songs by Taj Mahal and never before heard recordings of The Dirty Mac performing The Beatles classic, "Revolution" and the aptly titled track "Warmup Jam." Released for the first time on Vinyl as a 3 LP package, the soundtrack is also due on CD and all digital formats.
Not only will viewers get to experience this enhanced version of the film in their own homes, in both original 4×3 and widescreen 16:9 aspect ratio, they will also get to hear commentary tracks by Mick Jagger, Keith Richards, Tony Richmond, Michael Lindsay-Hogg, Yoko Ono and Marianne Faithfull, as well as watch an on-camera interview with Pete Townshend and a host of extras. The film will be available for the first time ever via streaming services in Dolby Vision and Dolby Atmos, and on Blu-ray in Dolby Atmos. In addition, the film will be released on DVD and digital download (TVOD).
The release comes on the heels of The Rolling Stones Rock and Roll Circus' April 2019 theatrical run screened in Dolby Cinema and Dolby Atmos enabled theaters across North America.
"It was an incredible shoot, I think, 36 hours or something. I remember not remembering everything towards the end… but it was fun… we went through two audiences… wore one out… it was great!"  – Keith Richards
Pre-order and stream the first single, "Parachute Woman"http://smarturl.it/rockandrollcircus
Film Trailer:http://smarturl.it/CircusTrailer2019
The Rolling Stones Rock and Roll Circus (4K FILM)
THE FILM
Song For Jeffrey – Jethro Tull
A Quick One While He's Away – The Who
Ain't That A Lot Of Love – Taj Mahal
Something Better – Marianne Faithfull
Yer Blues – The Dirty Mac
Whole Lotta Yoko – Yoko Ono & Ivry Gitlis, and The Dirty Mac
Jumpin' Jack Flash – The Rolling Stones
Parachute Woman – The Rolling Stones
No Expectations – The Rolling Stones
You Can't Always Get What You Want – The Rolling Stones
Sympathy for the Devil – The Rolling Stones
Salt Of The Earth – The Rolling Stones
EXTRAS
Widescreen Feature, Aspect Ratio: 16:9 (65 min)
Pete Townshend Interview, Aspect Ratio: 4×3 (18 min)
The Dirty Mac:
'Yer Blues' Tk2 Quad Split, Aspect Ratio: 4×3 (5:43)
Taj Mahal:
-Checkin' Up On My Baby, Aspect Ratio: 4×3 (5:37)
-Leaving Trunk, Aspect Ratio: 4×3 (6:20)
-Corinna, Aspect Ratio: 4×3 (3:49)
Julius Katchen:
–de Falla: Ritual Fire Dance, Aspect Ratio: 4×3 (6:30)
-Mozart: Sonata In C Major-1st Movement, Aspect Ratio: 4×3 (2:27)
Mick & The Tiger/ Luna & The Tiger, Ratio: 4×3 (1:35)
Bill Wyman & The Clowns, Aspect Ratio: 4×3 (2:00)
Lennon, Jagger, & Yoko backstage, Aspect Ratio: 4×3 (45sec)
FILM COMMENTARY TRACKS:
Life Under The Big Top (Artists) Featuring: Mick Jagger, Ian Anderson, Taj Mahal, Yoko Ono, Bill Wyman, Keith Richards (65 min)
Framing The Show (Director & Cinematographer) Featuring: Michael Lindsay Hogg, Tony Richmond (65 min)
Musings (artists, writer, fan who was there) Featuring: Marianne Faithfull, David Dalton, David Stark (50 min)
The Rolling Stones Rock and Roll Circus Expanded Audio Edition
Mick Jagger's Introduction Of Rock And Roll Circus – Mick Jagger
Entry Of The Gladiators – Circus Band
Mick Jagger's Introduction Of Jethro Tull – Mick Jagger
Song For Jeffrey– Jethro Tull
Keith Richards' Introduction Of The Who – Keith Richards
A Quick One While He's Away– The Who
Over The Waves – Circus Band
Ain't That A Lot Of Love – Taj Mahal
Charlie Watts' Introduction Of Marianne Faithfull – Charlie Watts
Something Better– Marianne Faithfull
Mick Jagger's and John Lennon's Introduction Of The Dirty Mac
Yer Blues– The Dirty Mac
Whole Lotta Yoko– Yoko Ono & Ivry Gitlis with The Dirty Mac
John Lennon's Introduction Of The Rolling Stones &  "Jumpin' Jack Flash" The Rolling Stones
Parachute Woman – The Rolling Stones
No Expectations– The Rolling Stones
You Can't Always Get What You Want – The Rolling Stones
Sympathy for the Devil – The Rolling Stones
Salt Of TheEarth – The Rolling StonesBONUS TRACKS
Checkin' Up On My Baby– Taj Mahal
Leaving Trunk– Taj Mahal
Corinna– Taj Mahal
Revolution (rehearsal) – The Dirty Mac
Warmup Jam– The Dirty Mac
Yer Blues (take 2)– The Dirty Mac
Brian Jones' Introduction of Julius Katchen – Brian Jones
de Falla: Ritual Fire Dance– Julius Katchen
Mozart: Sonata In C Major-1st Movement– Julius Katchen