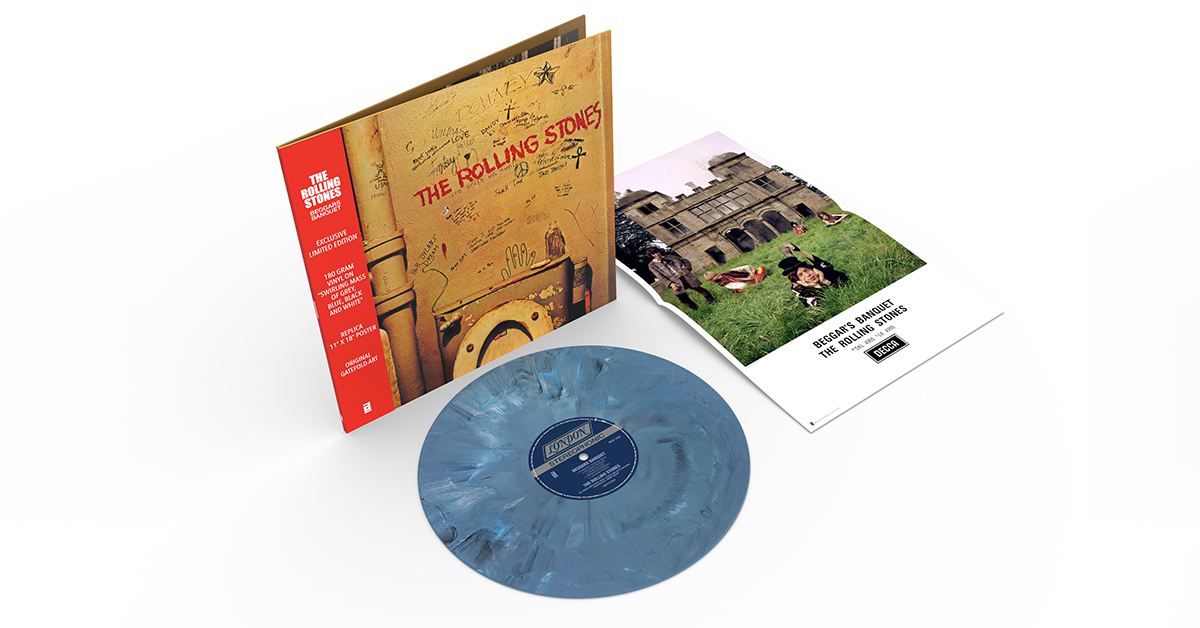 The Rolling Stones Beggars Banquet (Record Store Day Edition) will be released as part of the annual celebration of independently-owned record stores on Saturday, April 22. This 180-gram vinyl LP is a special pressing on grey, blue, black and white swirled vinyl LP – a direct reference to the lyric from "Salt of the Earth," the album's closing track.  On Beggars Banquet, Mick Jagger sings, "When I search a faceless crowd / a swirling mass of grey and black and white." In the concert film The Rolling Stones Rock and Roll Circus, recorded less than a week after the studio album's December 1968 release, he sings, "And when I look into this faceless crowd / a swirling mass of grey, blue, black and white."
Beggars Banquet (Record Store Day Edition) will feature the album's original artwork and will also come with a reproduction of the window display poster created by the Stones' UK label Decca in '68. The poster features a Michael Joseph photo of all five members in a field in front of the decrepit Swarkestone Hall Pavilion in Derbyshire, England, and was mislabeled the title "Beggar's Banquet." Staying faithful to the original, this replica version keeps the errant apostrophe intact. A different image from the same photo session appeared on back of the band's compilation Hot Rocks 1964-1971, released three years later.
Recorded between February and July of 1968 at Olympic Sound Studios in London and mixed at Sunset Sound in Los Angeles, Beggars Banquet was the first Stones album produced by Jimmy Miller and marks the start of what is considered the Stones' most critically acclaimed album era. Beggars Banquet has a special place in the history of the band, as it is the final album completed with the original lineup of Mick Jagger, Keith Richards, Brian Jones, Bill Wyman and Charlie Watts. During the year of release, Rolling Stone Magazine declared it "the best record [The Stones] have yet done" and "an achievement of significance in both lyrics and music." Beggars Banquet contains evergreen classics such as "Sympathy for the Devil" and "Street Fighting Man" that are still often played in live Stones sets more than a half century later.
The Rolling Stones Beggars Banquet(Record Store Day Edition)
Side 1
1) Sympathy for the Devil
2) No Expectations
3) Dear Doctor
4) Parachute Woman
5) Jigsaw Puzzle
Side 2
1) Street Fighting Man
2) Prodigal Son
3) Stray Cat Blues
4) Factory Girl
5) Salt of the Earth