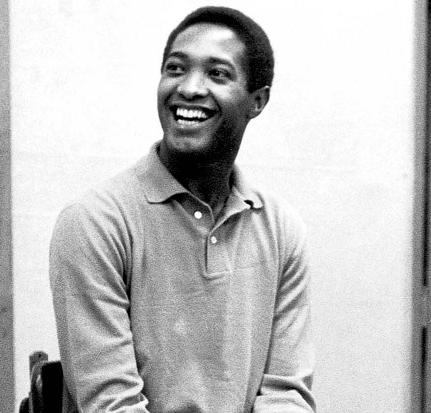 The life and legacy of Sam Cooke will be celebrated with the naming of 36th Street at Cottage Grove Avenue, Chicago, Illinois as Sam Cooke Way on Saturday, June 18 at 2:00 P.M. The ceremony and celebration of the late Cooke, who grew up in Chicago, is being headed by Gregg Parker, CEO, historian and founder of the Chicago Blues Museum and Record Row Foundation.
The location of Sam Cooke Way is in the midst of Chicago's Bronzeville neighborhood, birthplace to some of Chicago's most talented artists in music and the associated arts. It is where the Cooke family settled after migrating from Clarksdale, Mississippi in the early 1930's, initially residing at 3527 Cottage Grove Avenue and later moving to 724 E. 36th Street. Young Sam Cooke attended the neighborhood's Doolittle Elementary School and, in 1948, was a graduate of Phillips High School.
The unveiling of the new Sam Cooke Way street sign is taking place with the participation of the office of 4th Ward Alderman Will Burns who is expected to be on hand. Other notables taking part are 3rd Ward Alderman Pat Dowell, legendary radio personality and "Mayor of Bronzeville" Herb Kent, Sam Cooke's younger brothers L.C. and David Cooke as well as other Cooke family members, radio personality Mike Julius and the legendary soul group The Notations (whose members will sing one of Sam's classic hits), and of course Chicago Blues Museum CEO Gregg Parker, as well as legions of Sam Cooke fans and fellow musicians.
Sam Cooke began his professional career as a teenager, singing in local churches as a member of the Highway QCs. After being recruited by the veteran Soul Stirrers at the end of 1950, his lead vocals on "Jesus Gave Me Water" in 1951 gave the already-successful group their biggest hit ever. Twenty-year old Sam Cooke became a gospel legend virtually overnight.
Throughout his gospel career, Sam wrote, recorded and covered many timeless non-secular standards including "Touch the Hem of His Garment," "That's Heaven to Me, "Be With Me Jesus," and "Jesus, Wash Away My Troubles." The Soul Stirrers renditions of "Peace in the Valley," "The Last Mile of the Way," "He's So Wonderful" and "Farther Along," featuring Cooke as lead singer, are still considered gospel classics to this day.
Sam Cooke made the switch to secular music in 1956, releasing his million-selling single "You Send Me" the following year. The song rose to #1 on both the R&B and Pop charts and its innovative blending of gospel, rhythm and blues and pop earned Cooke the title The Man Who Invented Soul. Cooke would eventually chart an amazing 34 Top 40 R&B hits over his eight year pop career, writing and recording such classics as "Chain Gang," "Only Sixteen," "Cupid," "(What A) Wonderful World," "Twistin' the Night Away," "Having a Party" and the evocative "A Change Is Gonna Come." Sam Cooke, along with Elvis Presley, was among the original inductees into The Rock and Roll Hall of Fame in 1986.
Chicago Blues Museum CEO Parker noted, "Sam Cooke has long been considered one of the pioneers of, if not the creative force behind, what has come to be known as soul music. Cooke was among the first modern black performers and composers who was a proponent of economic self-determination insofar as he actually came to own his own master recordings and publishing contracts and started his own record company. Additionally, he was an advocate and activist on behalf of civil rights, a fact that is mirrored in his epochal song, 'A Change Is Gonna Come,' the lyrics of which were paraphrased by President Barack Obama on the night he won the election"
The Chicago Blues Museum, the city's most active and visible premier music organization, is dedicated to the preservation of the legacy and the rich living tradition of the blues, jazz, soul and gospel. It chronicles the contribution of these genres' pioneers and the places from which the music emerged. Its mission focuses on education and public involvement.
The museum's state-of-the-art exhibits, music and film presentations and outreach programs have been a cultural force throughout the city for over 17 years at such sites as the Museum of Science and Industry, Navy Pier, Chicago Symphony Center, Roosevelt University, the South Shore Cultural Center, Chicago Housing Authority, Union Station and others. The Chicago Blues Museum documents and seeks to ensure the continuance of the vibrant art forms that are rooted in the blues. The Chicago Blues Museum promotes the blues as one of Chicago's greatest gifts to the world. It is a uniquely compelling tourist attraction and destination in a city whose rich musical legacy resonates throughout numerous forms including gospel, blues, R&B, soul and roots. Gregg Parker recalled, "I grew up next door to Sam Cooke and his legacy inspired me not only in my career in the music industry, but also as an entrepreneur and human being."
Cook Country Commissioner Jerry Butler, himself a soul music legend, will proclaim June 18, 2011 as Sam Cooke Day in conjunction with the street naming ceremony.