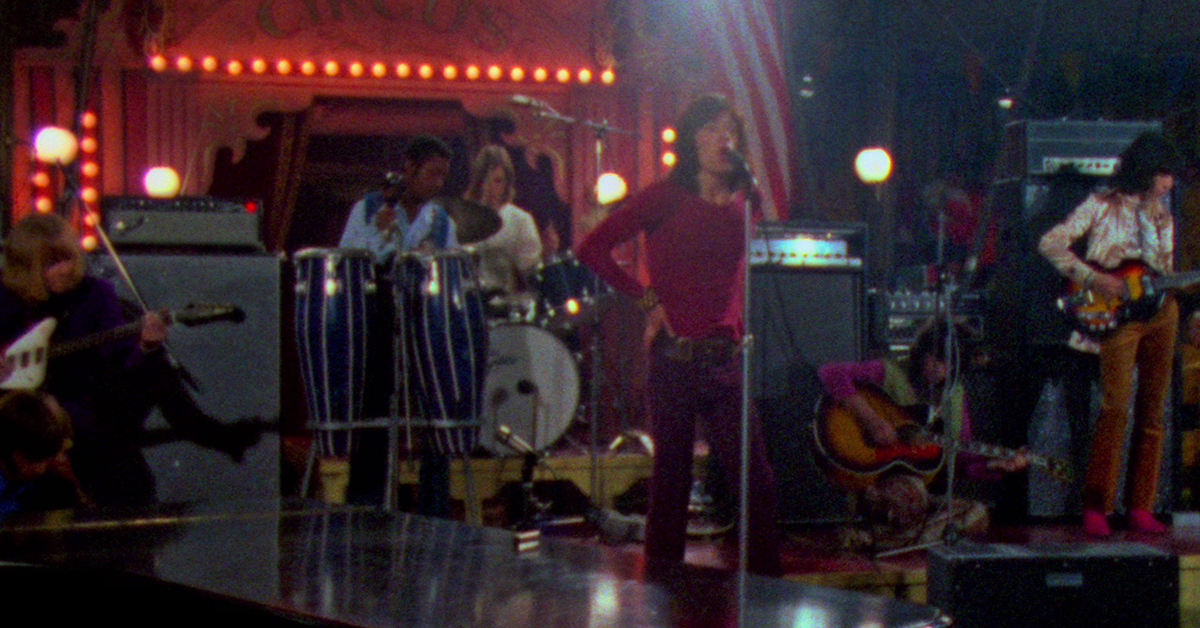 ABKCO Celebrates Anniversary of Conceptual Concert Film With The Rolling Stones 1968 Performances of "Parachute Woman," "No Expectations" and "Salt of the Earth"
As of today, three key performances by the Rolling Stones from The Rolling Stones Rock and Roll Circus are available on the ABKCO Records & Films YouTube channel. This is in celebration of the anniversary of the concept film's December 1968 shooting. "Parachute Woman," "No Expectations" and "Salt of the Earth" were released on The Rolling Stones' critically acclaimed Beggars Banquet album a mere five days before this performance, which is also notable for being Brian Jones' last appearance with the band in front of a live audience. The legendary concert film includes performances by The Who, Jethro Tull, Marianne Faithfull, Taj Mahal, Yoko Ono and supergroup The Dirty Mac (John Lennon, Keith Richards, Eric Clapton and The Jimi Hendrix Experience's Mitch Mitchell).
Watch The Rolling Stones Performances on Official Playlist on YouTube
Filmed before a live audience in London, The Rolling Stones Rock and Roll Circus was originally conceived as a BBC-TV special. Directed by Michael Lindsay-Hogg, who had worked on videos for both the Beatles and the Rolling Stones, it centers on the original line up of The Rolling Stones – Mick Jagger, Keith Richards, Brian Jones, Charlie Watts, Bill Wyman – who serve as both the show's hosts and featured attraction. "The World's Greatest Rock and Roll Band" is seen and heard performing a set that also includes "Jumpin' Jack Flash," "You Can't Always Get What You Want" and "Sympathy For The Devil."
The audience of fans who got tickets through an ad in the New Musical Express or via the Stones Fan Club witnessed lightning being captured on film over 48 hours in a London TV studio. Noteworthy interludes including John Lennon performing outside the Beatles for the first time in the Dirty Mac segment, the only time Tony Iommi (later of Black Sabbath) performed with Jethro Tull. As David Dalton, who covered the event for Rolling Stone, so aptly put it, "…for a brief moment it seemed that rock 'n' roll would inherit the earth."
Last year ABKCO released a Dolby Vision® and Dolby Atmos® 4K restoration of the film. This Deluxe Edition multi-format package of Blu-Ray, DVD and 2CD soundtrack contains perfect-bound 44-page book with David Dalton's original 1969 Rolling Stone essay and photographs by Michael Randolf. The Rolling Stones Rock and Roll Circus soundtrack has been expanded to 28 tracks, received a new mix and 192k 24 bit HD restoration. Bonus material included by the late concert pianist Julius Katchen, three additional songs by Taj Mahal and never before heard recordings of The Dirty Mac performing The Beatles classic, "Revolution" and the aptly titled track "Warmup Jam." The soundtrack was also released on CD and all digital formats.
Dolby Vision and Dolby Atmos technologies allow for an unprecedented immersive experience. When compared to a standard picture, Dolby Vision can deliver spectacular colors never before seen on a screen, highlights that are up to 40 times brighter, and blacks that are 10 times darker. Dolby Atmos transports you from the ordinary into the extraordinary with breathtaking depth and dimension for a completely immersive and fully emotional listening experience. Opposed to stereo audio, which limits audio to only left and right channels, Dolby Atmos delivers incredible clarity to every sound with greater spatial separation of instruments, vocals, and harmonies.